1 View
Borich Clinches GNCC XC1 Title
October 12th, 2010 10:27 AM
Share
We're committed to finding, researching, and recommending the best products. We earn commissions from purchases you make using links in our articles. Learn more here
Second straight championship and 10th win of season for Borich
Chris Borich wrapped up his second-straight Can-Am Grand National Cross Country Series title with an exciting win at the ITP Power Line Park GNCC in St. Clairsville, Ohio.
As usual, the Yoshimura Suzuki-backed Borich played it smart during the first part of the race, biding his time and checking out lines before making his move at the halfway point of the two-hour event. When the time was right, Borich knifed his way through the pack in a spectacular run to the front, passing Ballance Racing Yamaha's Taylor Kiser, FRE KTM's Bryan Cook, and Warnert Racing Can-Am teammates Chris Bithell and Adam McGill to claim his 10th win of the season and wrap up the XC1 championship with one round remaining on the schedule.
"It feels good and I'm especially glad to wrap it up with a win here in Ohio," says Borich. "It's been a heck of a season and I can't thank Suzuki and Yoshimura enough – without them I wouldn't be here. This took a team effort and I'm happy to be working with these guys."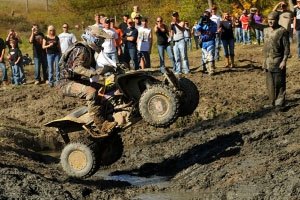 After passing McGill on the opening lap, Kiser led during most of the first hour, but dropped back when he botched his fuel stop.
"I just forgot where my pit was and I rode right past it," said Kiser. "I ended up not stopping and I knew I was going to have to stop on the last lap for gas."
Kiser dropped back to third when he finally did stop, but a strong final push moved him around Bithell and into second at the finish.
"I'm not happy with second but this lit a fire under us and we'll be back strong next year," says Kiser.
Meanwhile, Bithell suffered problems of his own on the final lap.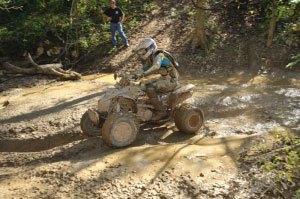 "I was behind Borich and on the last lap at the mud hole we both jumped it and I got my hand soaking wet and that slowed me down quite a bit," says Bithell. "I lost sight of Borich after that and then I got stuck behind a lapper and Kiser got me for second."
Cook led the early going after grabbing the holeshot to start the race. The KTM rider ended up with fourth at the finish, just ahead of McGill.
Yamaha riders filled out the next four spots, with Donnie Ockerman, Johnny Gallagher, Brandon Sommers and Jeffrey Pickens finishing sixth through ninth. Meanwhile, Craig Bowman rode a Honda to 10th.
In the XC2 division, Gabe Phillips claimed his second win of the year, taking his Yamaha from last place to first during the two-hour race.
"I got pushed out in the first turn and was dead last so right away I had a lot of ground to make up," says Phillips. "I made up a little ground in the woods, and then I just made good choices in the mud holes and worked my way to the front."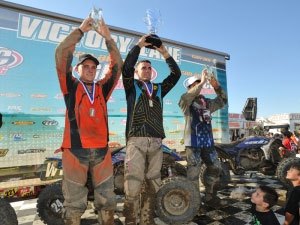 Ballance Racing Yamaha's Walker Fowler stayed in the championship hunt with a second place finish, moving to within five points of XC2 points leader Brian Wolf when Wolf suffered problems on the opening lap and dropped out of the race. Like Phillips, Fowler also came from deep in the pack to get to the front.
"To have the first lap go as horribly wrong as it did for me and then to come back and get second is awesome," says Fowler. "I proved to myself that I can come back from adversity so this gives me a lot of confidence going into the final round in Indiana."
Honda-mounted Parker Jones rounded out the podium after getting edged out at the finish by Fowler.
"We were neck and neck heading up the final straight and he just beat me out at the line," says Jones.
Dustin Canipe put his Kawasaki into fourth, with KTM rider Josh Beavers and Honda-mounted Corbin Knox finishing fifth and sixth.
Mark Notman was seventh after grabbing the holeshot at the start of the race, while Kevin Yoho (Yam), James Green (Hon) and Matt Hanna (Yam) rounded out the top 10.
In the morning race, Women's class winner Kristen Atwell made a last lap pass on her aunt, Angel Atwell, to claim Overall win and the GT Thunder ATV Amateur $100 Overall Award that goes along with it. The Yamaha rider wrapped up the Women's title with her stunning performance.
"There are no words to describe the feeling I have right now," says Kristen Atwell. "The race was crazy. I stayed in second for most of the race and lappers played a huge role – I ended up getting the lead in the last turn, it was a last-second thing, but I'm happy to be here."
Angel Atwell ended up second overall and second in the Women's division on her KTM, with Yamaha rider Dave Simmons finishing third overall and first in the Super Senior (50+) class.
In the Youth race, Marshal Goings wrapped up the Youth title by taking his fourth-straight overall win. He also topped a strong field of 90 Modified (12-15) riders.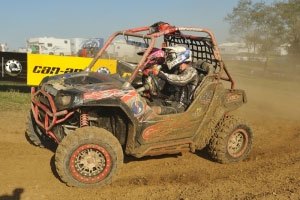 The UTVs were back in action at this round, and Team Coastal/Kiger topped a field of 50 teams to take the overall win and first in the Open Modified division. The Polaris-powered team pulled out to a big lead early in the eight-lap race and then coasted to a 12-second victory over Team National Guard.
Team Fortner won the Open Limited class with a fourth overall finish, while Team Travalena won the Lites Limited division in 16th.
Team Dulaney Trackside topped the Pilot class in 17th.
The 2011 Can-Am GNCC Series concludes on Sat. Oct. 23 at the Ironman GNCC in Crawfordsville, Ind.
XC1 Standings
XC2 Standings
Pos.
Rider
ATV
Points
Pos.
Rider
ATV
Points
1.
Chris Borich
Suzuki
336 (10 wins)
1.
Brian Wolf
Honda
256 (5 wins)
2.
Taylor Kiser
Yamaha
291 (1 win)
2.
Walker Fowler
Yamaha
251 (3 wins)
3.
Adam McGill
Can-Am
231
3.
Gabe Phillips
Yamaha
233 (2 wins)
4.
Chris Bithell
Can-Am
205 (1 win)
4.
Kevin Yoho
Yamaha
214
5.
Don Ockerman
Yamaha
196
5.
Josh Kirkland
KTM
178 (1 win)
6.
Bryan Cook
KTM
160
6.
Eric Hoyland
Yamaha
163
7.
Johnny Gallagher
Yamaha
151
7.
Corbin Knox
Honda
150 (1 win)
8.
Brandon Sommers
Yamaha
145
8.
Dustin Canipe
Kawasaki
143
9.
Jeffrey Pickens
Yamaha
145
9.
Mark Notman
Suzuki
131
10.
Harold Goodman
Honda
119
10.
Parker Jones
Honda
130 Published October 12th, 2010 10:27 AM
Top Brands
Popular Articles