1 View
McGill Tops Borich at Steele Creek GNCC
March 28th, 2011 9:58 AM
Share
We're committed to finding, researching, and recommending the best products. We earn commissions from purchases you make using links in our articles. Learn more here
Borich finishes fifth, but holds points lead
Adam McGill and Chris Bithell gave Can-Am the top two steps of the podium with an exciting one-two finish at the FMF Steele Creek General GNCC – round three of the 2011 Can-Am Grand National Cross Series in Morganton, NC.
The Foremost Insurance/Warnert Racing/Can-Am teammates battled race-long with Rockstar Makita Suzuki's Chris Borich and Ballance Racing Yamaha's Taylor Kiser, with McGill, Bithell and Borich trading the lead over the course of the two-hour race.
McGill and Bithell took a strong lead on lap two when they elected not to pit and the rest of the field did, however; near the end of the race Borich and Kiser pulled to back within striking distance on the rough and mountainous 11-mile course.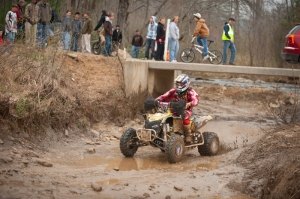 On the final lap it looked as though Borich might get one of his patented come-from-behind wins when he passed Bithell for the lead up one of Steele Creek's steep hills. However, near the end of the lap Borich's bike sputtered and slowed, allowing McGill and Bithell to go around. At the finish, McGill took the checkers and the win four seconds ahead of Bithell.
"It's been two years since I've been up here on the top step and it feels pretty good," says McGill. "On the final lap my mechanic put out a sign that said 'Break It' and I did."
Bithell has gained momentum with every race this year, and looked capable of taking the win, despite losing his brakes on the final lap.
"I lost my rear brakes at the beginning of that last lap and Adam caught me," says Bithell. "I thought he might have a better chance to catch Borich so I let him by. Then, the next thing I know I could hear Borich's bike snappin' and poppin'. After that we just put the hammer down."
After grabbing the $250 Motosport.com Holeshot Award to start the race, Yokley Racing's Jarrod McClure ran a strong pace which paid off in a third place finish, a personal best for the Pennsylvanian.
"I couldn't have started the race any better and my bike ran strong, and it just all paid off," says McClure.
Kiser ended the day in fourth, while Borich managed to salvage a fifth place finish – which meant he held onto his points lead.
"On the last lap I managed to get the lead and I was riding smooth," says Borich. "I had the lead until about a mile to go and the bike just started cutting out. All in all, it was a pretty good day except for the end. I was able to get a few points with a fifth and I still have the points lead, so we'll just have to get 'em at the next one."
Honda rider Brian Wolf got his best finish of the year, beating out FRE KTM's Bryan Cook for sixth. Meanwhile, JET Suspension Honda's Donnie Ockerman finished eighth ahead of Yamaha riders Johnny Gallagher and Jeffrey Pickens.
With three races in the books, Borich holds the series points lead with 76 points, followed by Bithell with 71, McGill with 69, and Kiser with 61.
Walker Fowler continues to dominate the XC2 division, claiming his third win of the year with an impressive ride at Steele Creek. The Ballance Racing Yamaha rider got off to a poor start at the beginning of the race, but still finished with a minute to spare over second place.
"I didn't think the bike was going to start and I kind of hesitated and the next thing I knew everyone was gone," says Fowler. "It was a little harder to get going than I thought, but the fans were great here and that kept me going."
Greg's ATV & Cycle Yamaha rider Gabe Phillips made a few critical passes at the end of the race to steal the runner-up spot from Honda rider Eric Hoyland.
"I was so mad about my race in Georgia that it just lit a fire under me," says Phillips.
Hoyland finished out the podium in third, his second podium finish of the year.
"I jumped early in Georgia and got penalized for it, so I cranked a little slow to be on the safe side and still got a great start," says Hoyland. "I could see Gabe coming on the last lap and I just couldn't hold him back."
Matt Hanna was fourth on his Greg's ATV & Cycle Yamaha, beating out KTM rider Aarol Bright and Honda rider Parker Jones. Meanwhile, Greg's ATV & Cycle
Yamaha rider Patrick McGuire was seventh ahead of Honda riders Dustin Canipe and Nathan Wallpe, while Richie Brown was 10th on a KTM.
Bright won the $100 Motosport.com Holeshot Award to start the Xc2 race.
In the A.M. race, Dave Simmons won the $100 GT Thunder Amateur Overall Award, beating out Traci Cecco and Michael Swift with a last lap charge.
"Things started out kind of rough and I had a problem at the start," says Simmons. "I just kept pushing there at the end, though. I just left it pinned and it worked out."
Cecco held the overall on adjusted time heading into the final lap, but hit a tree on a downhill section, giving up valuable time to Simmons.
In the 4×4 Open class, Michael Swift beat out fellow Can-Am riders Rick Cecco and Bryan Buckhannon for the win.
Meanwhile, Can-Am rider Clifton Beasley topped Jordan Phillips (CAN) and Danny Jessee (CAN) to win the U2 division.
Hunter Hart took the overall win over Josh Simmons and Cody Collier with a come-from-behind performance in the morning Youth race. The victory was Hart's third straight of the year as the New York rider also topped the 90 Open (8-11) class.
"This was a little too close for comfort," says Hart. "My last lap is always my fastest and I just came from the back to get it done."
Simmons' runner-up finish was a personal best. "This is my first podium and I'm excited," says Simmons. "My hands are frozen solid, though."
The 2011 Can-Am Grand National Cross Country Series heads to Union, SC for the Pirelli Big Buck GNCC April 9-10.
GNCC XC1 Standings
GNCC XC2 Standings
Pos.
Rider
ATV
Points
Pos.
Rider
ATV
Points
1.
Chris Borich
Suzuki
76 (2 wins)
1.
Walker Fowler
Yamaha
90 (3 wins)
2.
Chris Bithell
Can-Am
71
2.
Eric HOyland
Honda
55
3.
Adam McGill
Can-Am
69 (1 win)
3.
Aarol Bright
KTM
55
4.
Taylor Kiser
Yamaha
61
4.
Gabe Phillips
Yamaha
55
5.
Jarrod McClure
Honda
52
5.
Dustin Canipe
Honda
45
6.
Bryan Cook
KTM
43
6.
Patrick McGuire
Yamaha
41
7.
Johnny Gallagher
Yamaha
40
7.
Matt Hanna
Yamaha
38
8.
Donald Ockerman
Honda
39
8.
Richie Brown
KTM
38
9.
Kevin Yoho
Yamaha
34
9.
Nathan Wallpe
Honda
37
10.
Brian Wolf
Honda
33
10.
Parker Jones
Honda
35 Published March 28th, 2011 9:58 AM
Top Brands
Popular Articles