1 View
Borich Wins Thriller at Steele Creek GNCC
March 22nd, 2010 11:01 AM
Share
We're committed to finding, researching, and recommending the best products. We earn commissions from purchases you make using links in our articles. Learn more here
Suzuki pilot edges out Yamaha's Kizer
Chris Borich claimed his second win of the 2010 Can-Am Grand National Cross Country season and extended his lead in the championship standings with a gritty performance at round three of the series at Steele Creek in Morganton, NC.
The Yoshimura Suzuki rider trailed Yamaha teammates Bill Ballance and Taylor Kiser on the narrow and undulating 11.2-mile circuit, the three riders running nose-to-tail for much of the race. Borich finally found his way into the lead on the final lap, beating Kiser to the finish by just over a second after two hours of racing. Ballance held on for third ahead of FRE KTM's Bryan Cook and Yamaha rider Jeffrey Pickens.
Ballance grabbed the holeshot by narrowly edging Yamaha-mounted Don Ockerman across the holeshot stripe to start the day's premier race. Kiser moved into formation with Ballance midway into the opening lap, and the duo extended their lead over the field until lappers held them up on lap two, allowing Borich and Can-Am's Adam McGill to close in.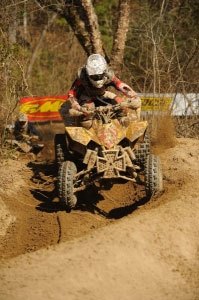 For the remainder of the race, Ballance, Kiser, Borich and McGill ran in a tight formation, until McGill dropped out, leaving Ballance, Kiser and Borich to battle for the lead.
With a lap-and-a-half to go, Ballance made a mistake in a critical section, allowing Kiser and Borich to go by. A half lap later, Borich took advantage of a lapper to pass Kiser for the lead. From there Borich was able to hold off Kiser to the checkered flag.
"This was a tough one, the lappers were brutal and I knew this track was going to be hard to pass on so I wanted to get a good start," says Borich, who was in fifth when the pack rolled into the woods for the first time. "I saw Ballance getting away, but I was basically hanging out and checking out the track."
"Once I caught up, it was a three or four rider battle, kind of a freight train out there, and then Taylor bobbled with a lapper and I was able to make a move on him. I just paced myself after that and things just worked out for us."
"I made a mistake with a little over a lap to go and that was the race," says Ballance. "I took a new line in the creek and I spun out in the ruts a little bit and Taylor and Borich got around me. There's no passing lines out there and it's pretty tough to get around anybody out there, and I just couldn't find a way back around those guys."
Kiser was in good position to claim his second win of the series until he tangled with a lapper on the final lap.
"I caught up with Bill on the first lap and he let me by and we tried to set a good pace and pull away," says Kiser. "But we got into lappers and that allowed everyone to catch up and then Chris got by when we caught up with a lapper and there was not much I could do about it."
Ockerman finished sixth behind Pickens, with Yamaha riders Brandon Sommers and Johnny Gallagher finishing seventh and eighth, ahead of Polaris rider Jarrod McClure and Honda rider Sloan Jackson in ninth and tenth, respectively.
With 10 rounds remaining, Borich holds a five point lead over Kiser (85 to 80), with Ballance in third at 58 points. McGill sits fourth with 47, while Cook rounds out the top five with 44.
Honda rider Kevin Yoho earned the holeshot to start the XC2 race, but it was Kawasaki's Dustin Canipe who led the pack into the woods on the opening lap.
Brian Wolf put his Honda around Canipe on lap two to take the lead, and held on to take his second win of the season. Yoho passed Canipe on the final lap to claim third.
"The Steele Creek track was rough today and the field was tough," says Wolf. "I snuck around Yoho on the first lap and I followed Canipe for just over a lap and then finally made a move."
With three rounds in the books, Wolf leads the series standings with 85 points, followed by Yoho with 62 and Jones with 55.
Dave Simmons won the Super Senior 50+ class and by doing so also claimed the $100 GT Thunder Amateur Overall award. The Yamaha-mounted Simmons battled early in the race with Glen Pritchard , but pulled away in the end.
"I knew Glen was going to be tough," says Simmons. "We went back and forth for a while."
Traci Cecco finished second overall, and topped the Women's division on her Yamaha, beating Can-Am's Lexie Coulter, who finished third overall, and Yamaha-mounted Jennifer Albright for the win.
Can-Am riders once again swept the 4×4 classes. Bryan Buckhannon picked up a victory in 4×4 Open, While Kevin Trantham (4×4 Lites), Scott Kilby (4×4 Limited), and Clifton Beasley (U2) also earned wins for Can-Am.
XC1 Standings
XC2 Standings
Pos.
Rider
ATV
Points
Pos.
Rider
ATV
Points
1.
Chris Borich
Suzuki
85 (2 wins)
1.
Brian Wolf
Honda
85 (2 wins)
2.
Taylor Kiser
Yamaha
80 (1 win)
2.
Kevin Yoho
Yamaha
62
3.
Bill Ballance
Yamaha
58
3.
Parker Jones
Honda
55
4.
Adam McGill
Can-Am
47
4.
Josh Kirkland
KTM
55
5.
Bryan Cook
KTM
44
5.
Dustin Canipe
Kawasaki
49
6.
Jeffrey Pickens
Yamaha
44
6.
Walker Fowler
Yamaha
47 (1 win)
7.
Chris Bithell
Can-Am
41
7.
Gabe Phillips
Yamaha
44
8.
Johnny Gallagher
Yamaha
39
8.
Blake Kramer
Suzuki
34
9.
Jarrod McClure
Polaris
39
9.
Josh Beavers
KTM
29
10.
Don Ockerman
Yamaha
38
10.
Mark Notman
Yamaha
28 Published March 22nd, 2010 11:01 AM
Top Brands
Popular Articles