1 View
Borich Stays Perfect With Win At FMF Steele Creek GNCC
April 8th, 2013 11:24 AM
Share
We're committed to finding, researching, and recommending the best products. We earn commissions from purchases you make using links in our articles. Learn more here
Bithill, McGill complete XC1 podium
Four-time Grand National Cross Country Series (GNCC) champion Chris Borich is looking awfully tough to beat this year. Borich picked up his third straight win to start the season at the FMF Steele Creek GNCC, besting teammate Chris Bithell in the final moments of the two-hour race.
Thousands of spectators were in attendance for Round 3 of the 13-race series and there wasn't a shortage of racing action at the picturesque Steele Creek Campground in Morganton, NC.
Borich came out swinging as the green flag dropped, grabbing his first Team Woodhead/DeRisi Racing Holeshot Award of 2013. However, it was Borich's Maxxis-backed teammate Chris Bithell who took over the lead on the opening lap. Borich stayed close in tow, while BNR Motorsports rider Kevin Yoho latched onto the leaders to run in the third place position early on.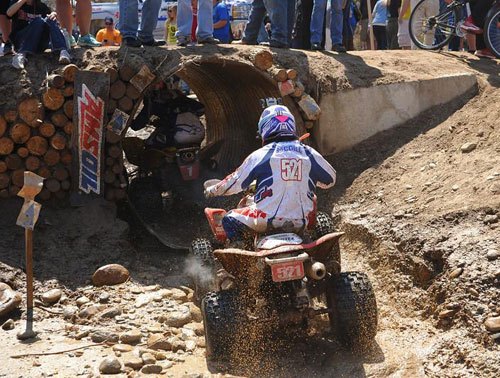 Lonestar Racing/Precision/ITP's Adam McGill quickly inherited third place before making his way up to Bithell and Borich out front. McGill made several attempts to inject himself into the lead battle but the West Virginia native decided to play it safe in hopes of later capitalizing on the duo's mistakes.
"I pushed and pushed to catch back up to Borich and Bithell after getting stuck in the mud hole on the last lap," says McGill. "Once I caught them, they were battling back and forth and I didn't know if they were going to take each other out or what. They were running hard and bumping hard so I thought that might be my chance but I'm happy to come out of here with a third."
AmPro Yamaha's Walker Fowler grabbed a back-of-the-pack start but managed to quickly move his way into the top five. By Lap 2, Fowler had caught up to Yoho and Waynesburg Yamaha/GT Thunder's Jeff Pickens and the three went back and forth until Fowler was able to break free. That is until JB Offroad/ Can-Am's Jarrod McClure, who was also playing catch up through the pack, reached Fowler and applied the pressure for fourth.
All eyes were on the leaders for the final hour of racing as the duo rode wheel-to-wheel through the tight woods of the Steele Creek Campground. As the Pennsylvania boys came through to take the white flag, the order showed Borich and then Bithell. But Bithell put a sly pass on the inside of Borich just before taking the white flag, thus kicking off the final lap ahead of the champ. However, Borich put his veteran racing experience on the forefront once again as he ultimately secured his third consecutive XC1 Pro class win at the culmination of two hard fought hours of racing. Bithell landed a very close second, while McGill held on for the final podium position.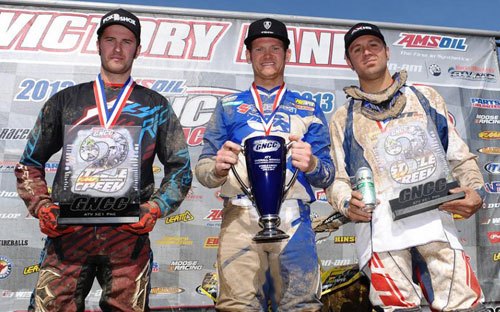 "Today was a phenomenal day. Everything on my ATV was spot on and it was just a lot of fun out there," says Bithell. "It was an awesome battle [with Borich]. Usually we kind of wait for the last lap to go for it but this time when the two-lap card came out, we [Borich and I] just gunned for it. I couldn't have had a better time out there today."
Fowler bested McClure in the battle for fourth, allowing Fowler to maintain second place in the overall point standings. McClure's fifth place finish puts him tied for seventh place with Pickens – who claimed tenth overall for the day.
Still recovering from a pre-season spleen injury, Yoho was able to hold on for sixth place, just ahead of rookie Braden Henthorn who came in seventh. DeRisi Racing's Eric Hoyland secured eighth, while HMF/GBC/Yamaha's Johnny Gallagher took home ninth.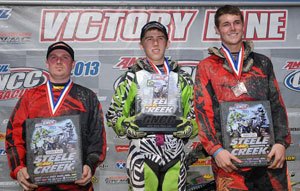 Defending XC2 Pro Am champion Patrick McGuire was finally able to secure his first win of the season, moving into second place overall in the class. XC2 rookie Landon Wolfe grabbed the $100 All Balls Racing Holeshot Award but it didn't take long for McGuire to make his way into the lead and from there, he never looked back.
Indiana's Fred Marley latched onto McGuire on the opening lap and maintained a second place ride throughout the two-hour race. Chad Jones spent a majority of the race in pursuit of Marley but it wasn't enough to make a pass on his fellow Indiana racer.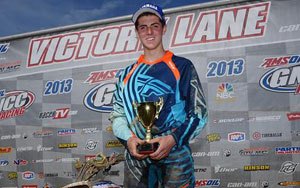 Current Pro Am points leader Brycen Neal had some issues off the start but eventually made his way into podium contention by the second-to-last-lap. Neal's intense riding caused his rear wheel to break apart but that didn't stop the persistent rookie from securing the final XC2 podium position.
Pennsylvania's Jay Shadron secured his first win of the season in the College A (16-21) division, also finishing as the top amateur rider of the afternoon. Shadron currently holds second place in the overall standings, with Marshal Goings in first.
The 2013 AMSOIL Grand National Cross Country Series continues April 13 and 14 with the VP Racing Fuels Big Buck GNCC in Union, SC.
2012 GNCC XC1 Standings
2012 GNCC XC2 Standings
Pos.
Rider
ATV
Points
Pos.
Rider
ATV
Points
1.
Chris Borich
Suzuki
90 (3 wins)
1.
Brycen Neal
Honda
71 (2 wins)
2.
Walker Fowler
Yamaha
64
2.
Patrick McGuire
Yamaha
64 (1 win)
3.
Chris Bithell
Suzuki
57
3.
Fred Marley
Honda
58
4.
Adam McGill
Honda
56
4.
Chad Jones
Honda
50
5.
Kevin Yoho
Yamaha
45
5.
Landon Wolfe
Suzuki
46
6.
Johnny Gallagher
Yamaha
44
6.
Michael Lancaster
Honda
42
7.
Jarrod McClure
Can-Am
41
7.
Thomas Koontz Jr.
Honda
35
8.
Jeffrey Pickens
Yamaha
41
8.
Randy Hamilton
Honda
35
9.
Braden Henthorn
Honda
35
9.
Nathan Wallpe
Honda
34
10.
Eric Hoyland
Honda
36
10.
Jonathan Fugate
Honda
30 Published April 8th, 2013 11:24 AM
Top Brands
Popular Articles