1 View
Wienen Wins AMA Season Finale
August 11th, 2008 11:27 AM
Share
Suzuki rider tops field at Loretta Lynn Ranch
Though much of the 2008 season has been filled with injuries, bad luck and disappointment for Chad Wienen, he certainly finished on a high note.
The Rockstar/ MSR/Suzuki/Yoshimura/Pro Taper rider captured the overall Pro ATV victory at Loretta Lynn Ranch in Hurricane Mills, Tenn. in the season finale for the ITP Tires/Moose Racing AMA/ATVA National Championship presented by Parts Unlimited on August 11.
"I've really been working hard to get back to winning speed," says Wienen who fought multiple injuries this season. "I was just concentrating on the overall win out there. I'm the defending race winner here, so I was looking forward to the race. It feels great to get the monkey off my back and win again. I'd really like to thank my team for giving me such a great quad, because it was the reason I was able to win."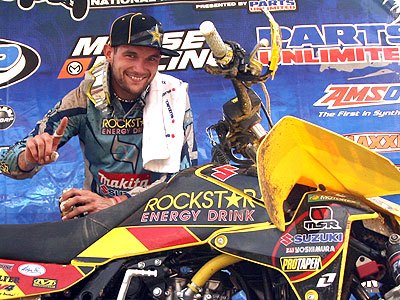 Suzuki teammate Dustin Wimmer, who clinched the season title two weeks ago in Michigan, finished second. Josh Creamer of Team Monster Energy Kawasaki was third.
For winning this year's Riders' Championship, Wimmer collected a $5,000 check. Along with Wienen and Doug Gust, he also helped hand Suzuki the Manufacturers' Cup.
Wienen's win didn't come easy. After finishing first in moto one, he had to get past holeshot winner Gust in the second moto. Wienen began pressing hard, searching for a way around Gust, then American Honda's Joe Byrd passed both Suzuki riders in one fell swoop. From there the battle was on.
Byrd and Wienen pulled ahead of the pack and traded positions several times. Wienen captured the lead late in the event and began to look like he was going to pull away. This was not the case as Byrd fought back and made his way back around the Suzuki rider. Finally, Wienen, realizing he had the overall win, backed off and settled for second. Meanwhile, Byrd raced away with the second moto win.
"I had a mechanical failure in the first moto, but those things happen," says Byrd, who lives roughly 100 miles from the Loretta Lynn Ranch. "I have a lot of friends and family here and I just wanted ride my best for them and get another win for the Byrd House."
Creamer was strong all day, finishing second in moto one. He then put forth an amazing effort in moto two after crashing on lap one. The crash left Creamer at the back of the field, but he immediately began slicing through the pack to ultimately finish the moto in sixth, good enough for third overall.
"As soon as I got up I just told myself I was going to pass as many riders as I could," says Creamer. "I saw a big pack of riders around the halfway mark, and that gave me a little extra boost to keep charging."
Wienen was awarded an extra $1,000 for winning the home base fourth and final round of the ITP Grand Slam. Meanwhile, Byrd picked up an extra $1,000 for winning the ITP Tires Grand Slam championship that consisted of the High Point, Red Bud, Muddy Creek, and Loretta Lynn rounds.
"I've won here two years in a row now," says Wienen. "Joe (Byrd) and I always battle hard. He's beaten me on my home turf and now I've beaten him on his. This isn't the Byrd House anymore, it's Wienen Ranch."
A record 836 entries checked in for this weekend's races, representing a more than 27% jump from last year and the most this season. The previous record for this year was 732, set in March at Millcreek Raceway in Alabama.
Recording artist Krista Marie performed to a packed house Saturday night at the ranch. Marie, who is also a competitive ATV rider, performed many of her hits in front of several record executives and other Nashville-area celebrities.
National Motocross Series Round 11 Results:
| | | | |
| --- | --- | --- | --- |
| Position | Rider | Manufacturer | Moto Results |
| 1. | Chad Wienen | Suzuki | 1 – 2 |
| 2. | Dustin Wimmer | Suzuki | 4 – 3 |
| 3. | Josh Creamer | Kawasaki | 2 – 6 |
| 4. | Joe Byrd | Honda | 10 – 1 |
| 5. | Doug Gust | Suzuki | 3 – 5 |
Championship Points – Final Results:
| | | | |
| --- | --- | --- | --- |
| Position | Rider | Manufacturer | Points |
| 1. | Dustin Wimmer | Suzuki | 438 |
| 2. | Joe Byrd | Honda | 371 |
| 3. | Doug Gust | Suzuki | 352 |
| 4. | Josh Creamer | Kawasaki | 298 |
| 5. | Jeremy Lawson | Can-Am | 277 |
| 6. | Chad Wienen | Suzuki | 268 |
| 7. | John Natalie | Can-Am | 263 |
| 8. | Harold Goodman | Honda | 259 |
| 9. | Josh Upperman | Honda | 277 |
| 10. | Cody Miller | Can-Am | 187 |
| 10. | Pat Brown | Yamaha | 187 |
Related Reading:
Wimmer clinches AMA Championship
Published August 11th, 2008 11:27 AM
Top Brands
Popular Articles