1 View
Wimmer Back on Top After ATV MX Victory
July 21st, 2009 2:34 PM
Share
Suzuki rider sweeps motos at Pleasure Valley Raceway
In what turned out to be one of the most exciting AMA ATV Motocross races in recent memory, Rockstar/Makita Suzuki's Dustin Wimmer passed a battling Joe Byrd and Josh Creamer in the last corner of the second moto to steal the overall win at Pleasure Valley Raceway, host of round nine of the 2009 ITP Tires/Moose Racing AMA ATV Motocross Championship.
Honda's Byrd appeared headed to the overall via 2-1 moto scores until Monster Energy Kawasaki's Creamer attempted an aggressive pass in the final corner of the race, leaving the two riders tangled together and giving Wimmer a path into victory lane.
"It all happened so quick," says Wimmer. "I was just trying to get around Josh to get some points back for second place and we came over that tabletop side by side and I guess they got tangled up and I went right around them. It happened so quick I didn't really know what happened!"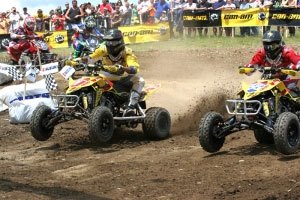 Wimmer took the first moto win in front of Byrd, but Byrd appeared ready to take moto two for his second overall win this season. Instead, he ended the moto in tenth, with Creamer in seventh. Wimmer's teammate Doug Gust ended up second overall with 3-2 scores, and Baldwin Motorsports Honda's Josh Upperman took third with 5-3 finishes.
"The competition, if you look at our lap times, there are 15 guys within two seconds of each other," says Gust. "We have ten guys that could win on any given day."
Behind all this, AMA Pro ATVMX Championship Points leader Chad Wienen had a miserable day and ended up handing the points lead back to Wimmer. A first-turn crash in moto one knocked the Monster Energy Kawasaki rider out of the race with a bent machine, and a terrible start in moto two – he was 12th on lap one – resulted in a sixth-place finish in the moto. Wimmer is now back in the series lead despite losing significant ground at mid-season with a dislocated shoulder.
In moto one Gust grabbed the holeshot and led for a few laps, while Wimmer battled with Creamer and Byrd to get into second. Wimmer eventually overtook his teammate to take the lead and the moto win, with Byrd making a late-race move to get around Gust for second, and Creamer taking a close fourth ahead of Upperman.
Byrd, who also held the series' points lead early in the year, was determined to get the win in moto two, and he grabbed the holeshot and took off. But Creamer was determined as well. He passed Gust to get into third, and then mounted a huge rally on the last lap, passing Wimmer for second and then going after Byrd. In the last corner of the race, both Byrd and Creamer went to the outside and collided, and their machines got locked together with the finish line in site. Wimmer and Gust, who were right behind, went to the inside and emerged with an incredible 1-2 finish.
"That has to be the moto of the century, four guys going for it," says Gust. "I was kind of back and watching it all. I figured something had to happen, so I put a charge for it, and then something happened and I came in second."
"It was good racing," says Wimmer. "I knew Joe was going to be strong. I tried to get around him this race (in the second moto) and it wasn't happening. This track, you have to run it wide to have good lines, you can't do it with someone right behind you."
In the Pro-Am Production Class, Cody Gibson dominated the event with 1-1 finishes on his Kawasaki.
In the AMA Pro ATV Manufacturer Cup, Wimmer's win helps Suzuki build a small lead, with 332 points over Kawasaki's 318.
Wimmer now holds a 29 point lead in the AMA Pro ATV Standings with two races to go. A total of 100 points are up for grabs in the final four motos.
Next up for the AMA ATV Motocross Championship is Red Bud MX in Buchanan, Mich. Aug. 1-2.
Suzuki Summer Nationals Results
ATV Motocross Pro Class Standings
Pos.
Rider
ATV
Motos
Pos.
Rider
ATV
Points
1.
Dustin Wimmer
Suzuki
1 – 1
1.
Dustin Wimmer
Suzuki
335 (5 wins)
2.
Doug Gust
Suzuki
3 – 2
2.
Chad Wienen
Kawasaki
306 (2 wins)
3.
Josh Upperman
Honda
5 – 4
3.
Joe Byrd
Honda
304 (1 win)
4.
John Natalie
Can-Am
7 – 3
4.
Doug Gust
Suzuki
292
5.
Josh Creamer
Kawasaki
4 – 7
5.
Josh Upperman
Honda
276
6.
Joe Byrd
Honda
2 – 10
6.
Josh Creamer
Kawasaki
256 (1 win)
7.
Thomas Brown
Yamaha
9 – 8
7.
John Natalie
Can-Am
237
8.
Cody Miller
Can-Am
6 – 11
8.
Jeremy Lawson
Can-Am
225
9.
Jeremy Lawson
Can-Am
13 – 5
9.
Cody Miller
Can-Am
194
10.
Greg Gee
Honda
11 – 9
10.
Thomas Brown
Yamaha
184
Published July 21st, 2009 2:34 PM
Top Brands
Popular Articles