15 Views
Mines & Meadows ATV Park Review
June 16th, 2015 3:40 PM
Share
We're committed to finding, researching, and recommending the best products. We earn commissions from purchases you make using links in our articles. Learn more here
It's awfully dark down here!
It's not very often that you get the chance to explore an old underground mine, let alone while riding an ATV. But that's exactly what you can expect if you visit the Mines & Meadows ATV/RV Resort in western Pennsylvania.
Mines and Meadows offers a lot more than just a tour through an old limestone mine, but that's certainly the most unique feature of the park so that's where we'll start.
As you roll through the wooden-beam enforced mine entrance your headlights better be on because you won't be seeing any natural light again until you come out. You may think you've been in the dark before, but you've probably never experienced such a complete and total lack of light as we encountered here. It's not like your eyes can adjust to the light – this is as dark as dark gets – there's no light to adjust to! As Mines & Meadows owner Robert J. Svihra likes to say, "You can't even see what you're thinking." Fortunately for us, the Kawasaki Brute Force ATVs we were riding provided ample light to show us the way.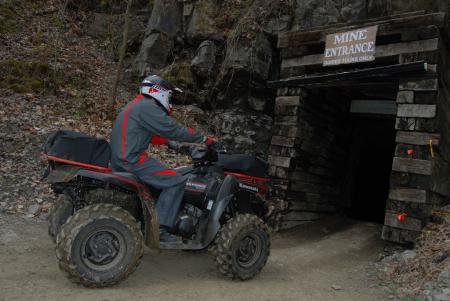 Once you make your way through the entrance, say goodbye to natural light.
All the mine tours are guided and for good reason. A huge underground lake makes its home in the mine and it's more than deep enough to swallow up an ATV. You can play around in the shallow water – and we did plenty of that – but the guide will keep you clear of any trouble.
There's plenty of shallow water to splash around in.
The mine tour is only about a half mile loop, but it's such a unique experience to be guided only by your headlights and surrounded left, right, above and below by rock. In some areas you can reach up and touch the limestone ceiling while you ride. Also unique is that the temperature never changes. It's always 55 degrees with 80% humidity, no matter the season. If you're riding in the summer, be sure to bring warm enough gear. It would be quite a shock to go from riding outside at 90 degrees to the cool chill of the mine.
It was surreal riding around through these narrow openings in the mine.
Riding through this underground labyrinth it's hard to ignore the history. Miners began hammering away at the limestone in the late 1800s. The whole area around Mines & Meadows has been sculpted by miners and you can see how it changed the topography of the land. Huge sections of earth and rock have been sheered away, inadvertently providing fantastic terrain for off-road riding more than a century later.
The folks at Mines & Meadows have turned that terrain into about 45 miles of ATV trails, with more in the works. Each visitor to the park is given a trail map of the 600-acre park with a legend showing where the easy, moderate and more challenging trails can be found.
Rock crawling areas will test your mettle.
This multi-tiered hill had some very steep climbs.
A good portion of the trails are wide open and easy to ride, which makes it a great place to take beginners or go for a leisurely ride with your family. For the more adventurous, challenging hill climbs, rock scrambles, mud bogs and water crossings can all be found.
We spent quite a lot of time playing around in a shallow river. It was a blast crossing hundreds of yards of water, some of it nearly seat high, and doing our best not to bog our ATVs down with water. It had been raining before we arrived, so the water was a little deeper than normal, but we managed to avoid getting stuck. Whether that was because of rider skill or (more likely) the awesome Brute Force ATVs we were riding, it was fun just the same. It was also guilt free riding, because no matter how much we spun our wheels and messed around in the water, the bottom of the river is limestone so we were in no danger of tearing it up and creating deep ruts for future riders.
The Kawasaki Brute Force 650 didn't get bogged down with water. We can't say the same for our boots.
Svihra says his goal for Mines & Meadows is to provide ATV riders with the country club atmosphere they deserve. He's invested nearly $2 million of his own money into the facility and he's got big plans, including a hotel and all the amenities you could hope for.
Mines & Meadows is situated close to the BeaveRun Motorsports Complex, which Svihra is also invested in. We could hear the hum of the superbikes racing around BeaveRun while we were riding. A golf course is also nearby, so if you've got kids who like to ride, you can drop them off for the day, go play 18 holes and pick them up when you're done.
River riding at Mines & Meadows.
Located in Wampum, Pa., Mines & Meadows is about 40 miles outside of Pittsburgh and an easy drive from eastern Ohio or northern West Virginia. Facilities for RVs, tents and trailers are available if you plan to stay for a day or two. If you don't want to bring your own ATV along, you can rent one on site.
A day pass costs $25, but weekend, seasonal and year-long passes for individuals and families are also available. Mines & Meadows is open 12 months a year, so if winter riding is your thing, you can buy a three-month winter pass for $50. You can even store your ATV at the park for a monthly fee. For just $5, the staff will even clean it up after you get back from your ride.
For more information, visit MinesandMeadows.com or call 724-535-6026. Lucas Cooney
I have been working exclusively in digital media since 1997. I started out with TSN.ca, spending nearly nine years creating and editing content on Canada's leading sports website. I left to join VerticalScope, Inc., one of the world's largest online publishers, to start a number of powersports publications. While at VerticalScope, I've helped create and oversee content for a wide variety of different publications, including ATV.com, Off-Road.com, ArcheryTalk.com, Tractor.com, RVGuide.com, and many more.
More by Lucas Cooney
Published May 1st, 2009 4:22 PM
Top Brands
Popular Articles