1 View
Northern Pennsylvania Considering New ATV Park
August 4th, 2010 1:01 PM
Share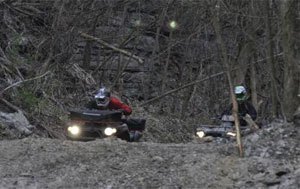 In a bid to attract ATV riders and their money to the area, the Northern Pennsylvania community of Northumberland County is looking into building a new ATV park.



According to a report in the Daily Item
, a county commissioner envisions the park providing a boom for the local economy as ATV riders stay at hotels, eat at restaurants and spend money in the area.
"If we can do this in the next five years, the entire Valley would be booming," Vinny Clausi tells the Daily Item. "This would be such a great thing to have."
Clausi sees the success of the Hatfield-McCoy Trails in southern West Virginia and thinks it can be replicated in Pennsylvania. The trails generate nearly $8 million every year and almost 45 businesses have opened since the park began operations in 2000.
"We can have that here because we can have our community building hotels, restaurants, and other things to build the economy up here," says Clausi. "I think this will be such a great asset to the community because an ATV park will attract people from all over the country."
Related Reading
Mines & Meadows ATV Park Review
Published August 4th, 2010 1:01 PM