1 View
Walker Fowler Wins Fourth GNCC Championship
October 15th, 2018 11:15 AM
Share
We're committed to finding, researching, and recommending the best products. We earn commissions from purchases you make using links in our articles. Learn more here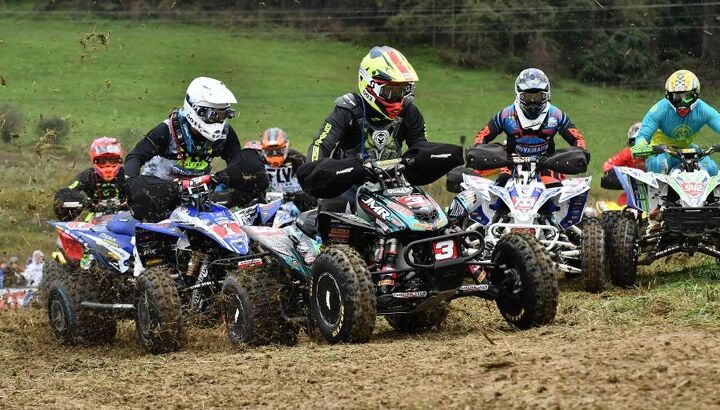 Win at Powerline Park GNCC clinches title one round early
The 12th round of the 2018 AMSOIL Grand National Cross Country (GNCC) Series, an AMA National Championship, took place Saturday, October 13, in St. Clairsville, Ohio for the 18th Annual Powerline Park GNCC. After early morning rain showers the day was met with overcast skies and temperatures in the mid-forties, which did not offer much time for the track to dry out. Champions would be crowned throughout the ranks as a very rough and tough season of GNCC Racing nears its end.
As the XC1 Pro class fired off the line and began their two-hour event it was JMR/ATVriders.com/Maxxis' Jarrod McClure claiming the $250 Wiseco Holeshot Award with WFR/GBC/Fly Racing/Yamaha's Walker Fowler chasing him through the first few turns as the class headed into the woods and out of sight. The fate of Fowlers quest for his 4th championship was now in his hands. Throughout the race, fans cheered for Fowler as he entered the infamous creek jump letting him know he was on a mission and they were along for the ride.
Clearing the final few turns heading into timing and scoring to clinch his 4th National Championship was Walker Fowler, fans greeted him with cheers as they went wild throughout the venue. The celebration started before the Yamaha mounted rider could get off the track and wouldn't end until well after dark as he remained in his pit signing autographs and spending time with his fans. This win was well earned after a season of success and failure that at times had the champ on the ropes, but the slugfest at this round came well-earned and deserved as he was crowned champion once again.
Walker Fowler secured his 4th GNCC ATV National Championship one round early. (Photo by Ken Hill)
Behind Fowler, AmPro Yamaha/Gear Alloy/GBC's Cole Richardson had done everything he could and left it all on the track, but he does leave Powerline with a hard fought second unable to pull off an upset after fending off McClure and putting pressure on Fowler. Richardson's season may have had a rough start, but he has picked himself up and gotten back at a pace that put him on the podium in the first place.
McClure would tough out a very trying course and claim the final podium position after securing the holeshot and leading the first part of the race. McClure has everything he needs to win races except a bit of luck that he seems unable to find. With one win on the season and a few rounds where he was off his usual pace, if things had gone differently he could have easily been bringing this championship battle down to the last lap of the last round.
McGill Mafia/CST Tires/Moose Racing's Adam McGill remains a fan favorite and the fans spoke loudly when they would catch a glimpse of him as he powered his way around the Ohio landscape. McGill's season has been one he would like to put behind him so he can focus on getting his preparations for the 2019 season started. He leaves powerline with a solid fourth place finish on the day.
Hunter Hart (center) earned the XC2 Pro-Am National Championship. Austin Abney (left) and Jordon Poplaski rounded out the top three. (Photo by Ken Hill)
Bneal Motorsports/CST Tires/Houser Racing's Brycen Neal came into this round feeling confident. He was expecting to have a good battle at his second home state race. However, racing is racing and Neal would have to settle for a fifth after an exhausting effort to get to the front. With one round remaining, look for Neal to go all out to leave his mark on the 2018 season.
A big draw this round was the anticipated arrival of Ti-Lube Honda/Rockford Fosgate/Maxxis' Joel Hetrick, also the 2017 ATVMX National Champion. Known for his expertise on a motocross track, everyone was excited to see him take part in the XC1 Pro class. Hetrick was right in the thick of things at the start and remained upfront even though many thought he would fade as the brutality of the track took its toll. Hetrick had other plans and made an excellent effort during the two hour race as he tamed the trees and raced to a 10th place finish in his class and a 12th overall proving he could easily handle cross country racing and with a few more races under his belt might even find himself battling for a podium finish.
After a long season with tough competition, Maxxis/Ithaca Recreation Sports/Fly Racing's Hunter Hart would come away with his ninth win of the season and earn his first XC2 Pro-Am National Championship. Demaree Motorsports/LSR/Fly Racing's Austin Abney made his seventh podium appearance this season, and remains second in the points standings. Jordon Poplaski made the jump from Junior A (22+) and earned his first podium finish in the XC2 Pro-Am class on Saturday after battling through the pack.
Traci Pickens pictured with her family and crew took home her 11th WXC National Championship. (Photo by Ken Hill)
The days celebrations got underway as Cunningham Racing/Can-Am/Kenda's Kevin Cunningham put yet another 4×4 Pro National Championship notch on his belt. With stiff competition all season, this year's number one plate may hold a bit more honor for the Indiana racer as he withstood every challenge thrown at him. Cunningham has been a great champion for several seasons and his competition knows he will fight for every position until the checkered flag flies.
The one rider who has been pushing Cunningham all season has been Can-Am/Derisi Racing/GBC Motorsports Landon Wolfe, who claimed the morning overall and 4×4 Pro win. Wolfe has been grinding away this season, which makes one wonder how much closer can things get in 2019? Taking third behind Cunningham was Dwight Pollard who seems thirsty for a win of his own and is leaving a trail of podium finishes in his wake. The 2019 season is already shaping up to incredibly fierce as these racers all vie for the honor of earning that number one plate.
Kevin Cunningham wrapped up the 4×4 Pro National Championship after a hard-fought battle all season long. (Photo by Ken Hill)
The championships for Yamaha on this day also started early as Traci Pickens earned her 11th WXC National Championship. Pickens is no stranger to putting in the effort needed to remain number one even as the competition gets stiffer and more intense. Traci not only earned her number one plate, she took the WXC win and was joined on the podium by second place finisher Sadie Gorrell and Alicia McCormick in third after battling back from an early season crash that had her rebuilding herself from the ground up.
The UXC1 Pro Turbo Championship could have been settled here at Powerline Park, but Can-Am/Chaney Racing's Kyle Chaney was able to get out front and remain there when it counted to claim the win. Chaney's efforts combined with finishes by those also in contention set up a last man standing scenario at the final round. Taking second was Cohl Secoy and for his first podium finish of the year, along with John Barnes who completed the podium with his third place finish.
Kyle Chaney took the UXC1 Pro Tubro win, and earned valuable points towards the championship which will now go down to to the last round at Ironman in two weeks. (Photo by Ken Hill)
The youth racing here at Powerline Park is always ultra-competitive and well stocked with racers. Layne McCormick would once again power his way from start to finish taking the overall and class win in the YXC1 Supermini Sr. class. Keaton Henderson came through with another second place finish and was followed by James Glauda, who secured the third and final podium spot.
For more information on the GNCC series, visit the official website at www.gnccracing.com or call (304) 284-0084. Join the conversation on the series Facebook page, follow us on Twitter and Instagram, and be sure to always hashtag
Powerline Park XC1 Pro Event Results
Walker Fowler (YAM)
Cole Richardson (YAM)
Jarrod McClure (HON)
Adam McGill (HON)
Brycen Neal (YAM)
Chris Borich (SUZ)
Westley Wolfe (SUZ)
Marty Christofferson (HON)
Josh Merritt (YAM)
Joel Hetrick (HON)
Overall National Championship Standings
Walker Fowler (281)
Jarrod McClure (228)
Brycen Neal (220)
Chris Borich (218)
Cole Richardson (174)
Adam McGill (156)
Marty Christofferson (125)
Westley Wolfe (116)
Hunter Hart (114)
Devon Feehan (114) Published October 15th, 2018 11:15 AM
Top Brands
Popular Articles