3 Views
2018 Can-Am Maverick Trail Accessories
June 4th, 2018 10:05 AM
Share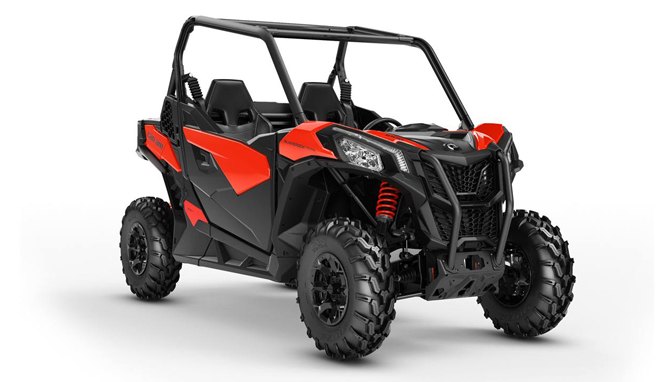 Though it is small in stature, the Maverick Trail is BIG on fun. Here are a few Can-Am Maverick Trail accessories to make your machine a little more unique.
In stock trim, the 2018 Can-Am Maverick Trail will take you just about anywhere you want to go but with so many accessories available, why not add a few goodies to make your experience just a little more enjoyable? BRP offers a huge selection of Can-Am Maverick Trail accessories straight from the factory as a part of it's PAC line-up (Parts, Accessories and Clothing.) Here are three accessories that we think are worthy upgrades for any Maverick Trail owner.
Apache 360 LT Track System
Thanks to its nimble size, the Can-Am Maverick Trail will go just about anywhere you want, but if you're traversing deep snow, you might find yourself in over your head and down on power. The Apache 360 LT Track system will ensure adequate traction no matter how deep the snow gets and don't think for a minute this is only a "winter" accessory. According to Can-Am "their superior ground adhesion makes them a favorite for navigating swamps and bogs." Perfect for year round riding in wet or swampy conditions, check out the Apache 30 LT Track System for your Can-Am Maverick Trail, which retails for $4,539.99. Part#: 715003064 Learn more here.
DragonFire Aluminum Roof
If you're what we like to call an "all weather rider" then you're going to want some overhead protection from the Can-Am Maverick Trail accessories catalog and this aluminum roof from DragFire is a trick looking and functional add-on. Some Can-Am Maverick Trail models come equipped with a roof from the factory but this DragonFire roof offers a durable powder coated finish with sleek lines designed to match the vehicles body style and enhance the overall look. The DragonFire Aluminum roof for the Maverick Trail retails for $499.00. PART#: 715004458 Learn more here.
Beard Suspension Seats
If you plan to spend all day bouncing over ruts, rocks and anything else that might come across your path, suspension seats should be on high on the list of Can-Am Maverick Trail accessories you need to explore. Made of rigid welded-steel frame, covered with sculpted foam and wrapped with a custom cover of premium marine-grade vinyl, which is durable in all driving conditions and resistant to mildew and fading, you backside will thank you everytime you climb into the cab. Available in black or Can-Am Red for $949.99. PART#: 715004459 Learn more here.
Published June 4th, 2018 10:04 AM
Top Brands
Popular Articles