1 View
2018 Can-Am Maverick X3 X Rc Turbo and Turbo R Preview
September 21st, 2017 12:21 AM
Share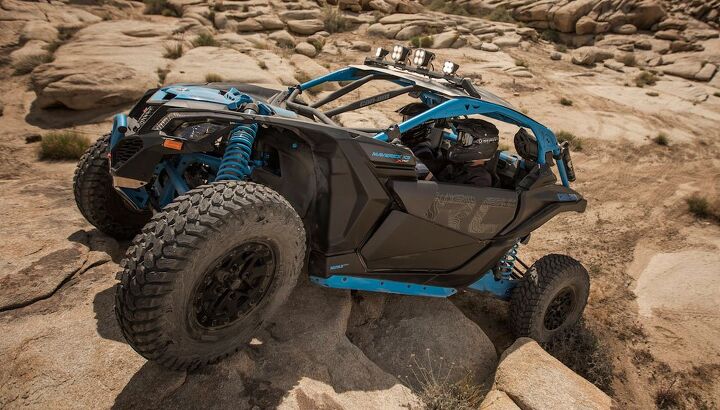 BRP has expanded the scope of its Can-Am Maverick family with the new 2018 Can-Am Maverick X3 X rc Turbo and Turbo, which are designed specifically for rock crawling.
The off-world marketplace is crowded with a huge variety of vehicles built for just about every application. But the folks at BRP found one niche that hasn't been served yet. The 2018 Can-Am Maverickk X3 X rc Turbo and Turbo R are the first UTVs designed from the factory for rock crawling applications.
"The new Maverick X3 X rc Turbo R and Maverick X3 X rc Turbo vehicles are each purpose-built from the factory to excel in challenging terrain," BRP says in a release. "A new industry-exclusive front differential system with Smart-Lok technology offers unrivaled surefootedness when the going gets super tough. With the popularity of ownership customization and recreational and competitive rock crawling on the rise, Can-Am — the official side-by-side vehicle of the ULTRA4 King of the Hammers rock-crawling race — built two different X3 rc packages to appease these rock hounds' passion and budgets."
The Can-Am Maverick X3 X rc Turbo R ($28,999) features a 172-horsepower engine, while the Turbo model ($23,999), which lacks an intercooler, receives a 120-horsepower mill.
To help handle the rock terrain they are designed for, the Maverick X3 X rc Turbo R features a wide 72-inch stance and an industry-leading 102-inch wheelbase, while the Turbo model offers up a 64-inch width and the same wheelbase.
Smart-Lok Technology
What really sets the Can-Am Maverick X3 X rc Turbo and Turbo R apart from the rest of the Maverick family is the new Smart-Lok system. Here is how BRP describes this new technology.
A new industry standard, electronically controlled front lockable differential system with Smart-Lok technology ensures maximum traction and enhanced slow-speed maneuverability especially in challenging terrain. The Smart-Lok system, developed in conjunction with TEAM Industries, takes integrated intelligence to new heights and allows on-the-fly adjustments. The differential can lock and unlock on the fly no matter the speed, letting the driver focus on the trail. The electronic system, via its Front Differential Module (FDM), gathers at least six data inputs (engine torque, vehicle speed, wheel RPM, steering feedbacks, throttle pedal, gear position) and smartly, strongly and quickly engages an integrated actuator with proper load and without delay. The result is simple steering output (same as being fully open), allowing the driver to accurately conquer varying obstacles while maintaining momentum.
The driver has the option to select between four modes: 2×4 / 4×4 fully locked / 4×4 ROCK and 4×4 TRAIL. The preset ROCK and TRAIL settings are designed to enhance the off-road experience by offering a more customized feel to match to specific terrain, conditions and demands. Our engineering team further enriched the system by including hill descent control, which includes an Electronic Braking System (EBS) at all four wheels, for improved control and traction.
Other Features
In addition to the Smart-Loc technology, the new Maverick X3 X rc Turbo and Turbo R offer a host of features, including: new low seating position, 15 inches of ground clearance on the Turbo R (14 inches on the Turbo), tilt flat-bottom steering wheel, panoramic mirror, ErgoPrint X-package seats that are four-way adjustable, removable seat cushions, factory-installed four-point harness with shoulder padding (Turbo R), TTX rear suspension, 24 inches of rear suspension travel on Turbo R (20 inches of Turbo), and 22 inches of front suspension travel on Turbo R (20 inches on Turbo).
The Turbo R benefits from fully adjustable FOX 2.5 Podium RC2 HPG Piggyback shocks with bypass and dual-speed compression and rebound (front) and FOX 3.0 Podium RC2 HPG shocks with remote reservoir and bypass, paired with dual-speed compression and rebound adjustments (rear). The Turbo model receives FOX 2.5 Podium HPG Piggyback shocks with front and rear QS3 compression adjustment front and rear.
Both machines also wear 14-inch aluminum beadlock wheels and new six-ply 30-inch Maxxis Liberty tires. Finally, a 4,500-poun winch with synthetic rope comes standard.
The Can-Am Maverick X3 X rc Turbo R featuers Carbon Black & Octane Blue paint with matching blue cage and brushed aluminum roof, while the Turbo has a black cage and no roof.
2018 Can-Am Maverick X3 X rc Turbo R Specs
| | |
| --- | --- |
| Engine Type | 900cc Turbocharged Triple |
| Horsepower | 172 |
| Fuel Delivery | Intelligent Throttle Control (iTC™) with Electronic Fuel Injection (EFI) |
| Transmission | Quick Response System X (QRS-X) CVT with high airflow, L / H / N / R / P |
| Final Drive | Lockable front differential with exclusive Smart-Lok technology. True 4 modes traction system: 2WD / 4WD with front diff. lock / 4WD ROCK / 4WD TRAIL |
| Power Steering | High torque Tri-Mode Dynamic Power Steering |
| Front Suspension | Trophy truck inspired double arched A-arm with sway bar / 22-in. (55.9 cm) travel |
| Front Shocks | FOX 2.5 PODIUM RC2 Piggyback with bypass, dual speed compression and rebound adjustments |
| Rear Suspension | 4-link Torsional Trailing-arm X (TTX) with sway bar and arched lower links, 24-in (61 cm) travel |
| Rear Shocks | FOX 3.0 PODIUM RC2 remote reservoir with bypass, dual speed compression and rebound adjustments |
| Front Brakes | Dual 262 mm ventilated disc brakes with hydraulic twin-piston calipers |
| Rear Brakes | Dual 248 mm ventilated disc brakes with hydraulic twin-piston calipers |
| Front Tires | Maxxis Liberty 30 x 10 x 14 in. |
| Rear Tires | Maxxis Liberty 30 x 10 x 14 in. |
| L x W x H | 133 x 72 x 67 in. |
| Wheelbase | 102 in. |
| Maximum Ground Clearance | 15.0 in. |
| Fuel Capacity | 10.5 gal |
| Dry Weight | 1,751 lbs |
| Rack Capacity | 200 lb |
| Towing Capacity | 1,500 lb |
| Warranty | 6 Month (Limited Factory Warranty) |
Published September 20th, 2017 11:58 PM