1 View
5 Ways Can-Am ATVs and SSVs Are Built to Handle Any Terrain
September 18th, 2018 2:16 PM
Share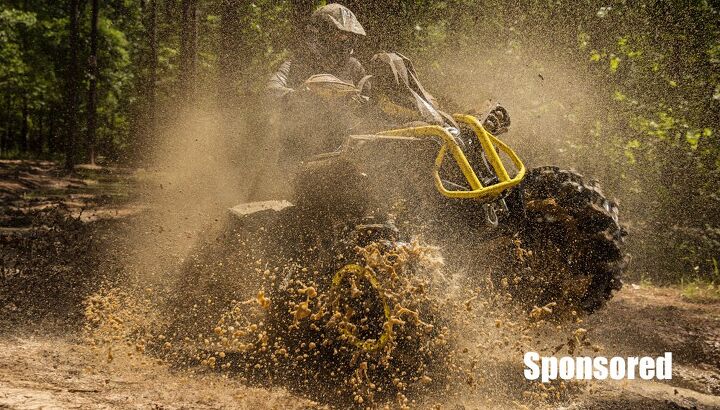 No matter where you want to ride, Can-Am builds an ATV or Side-by-Side to help you get there. This is how they do it.
The features of specific machines bring home the type of terrain and riding style of their owners. If you want to rip through the desert, then you would or should consider the Maverick line, but if a smooth ride adventure for miles is your game then the Outlander ATV line might be a first choice. Regardless of these choices, Can-Am builds each machine to handle any terrain. Here are just a few ways they do this.
Maverick – Long Travel Suspension
Just the other day we had spoken with a friend about just how impressed we were in 2012 when suspension became the focus of many Side-by-Side manufacturers. It wasn't until we found ourselves knee deep in south of the border whoops that we realized just how much thought Can-Am gave to this very rugged terrain. With 20-plus inches of suspension travel dampened by the industry-leading shock manufacturer, we then realized that Can-Am had built a suspension without limits for any landscape imaginable!
Outlander 1000 – Big Power
Have you ever thought that you do not have enough brute strength in your machine to move a mountain? Have you ever had a moment where the rocky outcroppings simply devoured the power of your tire store discount ATV? Not with the Rotax in the Can-Am Outlander. Can-Am, as well as Rotax, want you to have as much fun as you can with no restrictions and the Rotax mill will get you there in any terrain!
Commander – Comfortable Ergos
The original pride of the Can-Am Side-by-Side fleet is made for families who want to find the wild outdoors without sacrificing comfort. This machine's cab has long been the discussion for many seeking the comfort and confidence they need to spend hours behind the wheel. It is well laid out and very well produced with rugged innovation to keep being the twinkle in your eye many years after the purchase. This is just one more place where Can-Am built in the capability to handle any terrain.
50-inch Maverick
Focused riding and getting into the smallest cracks in the world-wide outdoors is the job of the Can-Am Maverick Trail. Finding those trails that simply must be explored but not in anything bigger than 50-inch vehicle is why this machine exists. Can-Am made sure that the true adventure seeker could find his or her destination anywhere on the earth. It just takes a will and a tank of gas to go. This is the purpose of Maverick trail and it's calling to you!
Outlander X mr
Built mud tough, the Can-Am Outlander X mr is a purpose-built machine. It gives the rider the tools to ride mud and it is as simple as that. You have snorkels, high ground clearance and mud-biscuit throwing, heavy-lugged tires ready to eviscerate the ponds of rural towns all over the south! Add in the massive power and all sealed electronics and you have a machine built to handle the mud-born terrain anywhere!
Published September 18th, 2018 2:16 PM
Top Brands
Popular Articles