1 View
You May Soon Be Required to Buckle Up in a Kawasaki UTV
March 31st, 2016 3:04 PM
Share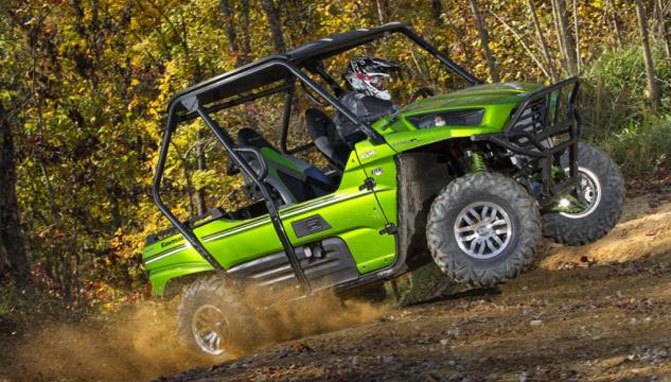 Patent application links speed limiter with seat belt
Kawasaki has applied for a patent for a system that would limit engine speed in a UTV if it detected the driver not wearing a seat belt. You can see the patent document here.
The seat belt-related speed limiter, which is already found in UTVs from other manufacturers, may soon be an industry standard for UTVs. We asked Kawasaki about the patent and got the following response from the manufacturer:
"The industry has maintained an ongoing practice of revising its voluntary standard, the latest version of the ANSI/ROHVA 1-201X voluntary standard has considered comments from various stakeholders including the Consumer Products Safety Commission (CPSC). The newly revised standard, due to be published by the American National Standards Institute (ANSI) in the first half of 2016, allows for continued innovation in both performance and safety of recreational off-highway vehicles (ROVs). Included in the revisions are new occupant protection measures such as the addition of a seat belt interlock that limits vehicle speed until the driver is buckled, this among the other many revisions have resulted in the most robust version to date."
While we'd guess we'll soon be seeing the technology from this patent make its way to Kawasaki Mule and Teryx models, that is certainly not set in stone. We've seen many patents from ATV and UTV manufacturers that never made their way to consumer vehicles. However, if ANSI does indeed make this technology an industry standard, the major manufacturers will all quickly adopt it.
While the technology does seem like a good way to get UTV drivers to buckle up, it does not come without issues. Many UTV owners like to replace their factory three-point seat belts with aftermarket four- and five-point harnesses. There have already been reported cases of consumers installing aftermarket harnesses in some UTVs with this technology and not being able to travel faster than 10 mph or so. The aftermarket, however, has already come up with an override solution.
Published March 31st, 2016 3:03 PM