1 View
2016 Yamaha YXZ1000R Unveiled
October 16th, 2015 12:11 PM
Share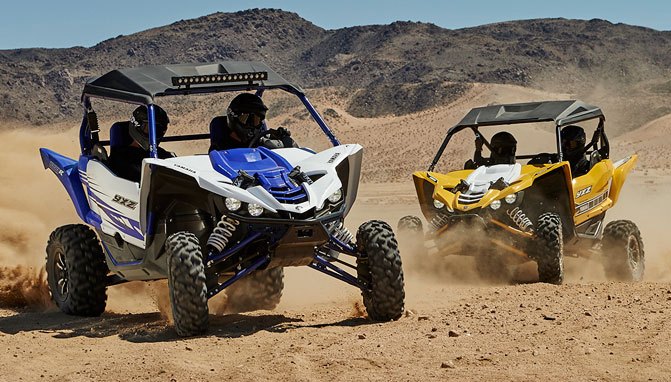 Yamaha's first pure sport UTV is finally here!
It feels like we've been waiting for an eternity, but Yamaha finally took the covers off its pure Sport UTV – the 2016 YXZ1000R.
In person, the YXZ1000R is stunning. Boasting a high-performance three-cylinder 998cc engine with a first in class five-speed sequential shift manual transmission, the YXZ1000R is a performance machine in every sense of the word.
Talk about this on our YXZ1000R Forum
Test Ride
We were on hand when Yamaha unveiled the YXZ1000R to its dealers and the media. Unfortunately, we didn't get behind the wheel ourselves, but we did get to ride along with one of Yamaha's test riders for a couple of hot laps around a test track in Southern California.
The engine sounds fantastic and the power hits plenty hard. It's tough to say how it compares to other UTVs with such an abbreviated ride, but it sure doesn't feel like it's lacking.
The biggest takaway from our ride was how well it corners. Yamaha's test rider was aggressive around the corners and I was worried the inside tires would start to lift off the ground. However, the rubber stayed glued to the ground.
Big Power
The YXZ1000R's three-cylinder, 12-valve, DOHC, liquid cooled, 998cc engine boasts an aggressive 11.3:1 compression ratio and a ridiculous 10,500 rpm redline. This thing screams.
"With broad, linear torque, the YXZ1000R responds to driver input with exciting sport performance power from low- to high-rpm range, and the triple throttle bodies provide a more direct connection between driver throttle input and engine response," Yamaha says in a release.
An engine won't play nice without clean air. Yamaha solved that issue with a high-mounted, high-volume clean air inlet. Dual air filters – one oiled foam and wet pleated paper type – provide filtration.
As for the exhaust, Yamaha says the high volume stainless steel system (three-into-one) is tuned for maximum power output and meets EPA/CARB regulations with a muffler mounted integrated honeycomb catalyzer and removable spark arrestor.
Manual Transmission
The YXZ1000R features the industry's first fully manual five-speed sequential shift transmission in a Side-by-Side vehicle. It is operated via a clutch pedal and short-stroke shift lever.
"With the YXZ1000R's direct-drive transmission, driveline efficiency is increased, supplying optimal engine power directly to the rear wheels, while cam dampers on both the input and output shafts keep shifting smooth and precise," says Yamaha.
Suspension and Chassis
The YXZ1000R boasts massive long travel FOX 2.5 Podium Shocks with 16 inches of travel in front and 17 inches out back. We saw a shock out of the machine and it's comically large.
Outside the confines of the YXZ1000R, the FOX 2.5 Podium Shock looks enormous.
Aesthetically, the front suspension protrudes upward through the hood of the vehicle, making the top end visible from outside and inside the cockpit. As you'd expect, the shocks are fully adjustable for hi- and low-speed compression, rebound, and adjustable preload. The rear shock utilizes FOX Bottom Out Cup (BOC) technology. Yamaha says that helps maintain comfort while reducing the chance for bottoming out in extreme conditions.
The double A-arm design is color matched to the machine. Yamaha boasts the front A-arms have optimized castor, bump steer and Ackerman – throughout the travel and steering angle.
The rear double A-arm design features spherical bearings to help ensure accurate tire alignment. As well, the rear shocks are mounted as far out as possible, providing the longest stroke.
"The rear suspension design provides superior straight line stability with minimal camber variance throughout the entire range of travel," says Yamaha.
Yamaha mounted the engine low and longitudinally in the chassis, helping afford the YXZ1000R long rear wheel and suspension travel. A single shaft, one-axis balancer reduces engine vibration.
In our brief demo ride, the suspension felt fairly stiff. We absolutely hammered through long whoops section and the shocks never hinted at bottoming out. For anybody who plans to be slightly less aggressive, softening up the shocks might be worthwhile.
The vehicle's front differential incorporates Yamaha's On-Command 2WD, 4WD and 4WD full diff-lock – a driver-controlled system. An automotive-style 4WD dial is located on the center console.
The YXZ1000R employs Yamaha's Electric Power Steering (EPS), which is set in a new and more compact and lightweight EPS unit.
Stopping power comes from four-wheel hydraulic disc brakes with twin piston calipers at all corners. Large 245mm rotors were adopted for enhanced cooling and reduced brake noise.
Cockpit
Inside the cab of the YXZ1000R you'll find contoured high-back, cut-and-stitch seats, sliding adjustable driver's seat, and a soft-grip, tilt adjustable steering wheel with 147mm of vertical travel. When the steering wheel tilts, the gauge cluster goes with it.
Though we only got to ride in the passenger seat, it was pleasantly comfortable. The front grab handle is solidly mounted and doesn't rattle around at all, which helped us feel secure.
A first for the sport SxS segment, the YXZ1000R features throttle, brake, and clutch pedals. Yamaha says the floorboards are positioned for maximum legroom.
Other cab features include three-point seat belts, integrated shoulder bolsters and passenger hand-holds, while the driver's side features a new eight-position (90mm) adjustable seat that slides by a lever, quickly locking into the preferred location without any tools.
A hybrid digital-analog multi-function meter features speedometer, tachometer and shift light. The center console incorporates a parking brake handle, headlight switch, On-Command dial, and the sequential manual shift lever. A center storage tray and passenger-side latching glove box offer some storage space, while a center-mounted 12V outlet can power accessories and personal items.
A sun top comes standard, as do color-matched has doors with inset handles that feature two-stage automotive-style latches and coil style door return springs.
The YXZ1000R features Yamaha-exclusive 27-inch, six-ply Maxxis Bighorn 2.0 radial tires with standard 14-inch cast aluminum wheels.
Assembled in Newnan, Ga., the YXZ1000R starts at $19,799 and color options include Yamaha Racing Blue/White, Blaze Orange/Black, and Yamaha's 60th anniversary celebration Yellow-and-Black. The 60th anniversary edition hits dealerships in October, while the other two are slated to arrive in September.The 60th anniversary Special Edition (SE) model adopts Yamaha's heritage color and graphic scheme and a true bead lock rim.
2016 Yamaha YXZ1000R Specs
Engine Type
liquid-cooled DOHC inline three-cylinder; 12 valves
Bore x Stroke
80.0mm x 66.2mm
Compression Ratio
11.3:1
Fuel Delivery
Yamaha Fuel Injection (YFI); three 41mm Mikuni throttle bodies
Ignition TCI
Transistor Controlled Ignition
Starting System
Electric
Transmission
5-speed sequential manual external transmission; wet multiplate clutch, external flywheel
Final Drive
Yamaha On-Command; 3-way locking differential; selectable 2WD and 4WD with diff lock; shaft drive
Front Suspension
Independent double wishbone w/anti-sway bar, fully adjustable FOX 2.5 Podium RC2 Shocks; 16.2-in travel
Rear Suspension
Independent double wishbone w/anti-sway bar, fully adjustable FOX 2.5 Podium RC2




Shocks; 17.0-in travel
Front Brakes
Dual hydraulic disc
Rear Brakes
Dual hydraulic disc
Front Tires
Maxxis MU09 27 x 9.00R-14
Rear Tires
Maxxis MU10 27 x 11.00R-14
L x W x H
122.8 in x 64.0 in x 72.2 in
Wheelbase
90.6 in
Turning Radius
236.2 in
Maximum Ground Clearance
12.9 in
Fuel Capacity
9.0 gal
Wet Weight
1510 lb
Bed Capacity
300 lb
Warranty
6 Month (Limited Factory Warranty)
MSRP
Blaze Orange/Black – $19,799; Racing Blue/White – $19,999; Yamaha Yellow/Black Special Edition – $21,599
Published September 1st, 2015 3:17 PM
Top Brands
Popular Articles