15 Views
2016 Yamaha YXZ1000R Review
February 16th, 2016 10:19 AM
Share
We're committed to finding, researching, and recommending the best products. We earn commissions from purchases you make using links in our articles. Learn more here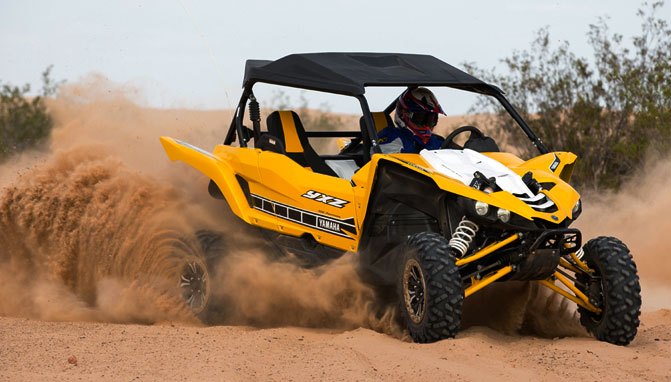 We finally get behind the wheel of the most anticipated machine in years
The YXZ1000R project was shrouded in secrecy for years and there was some doubt Yamaha would ever build a pure Sport UTV. But while media and consumers were speculating about the future, Yamaha was quietly creating it.
We finally laid eyes on the 2016 Yamaha YXZ1000R last month after years of speculation and have been awfully excited to get to drive it ever since. All that excitement was realized when Yamaha brought us to the Imperial Sand Dunes in Southern California to put the YXZ1000R to the test.
Talk about this at our YXZ1000R Forum
Yamaha's version of a completely capable performance off-road vehicle with a revolutionary powerplant and transmission is enough to make any motor head grin. Power comes from a fuel injected triple cylinder, 12-valve DOHC, liquid cooled 998cc fire breathing monster that boasts an 11.3:1 compression ratio. When it comes to fire and air delivery, Yamaha has three 41mm throttle bodies pulling wind and individual coil packs built into the spark plug wire and bolted directly over their perspective cylinders.
Yamaha's 998cc three-cylinder engine produces a claimed 112 horsepower.
This 998cc motor is also a dry sump engine that chooses horsepower over friction loss that comes with traditional foaming oil filled bottom end. Oil is kept in a reservoir above the passenger side rear wheel well and this design allows the engine to sit even lower in the chassis because there is no large oil pan. These motor platforms are known for extreme power, super high rpm, and the ability to be modified from stock form to create even more ridiculous power. In stock form, this motor produces a claimed 112 horsepower.
This is the first Sport UTV to feature a five-speed manual transmission with an onboard clutch pedal like a passenger car. Most UTVs in this industry have a belt-driven automatic transmission. You might not consider the advent of a sequentially shifting gearbox to be much to talk about, as it has been used in motorsports for quite a while, but to have this type of innovation in the world of off-road in a SXS is truly a big deal. You have to admit that there is something about shifting gears that just gets your heart racing.
Yamaha's manual transmission really sets the YZXZ1000R apart from its competitors.
When the engine is fired up, first gear is engaged by simply pressing the clutch, then pushing the short-throw shift lever one time forward. Once in motion there are four more gears waiting with just a slight tug reward on the shift lever as your speed grows. The gearing in the transmission is very close and it loses very little momentum when shifted.
In the desert terrain it was easy to find many places where we could stretch the legs of this rig and get our speed into the 70mph range. Although this was fun, we found that how we had gotten there was much more interesting. The 998cc engine pulls nicely in any part of the power range, but it feels especially strong from anything above 6500-7000 rpm. If you want to creep around and just lug the big triple, simply find second or third gear and go. As we played follow the leader through some of high dunes, it was clear that second and third gears were the best choices for cruising because we knew we had power if we needed it.
With open desert at our disposal, getting the YXZ1000R up to speeds over 70 mph was not difficult.
The clutching inside the YXZ transmission is much like you'd find in a dirt bike but on a larger scale. As for modifications to the transmission, an aftermarket company by the name of Rekluse has already developed a system for the transmission's internals. The Rekluse clutch works with the metal and fiber plate system to give the driver the ability to traverse really rough terrain at a slow pace without stalling the engine. Simply put, this add-on product gives the transmission a simulated neutral at low rpm. This will be good for drivers who are not familiar with driving a manual gearbox.
Once we realized the power was limitless and the transmission was incredibly tough, we turned our attention to the way the chassis handles all of the output to the wheels. Yamaha's YXZ1000R has long travel suspension much like many other long travel UTVs on the market today, but with subtle differences that make it uniquely Yamaha.
The rear FOX 2.5 Podium RC2 shocks are 32 inches long and feature a new and unique bottom-out cup.
The front suspension has FOX 2.5 Podium RC2 shocks that are 26 inches long and yields suspension travel of 16 inches. The rear shocks are an incredible 32 inches long and have an available 17 inches of wheel travel. Setting the rear shocks apart is a new "bottom-out" cup. According to FOX, "As the shock is compressed, the secondary piston will enter the bottom-out cup in the final 25% of travel to produce up to 3000 lbs of additional damping force. This allows the shocks to be tuned to give improved small bump compliance in the upper portion of the stroke, while still maintaining the ability to absorb huge impacts effectively." We had an opportunity to visit with FOX onsite at the ride and feel the bottom-out cup on its shock, without the spring, with our own two hands.
This suspension design gives the YXZ1000R a full 13 inches of usable ground clearance. As far as performance or adjustability is concerned, these shocks can be adjusted for both High/Low compression and rebound. Also, the shock bodies are threaded for spring pre-load adjustments. We were reminded that the FOX shock body was threaded the entire length of the shock tube, allowing for a combination of dual springs if your tuning is that radical. This makes the ride completely tunable for any driver's taste and riding conditions.
The shocks are fully adjustable and provide a confidence-inspiring ride.
We could talk about the technical side of this machine all day, but the most interesting part is when you slip down into the cab and twist the key. The high back bolstered seating in the YXZ1000R is very welcoming and with the adjustability of the driver's seat and tilt steering it was only a second before we were belted in and ready to head out.
The driver's seat is adjustable without tools.
As you rev the engine you will notice the analog rpm needle roll upward. A digital segment on the gauge cluster provides important information as you ride. When you get more comfortable with the fact that you can really twist this engine up, there will be a small blue light that illuminates, letting you know it is time to shift. According to Yamaha's factory race driver Dustin Nelson, that's the YXZ1000R's happy place.
It wasn't until we'd spent a few hours behind the wheel that we became comfortable with how to get the most power and response from the Yamaha YXZ1000R. Short shifting is something you have to get out of your mind in this machine, as you are not in the engine's power range until the rpm needle gets almost vertical.
You want the needle on the rpm gauge to get nearly vertical before shifting.
Running through the long straights where we could really floor the rig proved the YXZ would track straight and handle the hits we encountered. The suspension was working so much, but we didn't even realize it until we watched replay video from these sections. Cornering in the sand typically gives you an uneasy tippy feeling, especially because so much of it is off camber, but the YXZ seems to stay planted and builds confidence to let the speed pick up a bit more. We could go on and on about how well this new YXZ1000R rides and just how the experience of shifting a machine makes you grin.
The YXZ1000R feels very well planted when cornering on the sand.
Yamaha has really separated itself in a way that is almost indescribable and it's refreshing to know that it wasn't about having the biggest horsepower number. It is every bit about the new experience in a powerful Side-by-Side machine. If you get a chance, you have to give this YXZ1000R a ride and feel the power and emotion that comes with it. Great Job Yamaha!
Yamaha has built a winner with its YXZ1000R. Published October 16th, 2015 12:03 PM
Top Brands
Popular Articles