25 Views
2019 Yamaha YFZ450R SE Review
April 11th, 2019 1:28 PM
Share
We're committed to finding, researching, and recommending the best products. We earn commissions from purchases you make using links in our articles. Learn more here
Fast Facts
MSRP: $9,399
L x W x H: 70.7 x 48.8 x 41.9"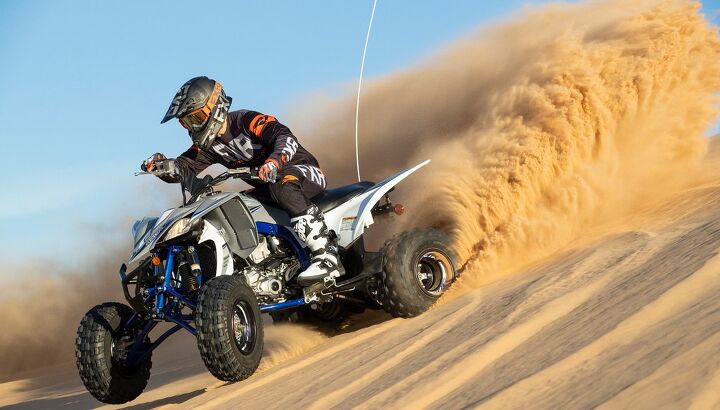 We get reacquainted with the longtime king of woods racing during a trip to the dunes
It's been a while since Sport ATVs had their heyday, but I had a chance to get reacquainted recently after spending a day on the 2019 Yamaha YFZ450R SE. It brought back some fantastic memories ATV racing from years gone by.
For many years, I covered the rise of a dominant sport called GNCC ATV racing. This woods racing series pitted most against others in the field, but what was to come would be a manufacturer battle that would build many great champions. The Honda 250R was a very dominant machine but just like most things, rules began to change, and the production rule fell into place.
As I clicked away on my Canon 20D at the first or second turn of every GNCC national race back in 2003 and 2004, I began to notice a big four-stroke surge its way to the front of the line. The sounds of the Two-Stroke ATV engine still lingering in the field of competitors, but a new direction was on the horizon. However, I'm not sure that everyone realized just how big it would be. The push for dominance would continue for many seasons, even after I stopped going to the races back in 2012 and is still even today the force to be reckoned with.
2019 Yamaha YFZ450R
The company and machine I am referring to is the Yamaha YFZ450R. This new machine not only brought out one of the longest standing championship runs for the industry, but it would also bring with it many new ways of looking at Sport ATVs. We were all young in those days, holding out hopes of better performing more powerful and smooth handling machines. Yamaha was ready to deliver on our dreams. It would be Kentucky farm boy Bill Ballance who would not only go on to win nine national titles on this machine, but gave Yamaha a chance to show the world just how serious Yamaha was about building the best Sport ATV on the market. Looking into the 2019 Model year we see even more of the same. The YFZ450R secured many titles at the end of the 2018 season once again and although some riders have changed, the ride is still dominating.
Our test of the latest 2019 Yamaha YFZ450R SE was in the dunes of Glamis, California and with fairly rough conditions, due to the lack of recent winds, the ride would be a test. Glamis had not gotten the regular wind to smooth the dunes back out from recent heavy traffic, so riding out into the deeper sections of the area was a must. We would set out on a four-hour ride to find the smooth sections of Imperial Sand Dunes.
Being a taller rider, I immediately noticed the GYTR nerf, foot peg combo to be a bit lower than the stock peg location. We were also informed that these pegs could be dropped even further to help improve center of gravity even more, as well as cornering capability from the seat of the YFZ. The YFZ450 already sits low and wide and where handling is concerned, this is a major plus. For a seated perspective from a six-foot tall rider, I felt pretty comfortable. My Yamaha YFZ450R was of the SE or Special Edition models, so the included GYTR bumper and colorations were bonuses to the ride's looks.
The shocks on the 2019 Yamaha YFZ450R SE are KYB and fully adjustable, although we did not take time to try and set them for our riding preference. We would be switching between machines during the ride and did not want to confuse any other riders with settings that may not suit them. On another note, however, it was nice to see that the factory settings did perform well just as they were set for the dealer floor. These shocks have both hi/low speed compression and low speed rebound adjustability as well as preload should you want to tinker with your own ride. It seemed the faster we cruised across the sand, the YFZ began to settle in and the ride became smoother.
The "T" shaped seat is also a big plus as it allows you to slip off the side of the machine when cornering hard in the sand while still providing as much plushness as possible. As many of you may know, cornering in sand is tricky business and it takes some finesse to get it right, but having a low center of gravity combined with width in your ride does help tremendously. The solid rear axle also helps the rear end to slip around easily as long as your form is right. Just remember this, the sand has no flavor so keep your mouth shut should you eject on accident.
Moving on, the Yamaha YFZ450R SE comes equipped with Maxxis radial tires and they seem to work really well in sand, providing good traction. Most think you need paddles for sand, but in my honest opinion, that is just not true. I would say I prefer these stock tires over paddles most of the time. It makes the ride much more fun and feels a bit more maneuverable.
Yamaha's 449cc dual overhead cam engine breathes through a 42mm throttle body and the throaty tone is very distinct. Most may not know that this engine puts down very similar power numbers as the Yamaha Raptor with a much different power delivery. This high strung, quick revving mill gives you a sense of exhilarating fun as soon as you blip the throttle and with the power range increasing all the way through the rpm range the Yamaha YFZ450R does it well. Keeping the engine revved high can be a bit daunting in the sand, however. It needs to scream to let all of its glory out, so keep that in mind.
Manipulating the clutch on the YFZ450R seems to be much easier than I remember. Yamaha says it has added more assist and a slipper clutch to help with engagement and to keep the rider fatigue to a minimum. Controls are placed comfortably for fast moving through the blank white sand and the Taper aluminum bars can even be adjusted both forward and rearward to meet different arm lengths or riding preferences.
Overall the 2019 Yamaha YFZ450R SE is a great Sport ATV for any condition. The trails back home would be great fun on this championship-winning ATV and maybe in the near future we can take a minute to revisit our youth a little while remembering that we still need to work on Monday.
Learn more about the Yamaha YFZ450R at YamahaMotorsports.com. Published April 11th, 2019 1:28 PM
Top Brands
Popular Articles