5 Views
2012 Yamaha Raptor 700R & YFZ450R Special Edition Review – Video
July 3rd, 2015 12:05 PM
Share
We take on the Glamis Dunes with Yamaha Sport ATVs
At a time when many companies are either downsizing or halting any new product developments in an effort to reduce costs, Yamaha Motor Corp has been busy making sure that it continues to offer its consumers a wide variety of products that encompass all skill levels when it comes to its sport quad lineup. As a matter of fact, nobody in the industry has a Sport ATV lineup as deep as Yamaha's. This market dominance is obvious in places like Glamis, Calif. – where sport quads are the name of the game when it comes to dune ruding.
When the beginning of each new year rolls around, journalists from a wide variety of ATV outlets eagerly check and recheck their email inboxes in anticipation of Yamaha's annual Special Edition ATV rollout that has taken place in Glamis for the past 10 years. What began as a unique way to get the media excited about its new editions has turned into quite the tradition, and 2012 is no exception to the history books.
Get the Flash Player to see this player.
Having been the lucky recipient of just such an e-mail, I found myself once again heading west from Phoenix to my all-time favorite sand playground a mere three hours away. The best part was that it was Tuesday morning, and while everyone else was heading into their offices for work, I was headed off to a different kind of office. One that was much sandier… and much more fun!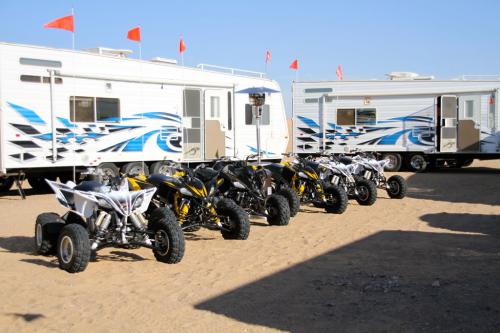 It never gets old to see a lineup of brand new ATVs, fully equipped trailers and miles of open sand dunes.
Once we all arrived at our destination (Pad 2, for those familiar with the area) and settled our belongings into our assigned trailers, which were provided by Camp N Style, we were given a quick introduction to the new 2012 Raptor 700R SE and YFZ450R SE. A few other familiar machines were also on hand, including the 2012 regular edition YFZ450R, as well as the small but mighty Raptor 250, which would be put to good use when it came time to burn off a little steam with some play racing.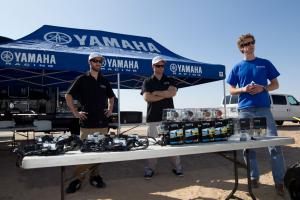 How can you make your Glamis experience even better? How about a brand new Go Pro Hero 2 HD camera?
After ten years of putting on these events, Yamaha has had time to refine and expand on the services it makes available to the media, and that includes some fantastic meals cooked by Camp Chef, who not only made sure we never went hungry for the duration of our stay, but who also had a few of the great outdoor cooking products its sells on hand so we could witness first-hand just how well the products work. Since this editor is also an off-road racer who spends a lot of her time at the race track, I will be perusing the Camp Chef catalogue with great interest to see what goodies it offers that will make cooking at the track a more enjoyable (and tasty) experience!
Also present at this event were the folks from Go Pro, who presented each editor with their very own Go Pro HD Hero 2 video camera to use for the several days we would be at the dunes. Go Pro footage can literally be seen everywhere these days, and it doesn't seem like these cameras will ever lessen in popularity. Go Pro has improved not only upon the quality of the camera itself, but have given it wireless capabilities as well, in order to integrate well with social media and smartphones. Also, Go Pro has made its interface easier to understand over the older models.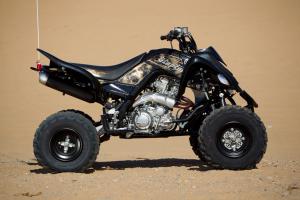 The Yamaha Raptor 700R SE is back in black for 2012.
Once we had gotten settled in our respective trailers (I was lucky enough to get the big one, which is good because as a girl, I usually bring a ton of stuff!), we were given a quick lesson on our new Go Pros and met our Camp Chef chefs. We were then briefed on the new Yamaha SE models, and turned loose to test them out and get some cool pictures before we headed out for a group ride.
The 2012 Special Edition models haven't changed much from last year's SE models, aside from the colors, but when you are talking about the two best-selling Sport quads on the market, that's not a bad thing. For the Raptor 700R, black is back and we think that's a great choice. Black color schemes just look cool, and the 2012 SE is no exception. For anyone who may be new to the sport ATV market, the Raptor boasts a 686cc liquid-cooled 4-stroke motor that is all about torque. With 9.1″ of travel in the front, paired with 10.1″ of travel in the rear and fully adjustable shocks all around, this is the Cadillac of the dunes. Comfortable enough to cruise around on all day, but sporty enough to get aggressive any time you want to carve some bowls, it's no wonder why the Raptor 700 is so popular! The Special Edition model adds a sporty rear wave rotor, black GYTR front bumper and black aluminum heel guards, giving it a unique look over the regular 2012 Raptor 700R.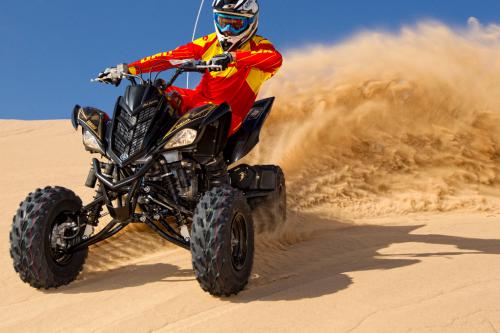 Seemingly made for places like Glamis, the powerful Raptor 700R SE can tame most any hill and keep you comfortable for an all-day ride.
For the 2012 YFZ450R SE, it's new color scheme evoked some déjà vu from years past (remember the 2005 YFZ450?) with its black and yellow plastics/graphics, complete with yellow springs to tie it all together (I have already dubbed my long-term loaner unit "BumbleBee"). If you know your way around the sport quad market, you know all about the YFZR's high performance 449cc 4-stroke, liquid cooled, titanium 5-valve DOHC motor and it's strong, linear power band.
While it may lack the comfort of the Raptor 700R, the YFZ450R SE offers much sharper handling and comes in a fun yellow/black color scheme for 2012.
With its low and wide stance and 9.8″ of travel in the front and 11″ of travel in the rear, this race-bred motocross machine is right at home in the dunes, where you can go as fast as you want with the confidence that this machine will get you wherever you want to go, however you want to get there. While the Raptor can either cruise or really get on it, the YFZR can also do both, but by its very nature, it just begs you to ride it like you stole it. The SE model also comes with a unique looking, black GYTR aluminum front bumper, Special Edition graphics and Yamaha's quick-release fasteners for the plastics that make taking them on and off a cinch.
I was able to spend the bulk of the afternoon cruising through the dunes on the Raptor 700 first, and was once again surprised by how easy it is throw around in the smaller technical stuff, and how comfortable it is in the bigger, faster dunes. With its softer seat and improved ergo's over older models, the Raptor almost invites you to sit more, but since I tend to ride more aggressively, sitting just doesn't happen too often for me. This is fine with the Raptor as well, since it is just as comfortable to ride either way. Torque is your friend in the dunes, and the Raptor has plenty on tap – combine that with its plush suspension, and you have yourself the perfect dune machine.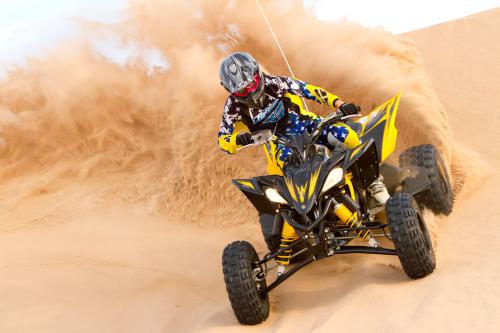 The Yamaha YFZ450R SE carves a dune better than an electric knife on a Thanksgiving turkey.
With a stop at Oldsmobile Hill to do some racing, we all traded machines and took the opportunity to ride something different back to camp. I jumped on one of the YFZ450Rs and instantly remembered why it is my favorite machine. Everything about the YFZR feels intuitive and natural. From the seating position, to the handlebar placement, to the handling characteristics, the YFZR just fits like it was custom made just for me. While the trip out to Olds was a lot of fun, the trip back took on a whole new level and I found myself looking for small jumps to play on and little bowls to roost around. I owe whoever was behind me on these rides an apology right now for any sand in the face that I may have been responsible for in my reckless abandon – I just hadn't been to the dunes on a quad in a while, and it felt great!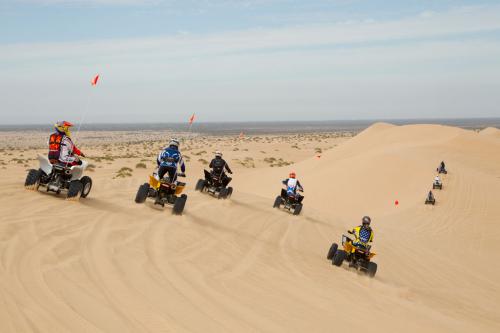 The remainder of our time at Glamis was spent shooting pictures and video, riding, eating, riding, comparing Go Pro footage, and some more riding. The Raptor 250s got their workout as well, and we aren't sure which quads Yamaha factory riders Dustin Nelson and Josh Row had more fun on, the 250s or their own race machines! I lost track of who won the post-dinner horseshoe tournament, probably because I lost badly after the first round both nights and my attention span diminished quickly thereafter. That's ok, because there was lots of fireside banter to participate in as everyone caught up with each other and bench raced about their day.
The next morning as I was loaded up and heading out of the dunes towards home, I glanced fondly in the rearview mirror, happy to see that my long-term test unit was securely tied down on the trailer I had brought, as I began making mental notes of all the places I would like to test my newest black and yellow performance machine.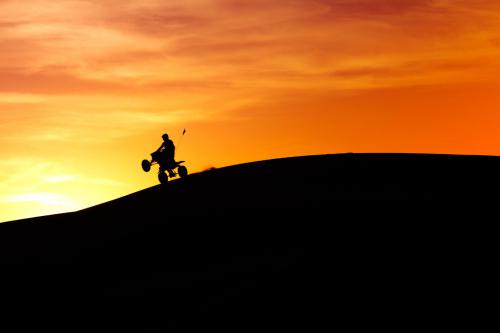 Published February 13th, 2012 12:07 PM
Top Brands
Popular Articles