50 Views
2011 Yamaha Raptor 700R Review
June 17th, 2015 4:30 PM
Share
We're committed to finding, researching, and recommending the best products. We earn commissions from purchases you make using links in our articles. Learn more here
The biggest Raptor is at home in the desert
We were recently invited out to sunny Southern California to test ride the new 2011 Yamaha Raptor 700R. Of course, if you are familiar with the Yamaha line, you already know that the Raptor 700 is one of the meanest ATVs out there. With its 686cc fuel-injected liquid cooled engine and fully adjustable piggyback shocks we knew were in for a good time playing in the sand of the legendary Imperial Sand Dunes – better known as Glamis!
The 2011 Yamaha Raptor 700R is available in a variety of color schemes; Team Yamaha Blue and White, Red and White, as well as Black Metallic for the Raptor 700R SE model we will be reviewing shortly. Aggressive styling can be seen in the sharp front hood,which not only drives air into its large radiator but it also holds the digital instrument panel. A quick toggle through the digital display reveals a speedometer, dual trip meters, odometer, clock and engine warning indicators, plus neutral and reverse indicators which all come in handy out on the trail. As an added bonus it's back-lit, so you can see it while out night riding. Multi-reflector 30-watt Krypton headlights are also integrated into the front end to illuminate your path.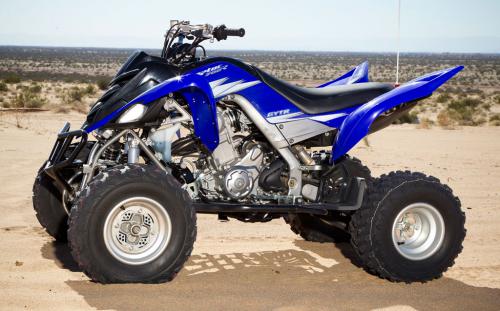 2011 Yamaha Raptor 700R
The 2011 Raptor 700 features sport tuned, fully adjustable piggyback shocks that provide 9.1 inches of travel up front and 10.1 in the back – much appreciated when going through whooped out dunes! Further cushioning the ride is a long, plush YFZ-style seat that is awesome for long rides and is one of the most comfortable stock ATV seats we have had the pleasure of sitting on.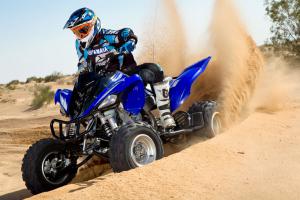 We found the Raptor 700R to be surprisingly comfortable and hugely powerful, though it doesn't handle as sharply as the YFZ450R and YFZ450X.
While the Raptor 700R is extremely comfortable for a sport ATV, some tradeoffs had to be made for those nice ergos. Handling is great for straight, high-speed trails and dunes; however, it doesn't feel as sharp in the corners as its brothers – the YFZ450R and YFZ450X. It feels a bit top heavy when taking corners with speed, which can be attributed to its somewhat narrower stance and tall height. That being said, the Raptor 700 isn't intended to be ridden as aggressively as a YFZ. This machine is ideally suited to open terrain where going fast and having fun is priority No. 1.
In our experience, the dunes are where the Raptor 700 is most at home. With its plush suspension and what seems like endless amounts of torque, the Raptor 700 can really shred the sand. The 686cc fuel-injected engine features a forged lightweight piston, connecting rod and crankshaft that produce a hard-hitting powerplant that can get you going quick. It's a fantastic engine for the desert.
The engine also features dual counterbalances that keep vibrations to a minimum. This was a great improvement from the previous carbureted Yamaha Raptor 660 as we did feel less vibration while riding the machine. We also noticed a smoother and lighter thumb throttle that didn't fatigue your thumb after riding a full day.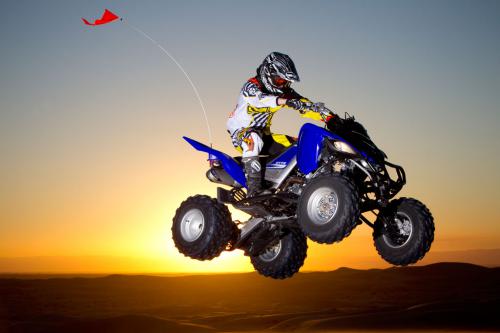 A quick stab of the throttle and the Raptor 700R will give you a huge jolt of power.
Yamaha designed a sport-minded five-speed transmission that is paired with a reverse gear that can come in handy should you find yourself in a tight spot. We used reverse several times out in the dunes as the loose sand wanted to swallow the Raptor's rear tires when starting off slowly. Even though we were running stock tires in the dunes we found the Raptor handled itself admirably as the tires hooked up fairly well in the sand. In our opinion, the stock rubber allows for better steering than paddle tires would and we were still able to break the back end loose when we wanted.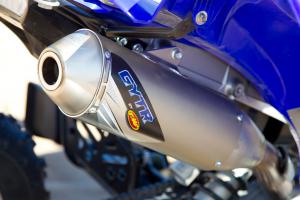 Add a GYTR by FMF exhaust for even more power.
If the already powerful 2011 Raptor 700R isn't enough to feed your need for speed, Yamaha has you covered. For 2011 GYTR has teamed up with Industry leading racing exhaust manufacturer FMF to produce a full line of GYTR exhausts for Yamaha ATVs – including the 2011 Raptor 700R. We were lucky enough to spend some time on a Raptor 700 with the new GYTR by FMF exhaust with the air box lid off. We were amazed by the power it produced. We were able to climb the biggest of dunes out at Glamis, including the famous China Wall and Oldsmobile Hill. The GYTR by FMF exhaust also provides a deeper, throatier sound, which enhances the Raptor's mean looks.
While at Glamis, Yamaha also introduced several new GYTR products for the 2011 Raptor 700. Up front we were greeted with a new aggressive Sport GYTR front bumper that is available in black powercoat and ball-burnished aluminum. This new bumper looks great and also functions well as it is very easy to grab on to when lifting the front end. Our test unit also came equipped with a GYTR Plastic Frame Glide Plate, which is made of .25" polyurethane plastic and is much lighter than standard aluminum skid plates. Woods riders should like the polyurethane construction because obstacles like rocks tend to glide under the plastic, unlike the aluminum skids which sometimes get hung up over sharp rocks. The polyurethane glide plate also comes into play when cresting a dune. It allows the Raptor 700 to glide over the peak and not pick up sand like a shovel with the frame.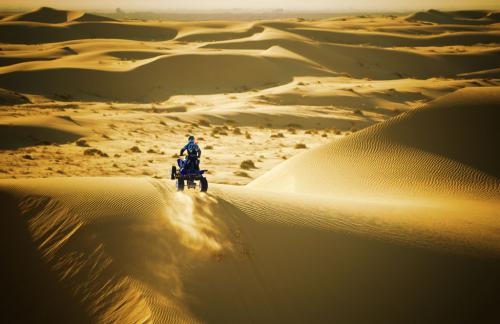 It's views like this that will keep you coming back to Glamis again and again.
Completing the package on our test unit was a set of GYTR Nerf bars with Aluminum Footwells. We were glad to see the aluminum footwells, as we have had our feet pulled under the ATV even with nerf bars in the past.
Conclusion
The 2011 Yamaha Raptor 700R ($8,399) is a great ATV for riding the trails or cruising the dunes. Its plush suspension and hard-hitting power makes the Raptor 700 ride like a Cadillac. For those who want just a little bit more, the added power and safety of the GYTR parts and accessories give the Yamaha Raptor 700R the edge that would make just about any ATV enthusiast happy.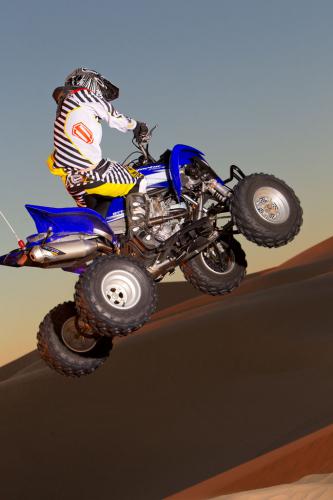 Published March 7th, 2011 10:40 AM
Top Brands
Popular Articles