1 View
2011 Yamaha YFZ450R and YFZ450X Unveiled
June 17th, 2015 4:31 PM
Share
New colors and graphics for 2011
Yamaha Motor Corp., U.S.A. has announced its 2011 YFZ450R and YFZ450X, completing its sport ATV line-up for the coming year. Yamaha's high-revving YFZ450R and 450X are specifically designed for pure performance and get new color and graphics in 2011.
Both the YFZ450R and X feature long-travel adjustable suspension, a no-weld aluminum with steel hybrid frame, and a powerful fuel injected engine. These two ATVs have a lot in common, but their subtle differences have a major impact on their performance in different riding situations.
The YFZ450R is a motocross-ready ATV at 48.8 inches wide. It is also set up for wide-open trails, desert terrain and sand dunes. The YFZ450X is tweaked to be a tight-trail machine at 46.1 inches wide and optimized suspension settings.
"Yamaha started the high-performance 450 sport ATV class with the original YFZ450, and we continue to dominate this class with the best options no matter where you race or ride," says Mike Martinez, Yamaha ATV and Side-by-Side Vehicle Group general manager. "Yamaha has the strongest sport ATV line-up because of our ability to constantly push performance to new levels while maintaining a customer focus and durability in our products that's superior to anything else in the industry."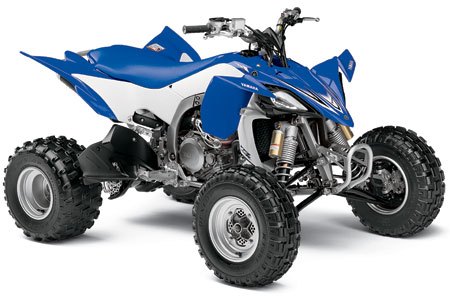 2011 Yamaha YFZ450R
Both Yamaha models have powerful 5-valve DOHC liquid cooled single cylinder 449cc engines. Yamaha's electronic fuel injection features a 42mm Mikuni throttle body, 12-hole Denso injector system and a Mitsubishi 32 bit ECU providing exceptional atomization of the fuel for maximum power, unrivaled throttle response and automatic altitude and temperature adjustment.
Suspension on both the YFZ450R and X models is highlighted by 44mm KYB shocks in front that have Kashima coating for smooth operation and impact absorption. The 450R has 9.8 inches of wheel travel while the 450X has 9.4. In the back, the gravity-fed cast aluminum swingarm is matched to a fully adjustable 46mm KYB piggyback shock affording the rear wheels 11 inches of travel on both models.
Yamaha designed the YFZ450R and X models to not only provide superior power and performance, but also the comfort and ergonomics to keep riders in the seat longer. When the all-new 450R was first introduced in 2008, it included the new lighter chassis with a T-shaped seat, flexible side panels, adjustable ProTaper handlebar, and custom-designed Dunlop tires measuring 21 inches in front and 20 in back.
2011 Yamaha YFZ450X Special Edition
"When you're riding for fun with your buddies or flat out in a race, one fast lap isn't all you need," says Travis Hollins, Yamaha's ATV and Side-by-Side Vehicle product planning manager. "You want to be able to ride all day and consistently pull fast times. That's only possible if you're comfortable on the machine – if you fit and work together as one unit. That's what we built into the YFZ450R and YFZ450X."
The 2011 YFZ450R and YFZ450X both come in Team Yamaha Blue and White for $8,599. The 2011 YFZ450R and YFZ450X Special Edition models, at $8,949, get aggressive new colors with a Black Metallic base, red accents and unique SE graphics. These Special Editions also have quick-release fasteners for no-tools installation and removal of the front and rear fenders, a black swingarm and a dealer-installed GYTR black front grab bar. They will be in dealerships starting this November.
Be sure to check out our photo gallery for more images of the 2011 YFZ450R and YFZ450X.
Related Reading
2010 Yamaha YFZ450X Review
2009 Yamaha YFZ450R Review
2010 Yamaha YFZ450R and Raptor 700R SE Review
Yamaha YFZ450R MX Project – Part 1
Yamaha YFZ450R MX Project – Part 2
Published September 1st, 2010 3:04 PM