6 Views
2010 Yamaha YFZ450X Preview
June 17th, 2015 4:34 PM
Share
Big Blue unveils a woods racer
After unleashing the critically acclaimed YFZ450R exactly one year ago, Yamaha upped the ante for 2010 with a sport quad designed specifically for tight woods and GNCC style riding – the YFZ450X.
Yamaha had a lot of success these past 12 months with the YFZ450R, but it is most at home in the open desert, dunes and motocross race tracks. Though the original YFZ450 was still available for the cross country and woods riders, Yamaha felt those customers were missing out on all the advancements the YFZ450R offered like fuel injection, aluminum frame and much improved suspension and rider ergos.
If you're comparing the YFZ450X to the 450R, the most striking difference is the vehicle's footprint. The 450X is much narrower with a width of 46.1 inches. Also, by reducing the width Yamaha was able to shave off five pounds of weight.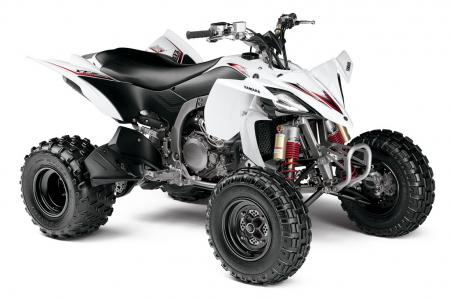 The YFZ450X ($8,499) is meant for use in tight trails and GNCC-style riding.
Feedback on the new shocks on the YFZ450R was almost universally positive and the 450X should receive the same type of reaction. They feature fully adjustable pre-load and rebound damping and the Kashima coating on the body helps to reduce friction and increase durability.
Where the 450X shocks differs from those on the 450R is in the numbers. Shock length had been by reduced 28mm to 426mm; shock diameter is 8mm smaller at 44mm; and, suspension stroke has been shortened 2mm to 112mm.
You'll find the same great shock package as on the YFZ450R with some key changes for woods riding.
Front Suspension Changes
Front Suspension
Item
YFZ450R
YFZ450X
Shock Absorber Travel
128mm
112mm
Spring
Free Length
304mm
268mm
Installed Length
289.8mm
253.8mm
Spring Rate (K1)
10N/mm
13N/mm
Spring Rate (K2)
30N/mm
30N/mm
Setting
Spring preload adjusting position (hard/std/soft)
279.8/289.8/299.8mm
243.8/253.8/263.8mm
Rebound damping force adjuster position (hard/std/soft)
1/12/20 click out
1/12/20 click out
Compression damping force adjuster position: fast (hard/std/soft)
Fully turn in/1 turn out/2 turns out
Fully turn in/1 turn out/2 turns out
Compression damping force adjuster position: slow (hard/std/soft)
1/10/18 click out
1/10/18 click out
Handling, according to Yamaha, has been optimized for riding in tight trails. To achieve this Yamaha reduced the caster angle to 4 degrees and reduced the trail to 18mm (from 21mm).
Rear suspension is exactly the same as on the YFZ450R, but note the narrower rear axle.
Rear suspension on the 450X is identical to the 450R. A cast aluminum swingarm is 15mm longer than the original YFZ450 and the fully adjustable rear shock provides 11 inches of travel.
The YFZ450X also receives the same powerplant as the 450R. This engine was almost entirely new last year, but it did share the same bore and stroke as its predecessor. Compared to the original YFZ450, the electronically fuel injected 5-valve DOHC liquid cooled single cylinder 449cc engine offers improved performance across the entire powerband. The cylinder head and cylinder were borrowed from the YZ450F dirt bike and it features new crankcases, new gear ratios and a new crankshaft.
Yamaha says the new engine case and crankshaft offer increased strength and durability, key for the rider who does a lot of modifications and is generally harder on the quad. For those that demand more performance, a slew of modifications are available through GYTR, including a fully assembled CNC ported head, CNC machined cam set and high compression piston, along with a GYTR exhaust and air filter and a bevy of other options. GYTR skid plates, A-arm guards, stainless steel brake lines, footwells, bumpers and grab bars are also offered.
Wheels, tires, handlebars and ergos are all carryovers from the YFZ450R.
Wheels on both the YFZ450X and 450R have been tweaked slightly for 2010. The wheels now feature a rolled inner lip and Yamaha claims they are lighter while maintaining their overall strength. Both vehicles are also outfitted with 20-inch radial Dunlop tires in the back and 21-inch tires up front.
Stopping power is provided by dual front hydraulic disc brakes and a lightweight wave-type rear rotor including dual piston calipers in the back as well as the front.
Plenty of other features have been carried over from the YFZ450R, including cushioned side panels. These designed provide flex and grip, while making life easier. Also shared are the enormous 65mm wide footpegs. They're 20mm wider than those on the original YFZ450 and 12mm longer. The seat is very narrow around the tank, which makes it easy to move around and shift your weight.
Getting at the inner workings of the ATV is made simple by easy-to-remove fenders. The fenders are completely separate from any electronics or the battery.
The new YFZ450X comes in a standard color Team Yamaha Blue/White or in a second color Red/White and has an MSRP of $8,499.
Bill Ballance Edition
Since the YFZ450X is Yamaha's GNCC-inspired racer, it's no surprise that a Bill Ballance Edition ($8,799) is available. The nine-time GNCC champion is a Yamaha racing icon and future GNCC competitors will no doubt be interested in this unit.
Bill Ballance stands next to the ATV bearing his name.
The Bill Ballance Edition comes with a gold D.I.D. chain, racing blue frame, silver wheels, quick release fasteners on the plastics, darker gold color on the shocks, GYTR front grab bar and custom Bill Ballance Edition graphics.
You'll also find Ballance's name adorning a variety of performance products. Ballance Racing Products nerf bars, pro pegs, peg inserts for stock pegs, and a billet aluminum sprocket cover and case saver are all available from Yamaha.
…And The Rest
Outside of some special edition models, Yamaha pretty much left the rest of the ATV lineup alone for 2010. A total of 17 Yamaha ATVs are available, plus special editions.
Full 2010 Model Lineup
Utility
Sport
Grizzly 700 FI EPS
YFZ450R
Grizzly 700 FI
YFZ450X
Grizzly 550 FI EPS
Raptor 700R
Grizzly 550 FI
Raptor 350
Grizzly 450 4WD IRS
Raptor 250
Grizzly 350 4WD IRS
Raptor 90
Grizzly 350 4WD
Wolverine 450 4×4
Grizzly 350 2WD
Grizzly 125
Big Bear 400 IRS
Big Bear 250 / Wolverine 350 Discontinued
The Raptor legacy continues in 2010 with four models providing a range of size and performance: the Raptor 700R, the Raptor 350, the Raptor 250, and Raptor 90. Both the Raptor 250 and Raptor 90 feature new graphics and colors for 2010. The two smallest Raptors now come in a base black/white color with dual graphic kits (pink/black tribal and flames).
This is a big departure from the classic Yamaha blue that used to adorn the Raptor 250.
A special edition Raptor 700R is available for 2010 and it comes outfitted with black and white plastics, special edition graphics, red frame and GYTR grab bar and heel guards.
The Raptor 700 special edition models are always something to behold.
The YFZ450R also comes in a special edition model with GYTR heel guards.
The muted blue plastic and GYTR heel guards make the YFZ450R SE stand out.
Bridging the gap between pure sport ATV action and utility ATV capability is the Wolverine 450 4×4. The Wolverine is one of the most popular sport utility ATVs offering riders a nimble off-road machine with a sporty feel and push-button 4×4 capabilities.
Yamaha's Grizzly 700 FI EPS, which introduced the first ever Electric Power Steering (EPS) on an ATV, continues be the Yamaha's flagship utility quad. The Grizzly 700 FI was the platform for the Grizzly 550 FI EPS introduced last year. Other models in the Grizzly line include the Grizzly 700 FI (non-EPS), Grizzly 550 FI (non-EPS), Grizzly 450 4×4 IRS, Grizzly 350 4×4 IRS, Grizzly 350 4×4, Grizzly 350 2WD and Grizzly 125.
A special edition Grizzly 700 FI EPS is new for 2010. It features White Midnight armor, water dipped graphics, cast aluminum wheels, and special edition graphics.
Check out those shiny wheels on the Grizzly 700 FI EPS SE.
Yamaha's Big Bear 400 4×4 IRS sets itself apart with ITP Mud Lite tires and a semi-automatic five-speed transmission allowing the rider to choose the right gear for the conditions.
2009 Yamaha YFZ450X Specs
Engine Type:
449cc, liquid-cooled w/fan, 4-stroke; DOHC titanium 5-valve
Bore x Stroke:
95mm x 63.4mm
Compression Ratio:
11.6:1
Fuel Delivery:
Yamaha Fuel Injection (YFI) , 42mm
Ignition:
TCI (Digital)
Starting System:
Electric
Transmission:
5-speed manual clutch
Drive Train:
2WD; Sealed O-Ring Chain, Eccentric Adjustment
Front Suspension:
Independent Double Wishbone, 9.4". Kashima Coated Piggy Back Shocks, High/Low Speed Compression, Rebound and Threaded Preload Adjustment
Rear Suspension:
Cast Aluminum Swing Arm, 11.0". Piggy Back High/Low Speed Compression, Rebound and Threaded Preload Adjustment
Front Brakes:
Dual Ventilated Hydraulic Disc, Twin Piston
Rear Brake:
Wave Style Ventilated Hydraulic Disc, Twin Piston
Front Tires:
AT21x7-10 Radial
Rear Tires:
AT20x10-9 Radial
Length/Width/Height:
70.7 x 46.1 x 41.9 in
Seat Height:
31.9 in
Wheelbase:
50.0 in
Ground Clearance:
4.5 in
Fuel Capacity:
2.6 gal
Curb Weight:
400 lb
Lighting:
30W Krypton Multi-reflector Headlights and 3.9/0.5W LED Brake light
MSRP:
$TBA
Related Reading
2009 Yamaha YFZ450R Review
2009 Yamaha YFZ450R Review – Dune Test Published September 8th, 2009 11:23 AM
Top Brands
Popular Articles