1 View
2014 Yamaha YFZ450R Preview
June 18th, 2015 2:50 PM
Share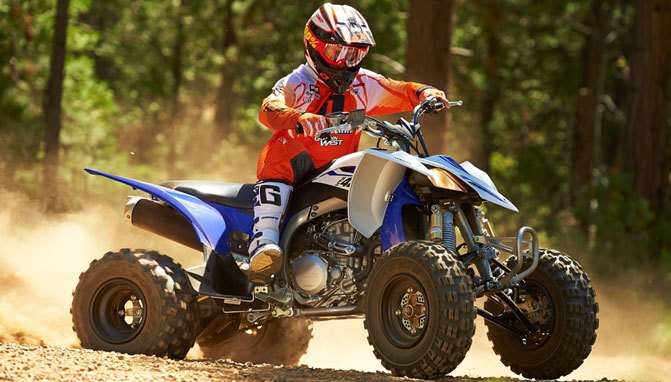 More power and the first slipper clutch ever on an ATV
Buried by the announcement of the new Yamaha Viking 700 is an updated YFZ450R for 2014. As Yamaha has shifted production of the YFZ450R from Japan to the United States, it marked the occasion with power gains, improved handling and the first slipper clutch ever on a stock ATV.
"The new race-ready YFZ450R is the highest performance, most technologically advanced sport ATV on the market combining a high-tech, quick-revving, titanium five-valve, 449cc fuel-injected engine with a lightweight, professional-caliber cast aluminum-steel chassis," Yamaha says in a release.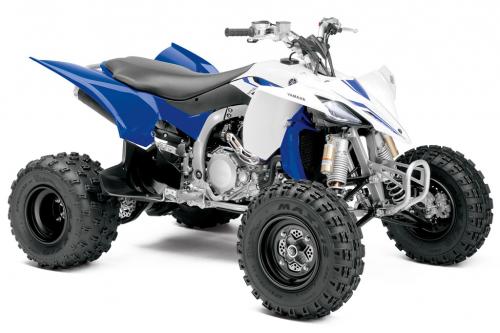 2014 Yamaha YFZ450R
All-new on the 2014 YFZ is the industry's first assist and slipper clutch on a stock Sport ATV. Yamaha says this technology reduces clutch lever effort by approximately 25 percent, increases clutch plate pressure for positive engagement, reduces the engine braking effect allowing for faster cornering – particularly when downshifting – and allows the suspension to absorb bumps better during braking. All combined, Yamaha boasts this new Sport ATV technology makes for less rider fatigue especially during long motos and all-day trail rides.
After one of our Facebook followers asked us if the slipper clutch could be adapted to fit older YFZ450R models, we posed the question to Yamaha. We were told that yes, it looks like the slipper clutch will fit those 2009-13 YFZ450Rs, but Yamaha hasn't tested it enough to recommend it. We also asked if it will be available as an official Yamaha accessory, but Yamaha says it won't be – at least not yet.
For more power, the 2014 YFZ450R's 449cc engine uses titanium five-valve cylinder head technology with new cam profiles and a newly designed exhaust system that delivers abundant power from the mid-range to the top end and provides more hit feeling right off the bottom.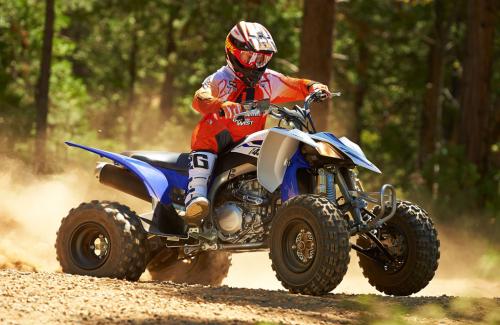 Already a proven race winner, the YFZ450R gets significant performance gains for 2014.
The YFZ450R incorporates Yamaha's Fuel Injection for precise fuel delivery. With a big 42mm Mikuni throttle body and 12-hole injector, this system provides atomization of the fuel for maximum power. The system also includes Idle Speed Control (ISC) for easy, reliable start-up and warming.
The new styling and body configuration allows more space for aggressive racers to shift their weight. The seat is narrow in the front, while wide and padded in the rear with redesigned rear fenders providing smoother side-to-side transitions in hard, fast corners. The popular quick-release fasteners – previously only available on Special Edition models – are now standard on all YFZs and provide for no-tools installation and removal of the front and rear fenders.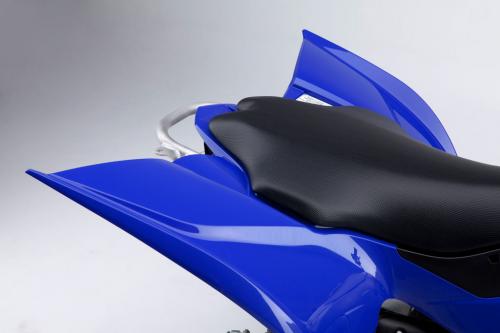 Front and rear fenders can now be removed without tools.
The wheels have been designed with the inner lip rolled in. This increases the rigidity, allowing a reduction in weight while maintaining strength. The wheels are set for motocross-spec width at nearly 49. Its Maxxis tires are designed to help provide excellent handling, sliding control, and traction. At 20 inches in the rear and 21 inches in the front, they provide more ground clearance than other Sport ATVs – a benefit on rough tracks and trails. The YFZ gets excellent stopping ability, from dual front hydraulic disc brakes and a lightweight wave-type rear rotor.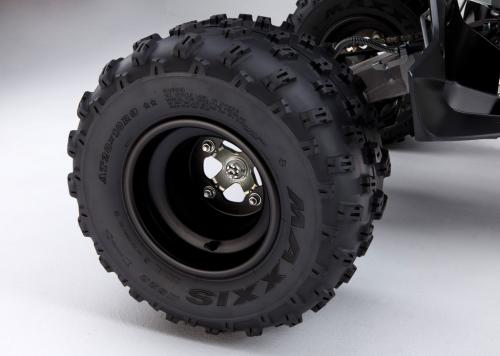 Yamaha shaved some weight off the YFZ450R by designing the wheels with the inner lip rolled in.
The YFZ450R has large diameter, aluminum tapered handlebars designed to reduce vibration and are mounted on four-way clamps for adjustability. There are two sets of holes in the handlebar crown and the eccentric clamps so the rider can choose the standard setting, 10mm or 20mm forward, or 10mm back.
New heel guards provide more room and are positioned closer to the chassis for a slimmer feel, while the vehicle's foot pegs are 2.6 inches.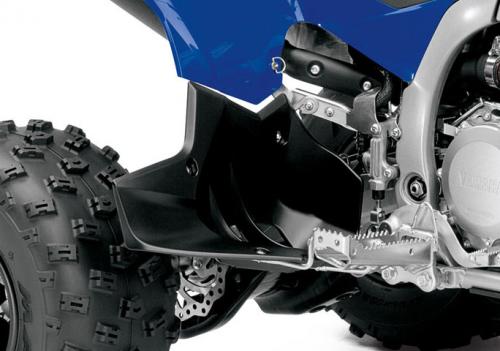 Riders will find more room on the pegs thanks to new heel guards.
The frame is a combination of aluminum and steel. The frame member under the engine is steel, used for its combination of strength and low profile. This allows the engine to sit at its lowest possible point for improved mass centralization and handling. The aluminum frame is bolted together, rather than welded, for maximum durability.
The front frame is as narrow as possible at the A-arm mounting points. This increases the A-arm length, which reduces changes in camber as the suspension travels through its full range of motion. The new front KYB shocks with 9.8 inches of travel and Kashima coating are longer for increased suspension stroke. The rear swingarm with 11 inches of travel is crafted of strong, gravity-fed aluminum, and it is matched to a fully adjustable 46mm KYB piggyback shock absorber.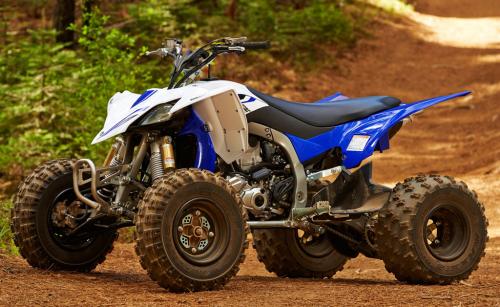 The 2014 YFZ450R will be assembled in the United States.
Every 2014 YFZ450R is being manufactured exclusively in the United States at Yamaha's factory in Newnan, Ga., for worldwide distribution.
The 2014 YFZ450R will be available this August in Team Yamaha Blue/White and a new Blaze Orange second color option. MSRP is $8,799. This is pretty impessive, as the 2013 model was only $200 less and an aftermarket slipper clutch will run you as much as $1,500. A Special Edition in Crimson Red/Black graphics with dealer-installed GYTR black front grab bar will have an MSRP of $8,949.
Published June 12th, 2013 12:25 PM
Top Brands
Popular Articles