52 Views
2011 Yamaha Raptor 250R: Pro Racer Impressions
June 17th, 2015 4:30 PM
Share
We're committed to finding, researching, and recommending the best products. We earn commissions from purchases you make using links in our articles. Learn more here
Dustin Nelson takes the Raptor for a spin
The Yamaha Raptor 250 took the ATV world by storm when it was introduced for the 2008 model year. While the rest of the industry seemed focused on producing high-performance 450cc sport quads and big bore utility machines, Yamaha threw a curveball by offering the industry's first true sport-specific 250cc ATV.
It turns out that demand for an affordable, light, sporty ATV was very high and the Raptor 250 quickly became a top seller for Yamaha. The ATV press almost universally loved it and ATV.com built one up and gave it away to a lucky reader. So successful was the Raptor 250 that for 2011 Yamaha based a brand new entry-level machine off of the platform – the Raptor 125.
While recreational riders flocked to the easy-to-ride Raptor 250, it also proved to be an attractive option for racers. A quick trip to the ATV aftermarket and you could turn the Raptor 250 into a woods racer or a motocross killer. Yamaha clearly noticed the trend and for 2011 decided to offer up an even sportier model – the Raptor 250R.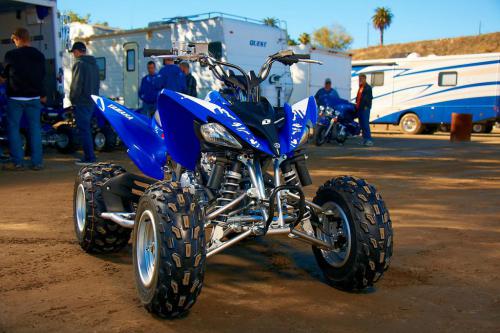 2011 Yamaha Raptor 250R
What sets the Raptor 250R apart from the base Raptor 250 is the addition of piggyback reservoir shocks up front and a remote reservoir shock in the back. The 250R also comes with an adjustable front brake lever and an LED taillight, but the shocks are the difference maker. These high-end goodies only add $500 to the MSRP ($5,099), which is just a fraction of what you'd have to spend on a set of aftermarket shocks. For a would-be racer or somebody who just wants a more tunable machine this is a no-brainer.
Yamaha Factory racer Dustin Nelson gave us his impressions of the Raptor 250R.
We haven't had a chance to test out the Raptor 250R for ourselves yet, but we get some feedback from somebody who did – Factory Yamaha racer Dustin Nelson. Nelson is coming off of his third consecutive (and fourth overall) Yamaha/ITP QuadCross championship. Seeing as how he is normally pushing the high-performance YFZ450R to its limits it may seem he is a little overqualified for the Raptor 250R; however, Nelson doesn't really see it that way.
"I love riding these smaller Raptors," Nelson tells ATV.com. "The fun factor is off the charts and the lower horsepower is a great equalizer for battling with buddies. Most of the guys at the track can't ride a 450 even close to its full potential – they can be scary fast. These Raptor 250Rs have a great power-to-handling ratio, most of the guys out there can ride them very close to full potential."
With the added adjustability of the piggyback reservoir shocks, a wide variety of riders can set up the 250R to their liking.
Nelson has experience on both the original Raptor 250 and new 250R and says he's impressed with the improved shocks.
"I think the ride is better right out of the box. That, with the added adjustability, is a great combination," says Nelson. "I think the new shocks are great for making the changes necessary for drastically different sized riders that you will get on a stepping stone bike like the Raptor 250R."
Asked if there was anything he would change about the Raptor 250R, Nelson had this to say: "I would put a twist throttle on it … haha. My thumb was sore after holding that thing pinned all day but that's just because I'm a motorcycle guy and run a twist on all my race quads. Other than that, I guess more power is always nice but the 250's power to weight ratio matches it's handling really well."
Since Nelson is so familiar with the YFZ450R – he was a big part of the testing process – we asked him what he likes more about the Raptor 250R and what he likes less.
Yes, that is still a 250.
"Well the first thing I notice when I get on the 250 is how light it feels. If my 450 could feel that light I would feel unbeatable," says Nelson. "The power and slide control of the YFZ 450R would have to be its best attributes. The 450R has a much wider stance than the 250 so starting a slide is a little easier."
The light weight of the Raptor 250R makes it easy to flick around the track.
Finally, we asked Nelson if a highly skilled rider (or even pro racer) would enjoy having a Raptor 250R in the garage to play around on.
"I would love to have one, or two, or maybe three," joked Nelson. "It's hard to have more fun than being up against some friends on evenly matched machines that are as easy to ride as the Raptor 250R. Published December 21st, 2010 1:07 PM
Top Brands
Popular Articles