1 View
Canadian company trying to get 4-wheeler road legal
May 13th, 2010 3:26 PM
Share
Quadricycle is designed for paved roads
Quebec-based entrepreneur CMI-CECTEK is planning to market a four-wheel motorcycle designed specifically for on-road use. According to the company, its purchase cost, safety and fuel economy will bring innovation to Canadian motorsports. However, its launch is blocked by a major difference of opinion with current Transport Canada regulations.
"We are asking that the definition of motorcycle in Section 2 of the Motor Vehicle Safety Regulation be amended to include four-wheel motorcycles," says Hélène Binet, vice-president of CMI-CECTEK. "We made this formal request to the government in July 2009."
CMI-CECTEK have two different four-wheeled models – the Quadrift and the ESTOC. Each is powered by a 500cc liquid-cooled, fuel injected engine with an automatic transmission, CMI-CECTEK's four-wheeled motorcycle (or quadricycle) can achieve a claimed top speed of 130 kilometers per hour (about 80 mph).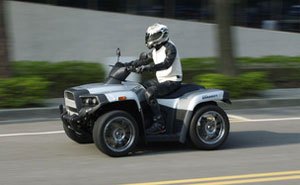 According to CMI-CECTEK, its quadricycles meet all Canadian safety standards for motorcycles and motor tricycles such as Bombardier's Can-Am Spyder, with the difference that it has four wheels instead of three. CMI-CECTEK's 4-wheel motorcycle also differs from conventional passenger cars.
"Our 4-wheel motorcycle is not an ATV, or a golf cart, or a low-speed vehicle. It's a motorcycle," says Binet. "It travels on public roads in Europe and is perfectly safe. Do Europeans care less about safety than Canadians? Let Canadians choose."
Transport Canada has launched a public consultation lasting until June 9, 2010 that could help decide the fate of the four-wheeled motorcycle. CMI-CECTEK provides a place for feed back on its official website. Published May 13th, 2010 3:26 PM