1 View
Dustin Nelson Wraps up QuadCross MX Title
November 25th, 2009 3:27 PM
Share
Yamaha rider clinches third career QuadCross championship
Yamaha factory rider Dustin Nelson captured his third QuadCross Series title aboard his YFZ450R this past weekend at Glen Helen Raceway in Southern California. This is Nelson's second consecutive Yamaha/ITP QuadCross championship and his first full year of competition on the YFZ450R.
Nelson posted first and second place finishes in respective motos during the final QuadCross event, which earned him the overall victory for the day and enough points for the series championship. Also riding Yamaha YFZ450Rs this season, racers Justin Noss and Jason Dunkleberger finished in third and fourth place respectively, putting three Yamaha's in the overall top five for the year.
"I'm really happy and excited that all of our hard work paid off in another championship for Yamaha," says Nelson. "On today's rough high-speed track, the YFZ450R's handling and power just shone through."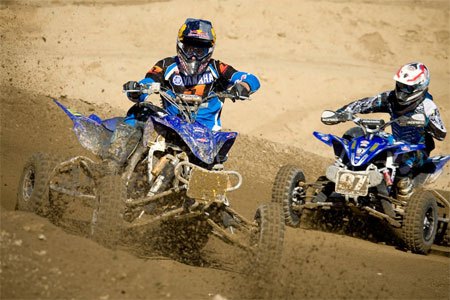 "Yamaha congratulates Dustin on another outstanding race season, and we're excited to see him bring home a third championship aboard a YFZ," says Steve Nessl, Yamaha's ATV group marketing manager. "Yamaha is proud to support Nelson and the entire QuadCross series. As a co-title sponsor, we believe the series is an excellent proving ground for the high-performance YFZ450R."
Nelson has had a long relationship with Yamaha as a test rider and factory racer, and assisted in the development of the YFZ450R before it was introduced last fall. He was the first to race the YFZ450R at last year's QuadCross Finale when he captured the 2008 championship. This year he took four top spots throughout the nine-month series, including a win at this weekend's Glen Helen finale, to close out his championship season.
Nelson's 2009 season sponsors included Yamaha, Genuine Yamaha Technology Racing (GYTR) and Yamalube. His 2009 championship winning race quad ran GYTR accessories, made especially for racing and performance enthusiasts, including the cylinder head, performance camshafts, piston kit, fuel controller, high flow air filter, adaptor plate, nerf bars, skid plates, sport front bumper and clutch components.
Related Reading
2009 Yamaha YFZ450R Review
Published November 25th, 2009 3:27 PM
Top Brands
Popular Articles