1 View
Eichner Wins Two Races in Two Locations on Same Day
November 11th, 2008 2:58 PM
Share
We're committed to finding, researching, and recommending the best products. We earn commissions from purchases you make using links in our articles. Learn more here
Polaris Outlaw 450 MXR takes the checkered flag twice
Saturday, Nov. 8, 2008 turned out to be a very busy and very successful day for Doug Eichner and the Polaris/Lone Star/Eichner Racing team.
Eichner started off the day at the 40th anniversary of the Historic Elsinore Grand Prix in Lake Elsinore, Calif. Eichner is no stranger to the Lake Elsinore Grand Prix and considers it to be one of his most enjoyable races.
Friday before the race, all competitors were allowed to ride mountain bikes on the track to site the course before race day. Eichner took advantage of the site-lap and returned to the pit with a smile stating this was the perfect track for his style of riding and the capabilities of his powerful Polaris Outlaw 450 MXR with enhanced power and exhaust from Yoshimura, numerous aftermarket components from Lone Star Racing, MAXXIS Tires, Rath Racing and GPR Stabilizer.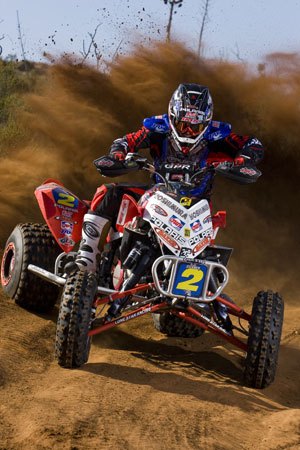 "The track was going to be fast, fast, fast and included a spectacular 70-ft. table top jump followed by a 90-foot double jump and of course the legendary Lake Elsinore water jump," says Eichner.
Eichner couldn't wait to get at it as the flag dropped on Saturday morning at 11:30 a.m. It was a dusty start, but it was only a short time before you could see Eichner's classic riding style aboard the Polaris leaving sight of the crowd with a large lead.
Eichner and the Polaris Outlaw 450 MXR ran a flawless 45-minute race, mastered the jumps and turned on the gas on the fast open style track. With what appeared to be an untouchable lead, Eichner took the time to give fans 'high-fives' as they jumped out of the cheering sections with their arms waving.
Clearly the crowd favorite, Eichner made this victory his ninth Pro win at the Legendary Lake Elsinore Grand Prix, but a first for Eichner aboard his Polaris Outlaw 450 MXR.
There wasn't much time for celebrating as Eichner, along with support from his trusted motor builder, George Fickett from Yoshimura R&D of America Inc. and friend & pit support, Larry Heidler, packed quickly and made a dash to the Perris Auto Speedway where the Ricky Johnson Off-Road GP was being held Saturday evening a few miles away in Perris, Calif.
This race venue returned Eichner to his familiar roots of the Mickey Thompson Grand Prix Style Stadium Racing and it was obvious Eichner was in his element. This race series appeals to all types of race enthusiasts and offers stadium style racing for trucks, super-lights, mini-trucks, UTVs and, of course, ATVs.
With only a quick change of tires, Eichner was back aboard his same Polaris Outlaw 450 MXR that he had just clinched the Lake Elsinore Grand Prix only hours earlier.
"I haven't had the opportunity of riding my Outlaw on a track like this, but I came in from practice and could not believe how well my Outlaw handled with very few adjustments," says Eichner.
Eichner took command of the stadium style track winning both the heat race and Pro Main Event.
Eichner proudly represented his sponsors in his winning performance and victory lap with checkered flag in hand. Currently the Ricky Johnson Off-Road GP is scheduled to air on Versus the first part of 2009. Based on the enthusiasm from racers and spectators alike, series promoters are looking to run a complete 8 race stadium series in 2009. Published November 11th, 2008 2:58 PM
Top Brands
Popular Articles