1 View
KYMCO USA Partners With IndyCar Series
May 22nd, 2009 3:42 PM
Share
UXV 500 the official off-road vehicle of IndyCar Series
KYMCO USA has teamed up with the IndyCar Series as an official partner. The multi-year partnership will make KYMCO the official scooter and off-road utility vehicle of the IndyCar Series. KYMCO will also have official status with Firestone Indy Lights, the premier ladder series for drivers and teams striving to compete in the IndyCar Series.
"We are extremely pleased to be involved in IndyCar Series racing," says Eric Bondy, president of KYMCO USA. "It's a thrilling form of American racing with an established fan base that is only getting bigger. This gives us an excellent opportunity to expose our brand to new customers around the country and throughout the world."
"We couldn't be more pleased to have a company like KYMCO come on board with the IndyCar Series," says Greg Gruning, vice president of sales for the Indy Racing League. "KYMCO manufactures quality products that the IndyCar Series staff will rely on throughout the course of the IndyCar Series season."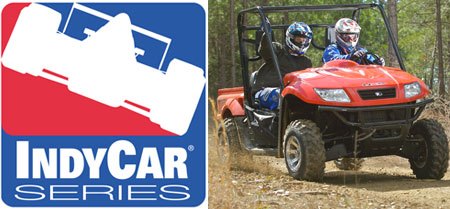 Throughout 2009, fans may notice IndyCar Series personnel using KYMCO UXV 500 4X4 utility vehicles and Super 8 150cc scooters for various needs in and around the race venues as well as at its headquarters in Indianapolis.
The 4×4 UXV 500 side-by-side provides a comfortable ride for driver and passenger, and the 420-pound capacity cargo bed is ideal for hauling parts or just about anything else.
Published May 22nd, 2009 3:42 PM