1 View
Polaris Reports Big First Quarter Numbers
April 16th, 2008 2:49 PM
Share
We're committed to finding, researching, and recommending the best products. We earn commissions from purchases you make using links in our articles. Learn more here
Overall sales increase by 22%
Polaris Industries Inc. of Medina, Minn. reports that its sales increased by 22% to US$388.7 million in the first quarter of 2008.
Polaris, which did $317.7 million in sales in the first quarter of 2007, says all its product lines experienced sales growth during the quarter. Improved performance from the company's parts, garments and accessories (PG&A), side-by-side vehicle and snowmobile were largely responsible for the better than expected numbers.
"We are pleased to report our first quarter results that have exceeded our expectations despite the difficult macroeconomic environment," says Polaris chief executive officer Tom Tiller. "The momentum that we generated in 2007 has continued into 2008 particularly for our side-by-side business, with strong demand for our Ranger products, including the sporty recreational Ranger RZR and new six-passenger Ranger Crew."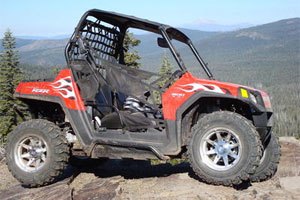 ATV sales in the 2008 first quarter increased 19% from the first quarter 2007. Polaris says this increase reflects the continued success of the new Ranger RZR, and the initial success of the new Ranger Crew, which began shipping late in the fourth quarter 2007.
Polaris also experienced significant sales growth outside North America in the first quarter from strong demand for both ATV and side-by-side vehicles. This growth was partially offset by a decline in core ATV shipments to dealers in North America during the first quarter as the company continued to help dealers reduce their core ATV inventory levels in a continued declining core North American ATV industry environment.
Polaris expects overall sales for the full year 2008 to grow in the range of five to seven per cent.
"Given our focused and dedicated employee owners, I am confident we can achieve our sales and earnings guidance for the balance of 2008 in spite of the challenging macroeconomic environment in the United States."
All was not completely rosy for Polaris, however, as the company is having some trouble with HSBC, who is providing Polaris customers with revolving retail credit financing. HSBC, according to Tiller, is not longer satisfied with the agreement it has with Polaris.
"HSBC threatened to significantly tighten underwriting standards and this tightening would have reduced the number of qualified customers that would be able to obtain credit from HSBC to purchase our products," says Tiller. "In order to ensure that our customers continue to be able to finance the purchase of our products, after March 1, 2008, we began forgoing the volume-based fee income we are owed under the 2005 contract which will be a significant income reduction in 2008. We were not obligated to forgo this income under the 2005 agreement with HSBC and have filed a legal complaint against HSBC." Published April 16th, 2008 2:49 PM
Top Brands
Popular Articles