1 View
Polaris Side-by-side Sales on the Rise
July 15th, 2008 11:51 AM
Share
Ranger line leads 24% increase in ATV sales
Polaris Industries Inc. of Median, Minn. reported record sales for the second quarter of 2008, including an impressive increase Ranger sales.
Polaris sales for the second quarter of 2008 totaled $455.7 million, an increase of 21% over last year's second quarter sales of $376.9 million.
"Our operating results this quarter are very strong especially given the very challenging macroeconomic environment," says Tom Tiller, chief executive officer of Polaris Industries Inc. "Sales for the full year 2008 are now expected to grow in the range of nine to eleven percent over full year 2007 sales of $1.78 billion."
Much of Polaris' growth has been attributed to the performance of its side-by-side vehicles, international operations and parts, garments and accessories businesses. Second quarter ATV sales, which includes side-by-side vehicles, jumped 24% to $350.3 million compared to $282.1 million over the same period in 2007.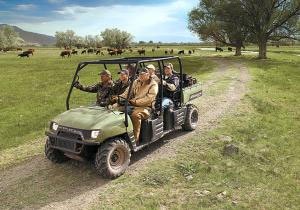 "During the third quarter of 2008, we expect total sales to increase in the range of two to five percent over the third quarter 2007 which was the first quarter of the start of significant shipments of the Ranger RZR," says Tiller.
According to Polaris, the new Ranger RZR side-by-side recreation vehicles continued to sell well during the quarter along with the new Ranger Crew six passenger side-by-side utility vehicles. Sales growth outside North America was also strong in the second quarter for both the company's ATV and side-by-side vehicles.
Polaris says the overall market for more traditional core ATVs sold in North America remained weak during the second quarter resulting in fewer shipments of Polaris ATVs to North American dealers as they continued to reduce their core ATV inventory levels. Currently North American dealer ATV unit inventories are down 10% from the same time last year.
"Next week we will be unveiling our model year 2009 products at our annual dealer meeting," says Tiller. "Innovation has always been a cornerstone of Polaris' success and our new model year 2009 products will reflect the high standards that our customers have come to expect from Polaris. While we set the bar high in model year 2008 with our innovative new products including the Ranger RZR, Ranger Crew and Victory Vision, we similarly have high expectations for our new model year 2009 products. Despite a tough external environment that is not likely to improve in the near-term, we expect the momentum that we generated in the first half of 2008 to carry over into the second half of the year."
Published July 15th, 2008 11:51 AM
Top Brands
Popular Articles