1 View
Pro Armor Announces 2010 Race Team
April 26th, 2010 11:31 AM
Share
Team consists on top motocross and cross country racers
Dustin Wimmer, Josh Creamer, Bill Ballance, Taylor Kiser, Tim Shelman, Keith Little, and Jeremy Lawson are part of Pro Armor's 2010 ATV race team.
Wimmer, Creamer, Little, and Lawson will be competing in the ATV MX Nationals while Balance and Kiser will be gunning for championships in the GNCC Series. Shelman, aka TPQ, races the WORCS series.
Team Pro Armor will be racing the 2010 season using the Revolution nerf bars.
"We have spent countless hours developing the best nerf bar for all applications and the Revolution has far exceeded our expectations" says Alex Danze, Pro Armor president and CEO.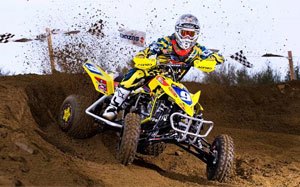 Wimmer had a phenomenal year in 2009 powering through injury and tough competition to win his second Championship and Pro Armor expects 2010 to be no different.
"I'm very excited to be running Pro Armor as I go for my third Championship," says Wimmer. "When it comes to quality aluminum product I wouldn't run anything else."
Creamer will contest the 2010 ATV MX Nationals aboard his Suzuki LT-R450 outfitted with the Revolution nerf bars and ProAm Series front bumper.
Lawson will contest the 2010 ATV MX Nationals aboard his Pro Armor backed Suzuki LT-R450.
"I am excited to be part of the Pro Armor team for 2010," says Lawson.
Little will be racing the 2010 ATV MX Nationals aboard several different Pro Armor backed quads. ATV Rider magazine has dubbed this the MXPeriment.
Ballance and Kiser will be competing in the GNCC Series on their Yamaha YFZ450R machines with Pro Armor's Revolution nerf bars.
"We are excited for all of our racers as we continue the 2010 race season," says Fred Brayton, sales and marketing manager. "We are here because we love the sport and look forward to supporting all racers anyway we can."
Related Reading
Pro Armor Protection Products Review
Creamer Earns First AMA ATV MX Win for Suzuki
Published April 26th, 2010 11:31 AM
Top Brands
Popular Articles