1 View
July 12th, 2010 9:34 AM
Share
Flame arrestor screen can become detached
Suzuki, in cooperation with the Consumer Product Safety Commission, has issued a recall for all 2009 QuadSport Z400 ATVs.
According to the recall notice, the flame arrestor screen can become detached from its mounting ring, preventing the throttle valve from returning to the idle position when the throttle lever is released. This can cause the rider to lose control.
Suzuki has received two reports of the flame arrestor screens detaching from the mounting ring, but no injuries have been reported.
About 1,355 units have been recalled, including the LT-Z400K9 (QuadSport Z400) and LT-Z400ZK9 (QuadSport Z400 Special Edition) ATVs. "QuadSport Z400" or "QuadSport Z400Z" is written on the sides and left front fender of the ATV. "Suzuki" is written on the sides of the ATV.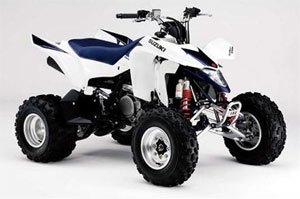 The ATVs were sold at Suzuki dealerships nationwide from September 2008 through June 2010 for between $6,500 and $6,700.
Consumers are asked to stop using the affected machines immediately and contact a local Suzuki ATV dealer to schedule an appointment for a free repair.
Related Reading
2009 Suzuki QuadSport Z400 Review
Published July 12th, 2010 9:34 AM