1 View
Yokley Racing ATV Report: WORCS Round 7
July 29th, 2010 10:48 AM
Share
Jarrod McClure takes on WORCS Series
National Guard Polaris Yokley Racing ATV Team rider Jarrod McClure finished 16th overall and 12th in the 20 rider Pro ATV class in Round 7 of the 2010 WORCS Series.
Summary
The GNCC Series has been on summer break for almost a month, and National Guard Polaris ATV Team rider Jarrod McClure decided to venture out west for some racing action in round #7 of the WORCS series held in McCleary, Wash. The Straddleline ORV race course has many similarities to a typical GNCC track and the team was looking forward to this race, which was held in a beautiful part of the country just 15 miles west of the state capitol in Olympia.
The beautiful moderate weather was a welcome relief coming from the heat and humidity back east, so the team was ready to roll. After qualifying 5th on Saturday, ATV pilot Jarrod McClure was getting anxious for the race to begin. There were some familiar faces from the GNCC series at this event with GNCC Champ Chris Borich, Adam McGill, and Johnny Gallagher to help fill up the gate in the pro class making for an exciting race.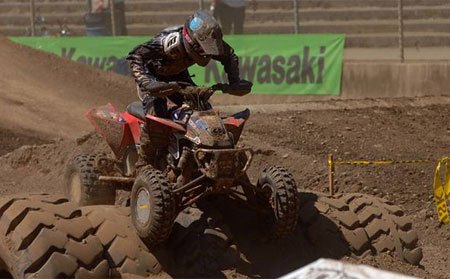 When the gate dropped McClure went into the woods running about mid pack. He had an eventful first lap when he slammed into someone causing him to hit a tree that put him further toward the back of the pack. Overcoming the first lap incident, Jarrod was making a charge through the field until about the middle of the race and a call was made in the pits by Team Manager William Yokley. Yokley saw that Jarrod was being held up by several riders, keeping him from moving up towards the front to join the battle. The decision was made to send him on another lap without refueling, thinking there was no chance of him running out of gas. Yokley felt like Jarrod was in contention for a top 5 finish without a doubt, but that wasn't the case.
When he failed to complete the next lap, the team knew he had run out of gas, and William felt horrible for making that decision. Jarrod McClure, having the never give up attitude, pushed his ATV back to the pits to re-fuel and enter the track where he left it. He was able to finish the race in 12th place for the day.
A special thanks goes to Moto Pro training for putting together an awesome work out and nutrition program for our team, because there is no way anyone could race an hour, then push the quad to the pits, and go back out for another hour without being in the best of shape! We would like to congratulate MCR/ Maxxis Racing's Beau Baron on his flawless win over the rest of the field in his quest to defend his title again this year in the WORCS series.
Yokley Racing Team Sponsors: The Army National Guard, Polaris Industries, DragonFire Racing, Kenda Tires, Monavie, EXIT Suspension, Roll Design, XC Bob's, Douglas Wheel Technology, Motoworks Exhaust Systems, Moto Pro Training, SHIFT Riding Gear, Tsubaki Chains, IMS/Roll, CV4 Hoses, ATVRiders.com, Tireballs, Precision Racing Products, G-4 Graphics, Andrews Cycle, Powermadd, SCOTT USA Goggles, PURE Polaris Lubricants & Fuels, Intense Fabrication & Design, IMS, Hygh Octane Designs, Bowers Motorsports, TanTerra Wines and Tusk Off-Road
Published July 29th, 2010 10:48 AM