1 View
Amazon Prime Day Deals for Canadian ATV and UTV Enthusiasts
July 16th, 2018 3:26 PM
Share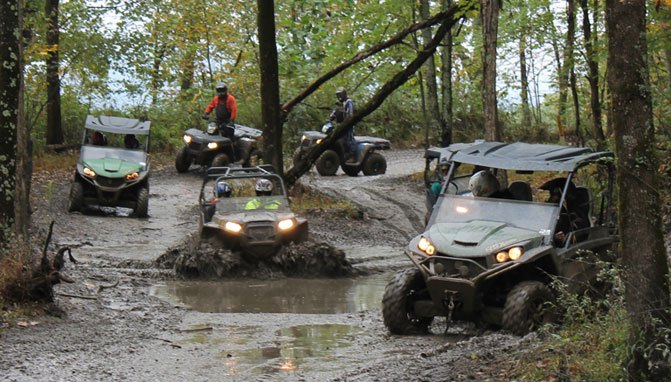 Prime Day deals for our friends north of the border
Amazon Prime Day only comes around once a year and it's the perfect time to find a great deal. You just have to look. Fortunately for you, we scoured the Amazon.ca Prime Day deals and found a handful of items that ATV and UTV owners might find helpful.
Click here to learn more about Amazon Prime.
GoPro Hero5 Session Package
Record your next off-roaad adventure with the GoPro Hero5 Session package. This package includes the Hero5 Session, Chesty Mount, 32 GB SD card, and AmazonBasics case. Video can be recorded in 4K and you can take 10MP photos in Single, Burst and Time Lapse modes. The GoPro Hero5 Session Package is available for $$239.99 (39% off) on Prime Day. Pick one up here.
YI Outdoor Security Camera
When you aren't ripping up the trails, you can help protect your ATV or UTV with the YI Outdoor Security Camera. Mount this camera outside your garage or aim it at your trailer if you keep it in the driveway. Features include high definition recording, IP65 waterproof rating, integrated two-way audio with waterproof mic, deterrent alarm with motion detection, and enhanced night vision that features 12 850nm infrared LEDs to provide nighttime viewing distance of up to 50 feet. You can buy one here for $119.99 (14% off).
Mechanix Wear Shop Gloves
When it comes to shop gloves, nobody does it better than Mechanix and 20 years of testing proves it. The Mechanix Wear gloves feature durable synthetic leather palm, breathable TrekDry back-of-hand, and tapered TPR closure to offer a secure fit at the wrist. On Prime Day the Mechanix Wear shop gloves are available for $24.98 (14% off). You can order a pair here.
Coast FL75 LED Headlamp
If you like to ride at night, you can let your ATV or UTV light the way. But when you step off your machine you can get left in the dark. The Coast FL75 LED Headlamp can help change that. In one mode you can shine an ultra-wide beam then twist the bezel to a focus the light in a smaller area. You can also switch quickly to a red light to preserve night vision. Because the Coast FL75 is impact resistant, weather resistant, and its LED is pretty much indestructible, Coast backs it with a lifetime warranty against defects in materials and workmanship. On Prime Day the Coast FL75 Head Lamp is available for $58.45 (22% off). You can order one here.
Dewalt Bluetooth Charger Radio
When you are stuck in the garage wrenching on your machine instead of riding it, a little music makes the situation more bearable. The Dewalt Bluetooth Charger Radio is designed to be the most versatile jobsite radio charger in the industry. You can run it off of Dewalt slide pack battery packs or you can actually charge the battery packs for your Dewalt tools if you plug the radio into an AC outlet. 2 AC power outlets on the side of the unit allow you to plug in additional tools or chargers. On Prime Day the Dewalt Bluetooth Charger Radio is available for $195.30 (33% off). Pick one up for yourself here.
Published July 16th, 2018 3:02 PM
Top Brands
Popular Articles