79 Views
Best ATV Air Filter Options
May 26th, 2022 5:33 PM
Share
We're committed to finding, researching, and recommending the best products. We earn commissions from purchases you make using links in our articles. Learn more here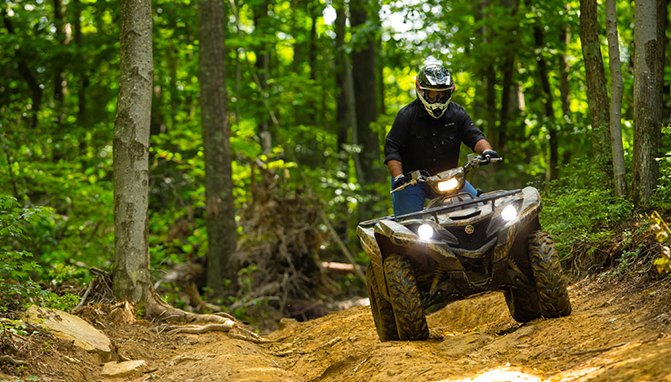 Keep clean air flowing into your engine with a new air filter
If you want to get the most out of your ATV's engine – the most power, the most reliability, and the longest service life – having the right ATV air filter is critical.
Every ounce of air that gets taken up by your ATV's engine passes through a filter first, to make sure that it's free from macroscopic particles of dirt and dust which can, over time, damage components and lead to built-up deposits that restrict airflow. The average factory ATV air filter is a simple paper one – reliable and effective at collecting contaminants, but certainly not the most breathable, which means it could be costing you top-end power. And, when it inevitably clogs up, you have no recourse but to throw it out and replace it.
Here, we've rounded up the best-performing, highest-quality ATV air filter options on the market today, each one cleanable and reusable (unlike that paper filter) so you can free up your engine to breathe a bit better, without having to drop cash on a whole new filter every time you encounter a clog.
1. Editors Choice: K&N Performance ATV Air Filter
You almost can't talk about ATV air filters without at least mentioning K&N. Since becoming one of the best-known aftermarket performance brands in the world, this US-based company continues to set the benchmark when it comes to high-flow air filters and intake systems. It's no great surprise, then, that the K&N ATV air filter makes our list. While certainly not the most cost-effective reusable ATV air filter out there, the K&N ATV air filter is just right for those who are willing to pay a bit more in order to stick to a trusted, proven brand. A 10-year/million-mile limited warranty guarantees the filter against defects, and a "state-of-the-art" oiled filtration medium provides up to 50% more airflow than comparable paper filters, tackling a major potential choke point in your ATV's induction system.
2. Top Rated Foam Filter: FilGuard Premium Dual-Stage Air Filter
A layered cotton filtration medium has worked out well for K&N, but FilGuard has taken a different tack with its performance ATV air filter: two-layer bonded foam. It, too, requires an occasional wash and re-oiling, but the theory behind its composition is sound: the lower-density outer foam layer catches relatively large particulates, and the higher-density inner layer filters out the fine stuff. An extra thick foam base maintains an effective seal with the airbox, which should in theory help keep turbulence at bay. And if you're antsy to get your ATV back out on the trail ASAP, we've got good news for you: this FilGuard ATV air filter ships pre-oiled, so you can just drop it in and go.
3. Best Pre-Oiled Air Filter: Maxima ProAir Filter
There's nothing worse than doing last-minute checks before a ride and seeing that your air filter is caked with dirt or on the verge of disintegrating. Maxima Racing has long been known for its high-quality oils and has also gotten into the air filter market with its ProFilter pre-oiled air filters. These are great to keep on hand for a quick change between motos or in case you forgot to clean the air filter on your ATV after your last ride. They're available for the most popular utility and sport ATV applications.
4. UNI Two-Layer Foam ATV Air Filter
Ask ten different riders whether they prefer a FilGuard or UNI foam ATV air filter and you'll probably end up with a hung jury. In actual fact, UNI foam air filters employ a philosophy similar to FilGuard's with a loose, large-pore outer foam layer to catch large particulate matter, and a small-pore inner layer to catch finer particles. It's a proven method for high-flow performance air filtration, and UNI's designs in particular enjoy some rave owner reviews, especially with regard to the ease of cleaning. With pricing comparable to FilGuard's, and significantly below that of K&N, a UNI filter is well worth consideration for your next ATV air filter.
5. FILTERWEARS Pre-Filter for K&N ATV Air Filter
The notion of a "pre-filter" might sound a bit strange at first: a filter… for my filter? But it's actually a great thing to have. It's basically a breathable sock that slips over your ATV air filter and screens for large particles – and, more importantly, water. FILTERWEARS ATV pre-filters, for example, are made from hydrophobic monofilament polyester, which has very little effect on the filter's ability to breathe fresh intake air, but still helps keep large particles and water out. The result is less water infiltration and a filter that stays cleaner for longer, resulting in an extended service interval and maybe even a longer overall service life.
6. Outerwears ATV Pre-Filter
If FILTERWEARS doesn't offer a pre-filter to suit your particular ATV air filter, Outerwears might. It's an entirely similar product, being made from 100% polyester to reject water and catch particles as small as .005 inches in diameter, but the polyester is silicone-impregnated for added water-resistance. Outerwears assures that the pre-filter has been dyno- and flow bench-tested, and proven to result in no significant loss of power or breathability when used with a typical ATV air filter, and with its polyester construction and dielectrically welded seams, it ought to give you years of reliable service.
7. Bonus: Maxima Racing Oils Air Filter Maintenance Kit
Your ATV air filter isn't going to stay good forever; over time, as it becomes clogged with particulate matter, it will need an occasional cleaning and re-oiling. This aerosol filter maintenance combo kit can help you keep on top of it. Made by Maxima, the kit includes both a can of Maxima's heavy-duty Air Filter Cleaner – an emulsion-type cleaner formulated to deep-clean fabric and foam filters without damaging the filtration medium – and a can of Maxima FAB1 spray-on synthetic ATV air filter oil, which is an effective, high-quality water-resistant oil concocted to catch particulate matter without impeding airflow.
How Do You Clean An ATV Air Filter?
With a traditional paper ATV air filter, as the filtration medium becomes clogged with dirt, dust, and other fine particulate matter, eventually the filter reaches a point where it's seriously limiting the flow of intake air and you have no recourse but to throw it out and replace it. Reusable air filters, such as those that use a cotton or foam filtration medium, have the distinct advantage that when they inevitably reach that point, you can simply clean and re-oil them so that they're good as new.
To clean and refresh a reusable ATV air filter, spray a good, quality air filter cleaner such as K&N Air Filter Cleaner over every square inch of the filter medium, on both the "dirty" (outward-facing) and "clean" (inward-facing) sides. Let the filter soak for about 10 minutes so that the cleaner has time to penetrate and loosen all particulate matter. Then, flush the filter out with clean, cool water, spraying or pouring the water only on the "clean" side of the filter so that the contaminants are flushed back out the way they came in. If the filter looks relatively clean at this stage, shake it to remove excess water and set it aside to dry completely. Otherwise, repeat the process until the filter is free from contaminants before drying.
After the filter has dried completely – and we do mean completely – use a good quality ATV air filter oil to carefully, methodically soak the entirety of the filtration medium. Try not to overdo it; excess oil can impair the filter's ability to flow air, and if your ATV is equipped with electronic fuel injection, it can even get sucked into the intake tract and coat your air metering sensor, causing the engine to run poorly. At the same time, it's important not to under-oil the filter, as this can impair the filter's ability to catch and hold onto particulate matter. You should aim for full, even coverage of the filtration medium without any excessively "wet"-looking spots.
After the filter has been re-oiled, it should be good as new, and ready to go back in your ATV until its next service interval.
Now, for pre-filters, such as the ones from FILTERWEARS and Outerwears listed above, cleaning is often as simple as removing the pre-filter and giving it a quick vacuum. Alternatively, some manufacturers recommend gently hand-washing with a mild detergent and allowing it to air-dry, but the exact method that should be used will vary by manufacturer. We recommend consulting the accompanying product literature, or if there is none, contacting the manufacturer directly for advice.
How often should I replace my air filter?
It really depends on which type of air filter you have. If you're running a foam air filter like a UNI, Maxima, or FilGuard, you'll want to inspect the filter every time you clean it, which should be after every ride. What you're looking for are any thin spots, tears, or separating seams that would allow dirt to pass through to your engine. If you've got a K&N style filter that uses a cotton element between a wire mesh, these are usually more sturdy and don't require replacement as often as foam. Things you need to be on the lookout for are the wire mesh separating or the cotton element getting thin. Also if you've allowed dirt to accumulate so much that it won't become dislodged during cleaning, we'd recommend consideration of replacing the air filter.
Additional Resources
Recent Updates
05/26/2022: Updated product descriptions, added new product (maxima profilter), added to FAQ
We are committed to finding, researching, and recommending the best products. We earn commissions from purchases you make using the retail links in our product reviews. Learn more about how this works. Aaron Brzozowski
Aaron is a freelance writer, videographer and car enthusiast based out of the Detroit area. He has a special affinity for the Porsche 944 series, and once owned a Volvo 240 sedan with a Weber carb in place of the factory EFI system. His work has appeared on AutoGuide, GM Authority, /Drive, and VW Vortex, among other sites.
More by Aaron Brzozowski
Published June 23rd, 2021 11:05 AM
Top Brands
Popular Articles