28 Views
Factor 55's Closed System Winching is Just Plain Safer
February 22nd, 2022 6:03 PM
Share
We're committed to finding, researching, and recommending the best products. We earn commissions from purchases you make using links in our articles. Learn more here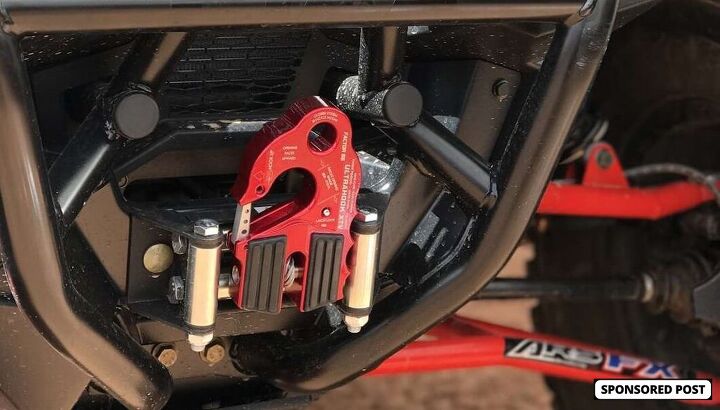 Take your winching game to the next level
A winch is essential equipment for any ATV or UTV owner that likes to test themselves and their machines by exploring terrain others would consider a bit too much. But traditional winch hooks come with a weak point that could spell disaster in the wrong situation – the safety latch. That safety latch is not intended to be load bearing. For the most part the latch won't ever be under load, but if your winch hooks slips and the rope ends up on the latch, bad things can happen. The good news is the team at Factor 55 has come up with a solution with its closed system winching.
All it takes to switch to a closed system is replacing the traditional winch hook with one of three different options that Factor 55 offers – all of which provide solid connection points at both ends. Every product from Factor 55 is made in the United States and rigorously tested to hold up to whatever ATV and UTV owners can throw at it. In this article, we will look at the different closed system winching solutions offered by Factor 55. We think you'll agree that every off-roader that runs a winch should take a serious look at what Factor 55 has to offer.
FlatLink XTV
The Flatlink XTV solves a couple of problems for ATV and UTV winch owners. First, this shackle/D-ring is safer and stronger than a traditional winch hook. Where a winch hook can cut and fray recovery straps, not to mention allow strap ends to sneak out of the hook if the winch line gets some slack in it, the Flatlink XTV relies on screw-pin shackles to keep everything secure.
Factor 55 built the Flatlink XTV out of 6000 series aluminum with a 7/16" titanium double shear pin. It can be installed in minutes (no splicing required!) and adds a new level of safety to your winch. It works with steel cables and synthetic ropes up to 5/16" in diameter. As well, EPDM Rubber Guards are designed to protect alloy fairleads from metal-to-metal contact and reduce rattling when you are on the trails.
When it comes time to put the Flatlink XTV to work, it is designed to accept common 1/2" to 5/8" shackles. It offers a max load rating of 8,000 pounds and boasts an ultimate failure of more than 28,000 pounds.
You can get the Flatlink XTV in one of eight different colors to match most any ATV or UTV. Click here to learn more.
ProLink XTV
The ProLink is where Factor 55 earned its reputation and the ProLink XTV is designed specifically for ATV and UTV owners. The most affordable close system winching solution offered by Factor 55, this little gem of a hook replacement offers a quick and secure connection to hard or soft shackles.
Made of 6000-series aluminum with a 6Al-4V titanium double shear pin and internal snap ring, the ProLink XTV installs with no splicing required. You just remove the standard open-ended hook from your winch and insert the loop of the cable or rope into the base of the ProLink. It is compatible with steel and synthetic cables up to 5/16" in diameter.
Like the Flatlink XTV, the ProLink XTV relies on an EPDM Rubber Guard to protect alloy fairleads and prevent it from rattling around and making a racket when not in use. This unit accepts 1/2" to 5/8" shackles and offers a maximum load rating of 6,000 pounds and an ultimate failure of 22,000 pounds.
The ProLink XTX is available in eight colors. Learn more here.
UltraHook XTV
For those of you that still want the ease and simplicity of a hook but the safety benefits of closed system winching, Factor 55 offers the UltraHook XTV.
It shares a similar profile to the FlatLink XTV with a flat body made of 6000-series aluminum with a titanium connection pin, as well as rubber pads that let it rest flat against the fairlead without rattling around while you put your off-road rig through its paces.
What sets the UltraHook XTV apart from its brother is that it has a hole for closed system connection and a hook that works much like a traditional winch hook. So if you have a fairly simple recovery, you can connect quickly with the open-style hook. But if you want the added protection of a closed system, you can choose to go that route.
The UltraHook XTV has a maximum load rating of 10,000 pounds and a breaking strength of 21,000 pounds. You can one up in seven different colors. Learn more here.
*This is a sponsored article Published January 25th, 2022 4:27 PM
Top Brands
Popular Articles