1 View
We're Giving Away a QuadBoss Quadlite Xtreme Ramp
December 4th, 2017 10:49 AM
Share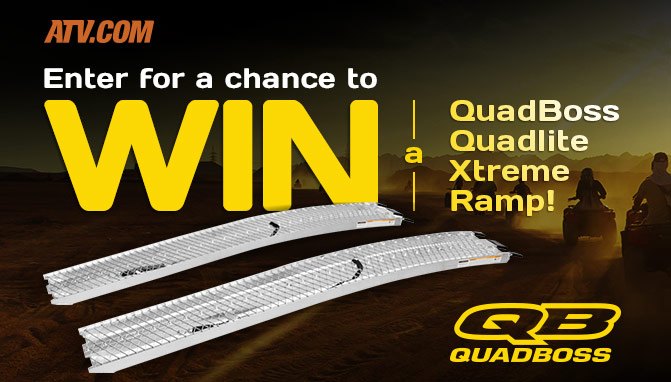 ATV.com and QuadBoss are teaming up to give our readers a chance to win a pair of Quadlite Xtreme Ramps valued at approximately $300.
To enter for your chance to win, just click here to fill out a brief survey.
Here is how QuadBoss describes the Quadlite Xtreme Ramp:
Lightweight, fully-welded aluminum construction. Extruded rectangular side rails resist bending while a taller rectangular cross section supports more weight. Exclusive high-traction mesh surface brings extra stability and loading grip.
Features of the Quadlite Xtreme ramps include an arched design for loading items with low clearance, extra support beams for higher load capacities, rubber-coated tabs to prevent tailgate scratches and a two-year warranty. Each ramp measures 12″ wide and 89″ long. Total weight capacity for the pair is 2,500 pounds.
Good luck to everybody who enters.
Click here to read the rules and regulation of the QuadBoss Quadlite Xtreme Ramps sweepstakes.
Published December 1st, 2017 2:28 PM