1 View
December 6th, 2022 3:26 AM
Share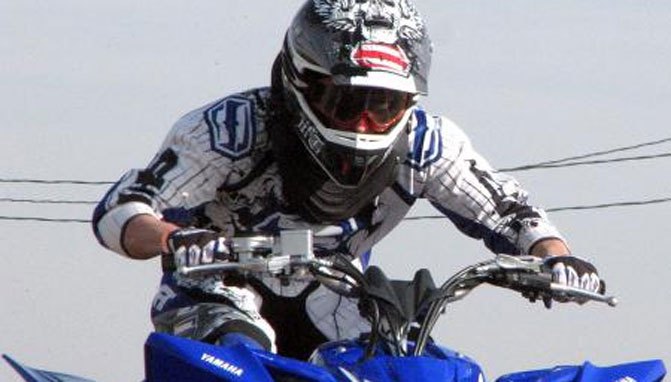 Helmet, jersey, pants and boots from Shift Racing
Since Shift first stormed onto the powersports scene in 1997 it has been producing some of the most creative and unique looking designs in the industry. Shift provides a full line of gear from head to toe including sick looking helmets, well-ventilated pants and jerseys, and comfortable boots.
ATV.com had the opportunity to check out some of Shift's latest gear and to try it out first hand. We received both the Faction and Strike gear, including Shift's Combat boots and Agent helmet.
We started off trying on the new lid. The Agent helmet fit a little snug at first, but after a few rides the pads began to soften up just enough to make the helmet a bit more comfortable. The Agent helmet has several vents that allow air to flow throughout the pads. We never found our head getting sweaty even after putting lap after lap on Los Angeles County Racing's grueling motocross track when we originally tested the Yamaha YFZ450R.
The Strike and Faction pants also fit very comfortably. Both of these pants feature polyester construction with a full grain leather patch on each of the inner thighs that provides quality protection and allows the gear to continue to look new and hold up to the harshest of conditions. The pants feature strategically placed vents and a four-way X-Stretch system that allows for increased airflow without restricting movement. The pants are a bit stiff when you first wear them but after a few rides and a couple washes they break in quite well.
With Shift Strike gear you get to wear the checkered flag.
We found that the Strike and Faction jersey are very similar. Both jerseys feature Shift's creative styling and feature elements that make your riding experience more enjoyable. We never had a problem with the jerseys coming untucked or the sleeves riding up the forearm. The jerseys are well ventilated with the back panel and the underarms are made of a mesh material to maximize airflow. To further set ourselves apart from the crowd we had Santor Design Co. customize our jerseys by adding our name to the back.
Shift Faction leopard gear with Santor Design Co. name graphic on the back.
Shift also sent us a pair of Combat boots to try out. These boots are not particularly visually appealing – in fact they are a little bland compared to the rest of the Shift products – but they made up for that in comfort. Despite being an entry level type boot, we actually felt these were some of the most comfortable and easy to use boots we've stepped foot into. The duel-locking four-way buckle system is a breeze to use. Unlike many boots, the buckles on the Combat boots snap right in and you don't find yourself fighting your boots and reaching for your weapon of choice to use for leverage. The boots also feature a gnarly sole to give you better traction if you do find yourself stuck in the mud.
Shift Combat boots offer a lot of comfort and good traction for about $100.
Shift Racing is known for having some of the best designs and durable riding gear in the industry and it didn't fall short of its reputation with the gear we received.
Published March 11th, 2009 12:48 PM