19 Views
Yamaha Four Wheelers: an Ongoing History
July 3rd, 2018 1:27 PM
Share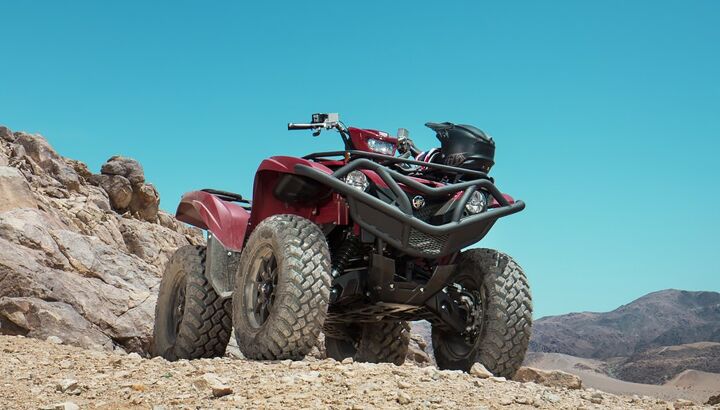 Yamaha Four Wheelers have a long and storied history and today the brand offers a deep lineup of Sport and Utility ATVs to suit most any need.
I'd be lying to you all if I said I hated my job. What's to hate about it? I get to play with all the coolest ATVs, often times before you even know about them. Everyone here at ATV.com gets to do the same. While we know we're blessed to be able to do this for a living, we all know it took a lot of work to get here. That hard work provided us with a lot of experience with all of the machines from all of the brands. One brand near and dear to my heart, and to many of us here is Yamaha. Here's what we really like about Yamaha four wheelers.
My History with Yamaha Four Wheelers
I know I've talked about this before, but my first ATV was a 1983 Yamaha Tri-Moto 200 three-wheeler. It had big 22-inch knobby balloon tires that provided all the suspension to the rear end. I rode that beast everywhere and never once had an accident for years. Like many "kids" my age, I read all the ATV magazines and dreamt of getting a new 2-stroke ATV. At first, I was saving up to buy a Tri-Z 250. I was brand loyal, you see. I'd read the shootouts and take it personally if the Yamaha didn't win. While I'd still love to someday own a Tri-Z, the desire to buy a new one back in the day went away the moment I laid eyes on the most beautiful Yamaha four-wheeler ever made – the 1987 Yamaha Banshee.
I talked my naïve mother into letting me take the money I had been saving from "working" in my family's restaurant and walked into my local Yamaha dealership two days after they rolled the first unit out onto the showroom floor in January, 1987. I was a plucky 14-year-old kid who now owned the most powerful ATV on the market at the time. I rode the wheels off that machine over the many years I have owned it. I still have it, too. It's currently under restoration that is taking longer than I'd like it to. Work keeps getting in the way.
Today's Yamaha Four Wheelers
On the sport side, well, there is simply no competition for Yamaha. They have outlasted every other manufacturer time and time again. The Banshee was in production in the U.S. until 2006, and into 2007 in Canada. It's heir apparent, the Raptor was first released in 2001 as a 660. For 2019, the Raptor 700, 700R and 700R SE boast a 686cc single-cylinder four-stroke engine. The 700R machines have upgraded suspension components and some additions from the graphics department. All have a five-speed manual transmission with reverse and own just about everything on the trail. Pricing goes from $7,999 to $9,199.
2019 Yamaha Raptor 700R SE
The YFZ450 was first introduced to compete with the other OEM's racing four wheelers. While everyone else stopped producing machines over the years, Yamaha, who was the first to come out with a production competition 450-class ATV, is still going strong. It is powered by a 449cc DOHC single-cylinder, four-stroke engine with titanium valves and technology borrowed from Yamaha's championship-winning YZ 450F motocross bike. The 2019 YZF450R is available starting at $8,999 to $9,399 for the SE.
2019 Yamaha YFZ450R
On the Utility and recreation side of the fence, Yamaha has a lot going on. One of our favorite Yamaha four wheelers is the Grizzly EPS and EPS SE. Powered by the 686cc single, the Grizzly is just a fun machine to ride. It has the power and suspension to handle any trail and the overall ergonomics of the machine make you feel like a trail hero. New for 2019, the Grizzly SE comes with a bunch of cool features, but one that really caught our eye was the addition of Maxxis 'Zilla tires that will help the Griz rip through anything. The Grizzly SE runs $10,499 while the standard EPS comes in at $9,899.
2019 Yamaha Grizzly EPS SE
The Kodiak 700, 700 EPS and SE models all take the basic engine from the Grizzly and tune them for a more universal and utility-minded fit. While the temperament is milder to handle chores and work a little better, the DNA is the same. You'll find the amazing Yamaha Ultramatic CVT transmission that has made Yamaha four wheelers legendary for reliability and dependability. My local dealer once told me that he so rarely sees a Yamaha four wheeler come in for service that he doesn't have to stock many replacement parts. The Kodiak SE has an MSRP of $9,299 and the base model without power steering and a few other features costs only $6,999.
2019 Yamaha Kodiak 700 EPS
Yamaha also has a smaller, but extremely capable Kodiak 450 with a potent 421cc single-cylinder four-stroke engine and the same Ultramatic transmission. The Kodiak 450 starts out at $5,999 for the base model and runs up to $7,599 for the EPS SE version.
2019 Yamaha Kodiak 450 EPS SE
Things We Like
People use words like reliability and dependability when talking about Yamaha four wheelers and we have to agree. Yamaha currently talks about how you can realize your adventure with one of their four wheelers, and that is true. You can feel free to adventure with a Yamaha because it is going to be able to take you anywhere you can go with a four wheeler and get you back home again.
The Ultramatic CVT V-belt transmission is a work of art. By keeping constant tension on the wet belt, the transmission doesn't wear like a belt normally would. The result is a reliable machine, and no lag from the belt trying to adjust from "CVT slap" as it takes up the tension when under power. Yamaha perfected the system and everyone else is playing catch up.
On the four-wheel drive models, the On Command system is as flawless as you would expect it to be. Yamaha wasn't the first to build an ATV with four-wheel drive, but they were the first to put electronic four-wheel drive into a four wheeler and the system works perfectly.
Probably one of the most important things we like about Yamaha four wheelers is balance. Yamaha seems to perfectly balance performance, ergonomics and handling in every model they produce, making them fun to ride. Every model, from the base models to the top-of-the-line SE units are extremely capable. One thing Yamaha sometimes get criticized for is lack of power, but we have found that Yamaha four wheelers have a balance (there's that word again) of power, handling and performance that makes them as capable as machines with bigger engines. We know Yamaha could blow the roof off with power if they wanted too, but at what cost? We're happy to stick with the balance and have fun.
Published July 3rd, 2018 1:27 PM
Top Brands
Popular Articles