43 Views
Get Straps That Work From Strapworks
March 9th, 2023 11:44 PM
Share
We're committed to finding, researching, and recommending the best products. We earn commissions from purchases you make using links in our articles. Learn more here
Whether you have an ATV, UTV, motorcycles or any other piece of motorized equipment, you likely have a collection of tie-down straps. If you're like me, you have a bunch, including your good ones that are your-go-to straps, and a pile of older straps that you bought for the sake of needing them at some point, but can't quite bring yourself to get rid of. My wife jokes with me all the time that I have a vast collection of tie downs, but I only ever use a few. Those few that I use the most all came from Strapworks, and with good reason - they work.
American Made - For Real!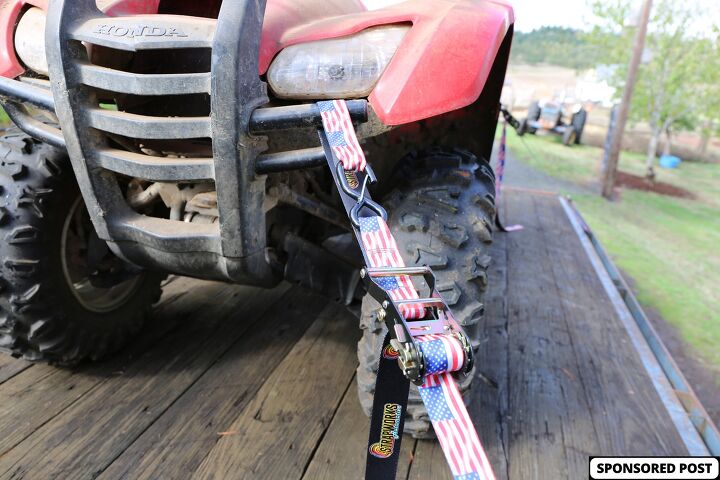 What do I like about Strapworks products? There's a lot to like, to be honest. The first and foremost is that these straps are American made. Now, I'm not totally knocking imported products here, but there is definitely something to be said for supporting American manufacturing. I mean, you're not only helping keep folks working and in business, but also there is something to be said for quality manufacturing processes. Strapworks is a family owned and operated company, and I honestly think it shows in the quality of the products.
There are lots of options with Strapworks products, too. The ratcheting buckles on my straps are high quality and easy to clean, which is something that some folks overlook when buying ratchet straps. You've got to clean them regularly to keep them working. You can also choose to have soft anchors built into the straps, which is a major plus. Soft anchors are something you should be using anyway, and having them built into the straps means you don't have to go looking for them. When I'm trying to secure the ATV to the trailer so I can head to the trails, having to stop what I'm doing and look for a soft anchor will get the blood boiling a little bit. These straps have safety S-hooks with the safety gate built in so the hook can't come undone built in on both ends – another very cool thing. Ever have a hook from a tie down come undone due to a slipping strap? With safety S-hooks, you won't likely lose your strap.
Custom Stuff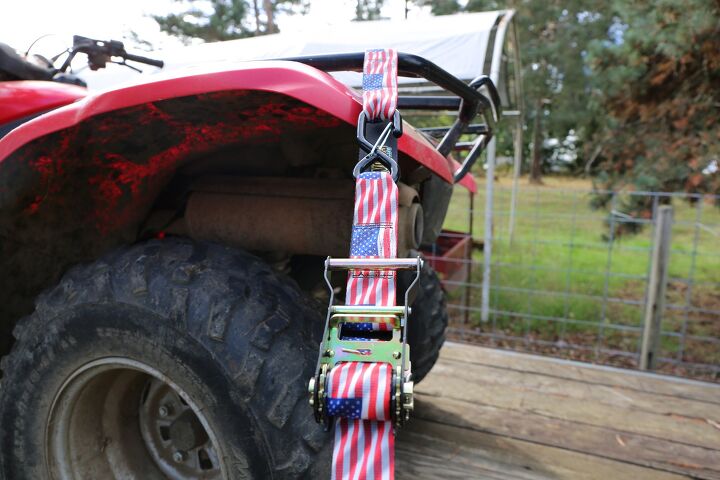 The options don't stop there, however. The company has options for strap materials including polypropylene and polyester, and lengths that can be completely customized. Need a 99-foot tie down strap? They can do that. Want custom colors? Strapworks has over 70 colors and patterns available for straps, and if you want to custom brand some for you, your club, or your shop, since this is a company that is the manufacturer, too, you can get low minimums of just 12 units to do something completely unique to your needs. Dealers, if you want a special strap for your shop, give them a call.
I've had black tie downs and while there is nothing wrong with black straps, the issue that I've run into is finding them. I keep my straps all together in a special box in the bed of my truck. The old black straps kind of disappeared against the background of the bedliner and the box, which is also dark colored. I like bright-colored straps to make them easier to find when I need them. It also helps to see them in the mirror when I'm headed down the road. I went with bright green and orange that can be seen in the mirror at a glance. Don't underestimate the value of being able to check the straps going down the road. With Strapworks, you can pick the color you like that works best with what you need.
One other note about Strapworks' products that I will leave you with. They make a wide range of products that are all customizable, so if you need other stuff besides tie downs, they can likely cover it. Everything is made right in their Eugene, Oregon factory. Good stuff for sure. Derrek Sigler
Derrek's love for all things ATV started when he was a mere 11 years old, growing up on his family farm. His mom gave him and his sister a choice - get a horse, or a three-wheeler. The sister wanted the horse, and Derrek wanted the ATV. Luckily he won out, and was soon burning up the trails on a Yamaha Tri-Moto 200. By the time he was 14, he had saved enough of his own money by working on the farm and in his folks restaurant to buy a new 4-wheeler. That happened the day he and his mom were driving past the dealership and saw 1987 Banshee. His mom had no idea what he was buying, and he never looked back. He's been riding ever since, and been writing professionally for many years. He has ridden all over North America and been behind the controls of just about every machine out there. And yes, he still has his 1987 Yamaha Banshee.
More by Derrek Sigler
Published March 9th, 2023 11:44 PM
Top Brands
Popular Articles