1 View
Polaris RZR XP Turbo, RZR Turbo S Recalled
August 17th, 2023 4:33 PM
Share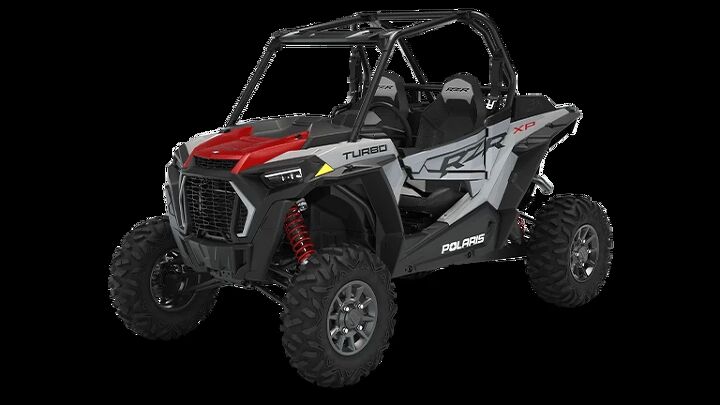 Polaris has issued a recall for its Model Year 2021 RZR XP Turbo and RZR Turbo S Recreational Off-Road Vehicles. This recall, dated August 10, 2023, affects approximately 27,300 units in the United States and an additional 660 in Canada. Some of these vehicles were also part of previous recalls in November 2020 and December 2021.
The recall has been prompted by the potential hazard of the vehicle's clutch fracturing. If this occurs, fragments can be ejected from the vehicle, leading to risks of fire and injury. Polaris has already received 206 reports of clutch failures, which include six fire incidents, two injuries, and one tip-over of the vehicle.
The vehicles in question include all model year 2021 RZR XP Turbo and RZR Turbo S, and were sold in various colors such as black, blue, gray, lime, orange, and sand. Both two and four-seat configurations are affected. Branding and model names are visible on the front grille, sides of the vehicles, and the side of the chassis. The VIN can be found on the vehicle's frame in the left rear wheel well.
Consumers who own the affected vehicles are urged to stop using them immediately and contact Polaris or an authorized dealer to arrange a free repair. The repair involves the replacement of the primary (drive) clutch at no charge. Polaris is in the process of notifying all registered owners directly with more details regarding the repair.
These off-road vehicles were sold by Polaris dealers across the nation from December 2019 through September 2022, with prices ranging from $21,000 to $32,000. The importer of the recalled units is Polaris Industries Inc., based in Medina, Minnesota, and the vehicles were manufactured in Mexico.
For more information, consumers can contact Polaris at 800-765-2747 from 7 a.m. to 7 p.m. CT Monday through Friday or check online at www.polaris.com. The specific recall page is available at www.polaris.com/en-us/off-road-recalls/, where the vehicle identification number (VIN) can be checked to determine if it is included in any recalls.
The U.S. Consumer Product Safety Commission (CPSC) is responsible for the oversight of consumer products and their associated risks. This recall emphasizes the ongoing commitment of both Polaris and the CPSC to ensuring the safety of consumers. It should be noted that selling products subject to a Commission-ordered recall or a voluntary recall, in consultation with the CPSC, is prohibited by federal law.
Published August 17th, 2023 4:33 PM