1 View
Muddy Spring ATV Ride in Alberta [video]
May 7th, 2010 3:15 PM
Share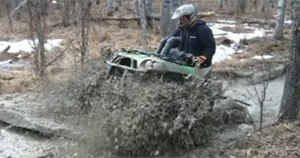 One of the things I like most about YouTube are the ride videos people put together. Admittedly most aren't very well produced (too long!), but you can usually find a few good ones.
I found this one (posted May 5, 2010) about an ATV ride on some private property in Baytree, Alberta (Canada) that was shot in April as the snow was still melting.
Anybody who'd ever ridden in the early spring knows it can be messy, and this video shows ATVers having plenty of fun in the mud and some deep water. Check it out after the jump.
Get the Flash Player to see this player.
Published May 7th, 2010 3:15 PM