1 View
Polaris ATV + V8 Engine = Wow! [video]
December 1st, 2010 3:16 PM
Share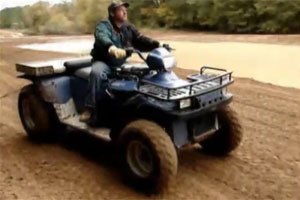 The ATV aftermarket is filled with products promising more power and improved performance. The choices are vast and performance gains can be impressive. However, it all pales in comparison to what we recently discovered through the power of YouTube.
One mechanically inclined and power-hungry person decided to slap a Chevy 454 big block V8 engine into his Polaris Sportsman. That's about 7400cc – or nearly 10 times the size of a standard Polaris Sportsman 800 engine! The mighty V8 is also matched to a 350 Turbo transmission. This machine has to be seen (and heard) to be fully appreciated, so we implore you to check out the video below.
Get the Flash Player to see this player.
Published December 1st, 2010 3:16 PM