1 View
Polaris RZRs Take Top Two Spots at BITD Pro UTV Series
December 8th, 2011 4:47 PM
Share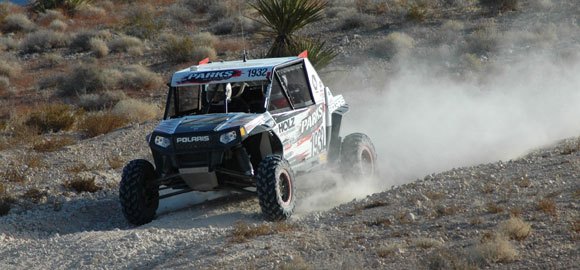 The Henderson 250 was the last race of the six-race Best in the Desert series, and the Pro UTV title was on the line. Four-time championship winner Jagged X led the series by a few points with Matt Parks right on its tail. The Transwest Ford Henderson 250 would be the deciding factor.
The race started before dawn with freezing temperatures and howling winds in Jean, Nev. The Jagged X crew was confident with the No. 1919, but in racing, nothing is ever a sure thing. By mile 14, they realized how something as small as a clogged fuel injector could change an entire season. Brandon Schueler managed to limp the No. 1919 into the second pit and after some diagnosis and a quick repair the car was back on the course at 100 percent. Even a few minutes lost in a short race like this is detrimental. Schueler was able to make up some time but in the end, was short of the finish the team had hoped for. When the dust cleared the Jagged X No. 1919 team ended the incredibly great season in the second overall position.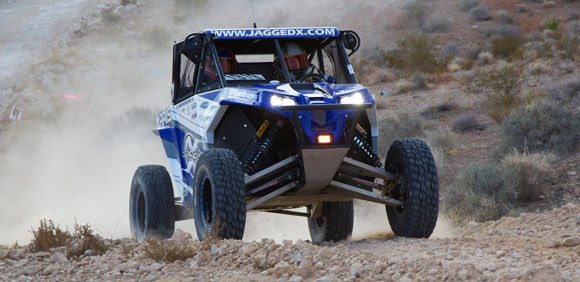 Parks was having some trouble of his own with extreme helmet fogging, making it difficult for him to see. He worked his way up to first place after the end of the first lap, and decided he needed to raise the ride height of his Ranger RZR 4 800 to keep from dragging on the heavily-crowned, rocky course. The adjustment made for a lengthy pit stop half way through the race. Knowing he was quite a way ahead of Jagged X, Parks had the team completely check the RZR 4 over, add more pre-load to the shocks and he worked on the helmet fogging issue. While he was in the pits another UTV got by, but Parks knew that second place would be good enough to win the title. Back on the course, he gained a little on the leaders on the final lap, but didn't push too hard because he didn't need to win the race in order to win the title. Parks cruised to the finish line in second place and took the championship.
"We would like to congratulate Matt Parks on his first Best in the Desert championship," says Donna Beadle, race team manager for Polaris. "Both Parks and Jagged X's dedication to racing Polaris products is apparent and they've made it a fun and exciting season."
Parks is sponsored by Maxxis Tires, Walker Evans Wheels and Shocks, Kroyer Racing Engines, Holz Racing Products, OMF, Muzzy Exhaust, Desert West Off Road race prep, Tire Balls, Utendorfer Graphics, Bill Abshier, UTV Underground, Pure Polaris Lubricants
Jagged X is sponsored by Polaris Industries, BF Goodrich Tires, CR Designs- Custom Painting and design, Cutting Edge Manufacturing- laser cutting and CAD design, OMF Performance- Custom beadlock wheels, Elka Suspension- Shocks, Simpson- Harnesses & safety products, Total Auto Pros- equipment for support trucks, Affordable powder coating- durable high quality coatings, Summers Brothers- Axle shafts, Walker Evans-Wheels, Pure Polaris Lubricants, Vision X- Off road lighting
Published December 8th, 2011 4:47 PM
Top Brands
Popular Articles