1 View
DragonFire Teams Earn UTV Wins at Mint 400
April 4th, 2012 1:38 PM
Share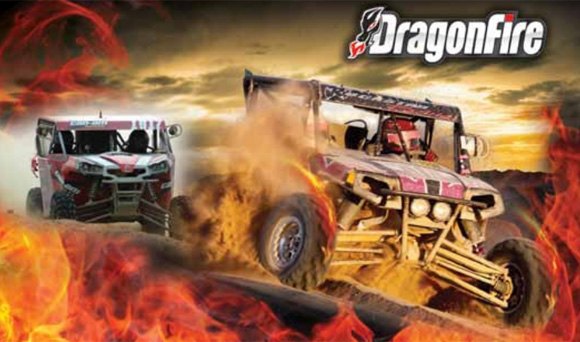 History was made this year at the Mint 400, as UTV classes were included for the first time. DragonFire celebrated with wins in both the Pro SxS class and the UTV Sportsman class. Having a well-deserved reputation for being both the toughest and longest off-road race in North America, the miles of whoops, rocks, ruts and silt made for a case of survival of the fittest among the 30 UTVs to start the race.
As dirty as it was, DragonFire-equipped teams cleaned up, finishing 1-2 in the Class 1900 Pro Side By Side. Derek Murray piloting the Murray Motorsports Can-Am Commander drew the 18th starting place in Pro SxS, having to eat the dust of 150 competitors in other classes. However, by the end of the first 93-mile lap, Murray had moved up to third place, and after a quick driver swap, Jason Murray brought the 1000cc machine across the finish line in first.
"Murray Motorsports would like to thank our sponsors for the wonderful support," says Derek Murray. "Especially DragonFire for making some of the industry-leading accessories needed to push more power out when you want to go fast!"
In an even tougher battle, Sportsman Class racers Lacrecia Beurrier and Corina Fallon started dead last in the Rockstar Racing/DragonFire Polaris RZR 800, behind a slew of bigger displacement 900s. A navigational error in the first loop made matters worse.
"I made a wrong turn somewhere around mile 10," says Lacrecia. "Some guys in a broken Trophy Lite were nice enough to point us back to the track… I'm sure they thought we were complete idiots."
Despite the wrong turn and a flat tire, the team completed the course in tick over 5 hours, 16 minutes – good enough for first Sportsman and fourth overall.
"Thank you to my husband, Eric, for building us such a tough car. Thank you to my crew for their fast pit stops, my son Trevor for putting up with his mom racing and thank you to our newest sponsor, DragonFire Racing," says Lacrecia. "We are hoping for even better things to come!"
Published April 3rd, 2012 1:09 PM
Top Brands
Popular Articles