1 View
Yamaha Gives Away Rhino 700 for NHF Day Sweepstakes
December 11th, 2012 2:19 PM
Share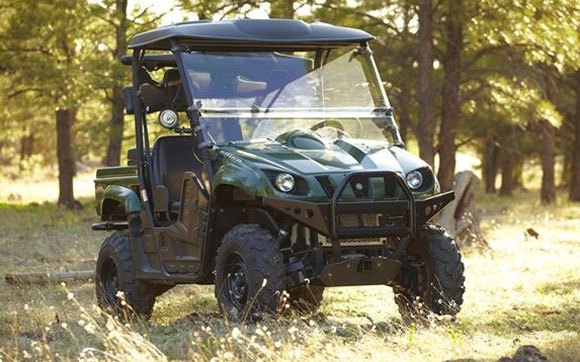 As part of its support of National Hunting and Fishing (NHF) Day, Yamaha has given away a Rhino 700.
Nancy Watkins of Eau Claire, Wis. won the 2012 NHF Day Sweepstakes and was one of more than 42,000 people who entered.
The Rhino 700 FI donated for NHF Day – including Genuine Yamaha hunting accessories – is valued at more than $13,000. The Rhino, along with all of Yamaha's 4×4 products, is assembled at the company's manufacturing facility in Newnan, Ga.
"Yamaha is proud to be a fifth-year sponsor of National Hunting and Fishing Day and to support outdoors conservation and recreation," says Steve Nessl, marketing manager for Yamaha's ATV/SxS group. "Congratulations to Mrs. Watkins for winning the Rhino, and thanks to everyone who showed up at a National Hunting and Fishing Day event throughout the country this fall."
NHF Day falls on the fourth Saturday of September each year and serves as the most effective grassroots effort ever taken to promote outdoor sports and conservation. Yamaha, through its relationships with organizations such as Ducks Unlimited, Safari Club International, Buckmasters, National Wild Turkey Federation, Rocky Mountain Elk Foundation and NHF Day, among others, is the leading ATV & SxS supporter of conservation efforts.
"We're thrilled to have Yamaha as a sponsor of National Hunting and Fishing Day," says Misty Mitchell, Director of Conservation Programs for Wonders of Wildlife museum in Springfield, Mo. – the official home of NHF Day. "The Rhino giveaway has been a huge hit amongst NHF Day participants nationwide, and we also congratulate Mrs. Watkins on her new Rhino."
Published December 11th, 2012 2:19 PM