1 View
ITP Race Report: Steel City ATV MX National and UTV Rally Raid
July 11th, 2013 10:55 AM
Share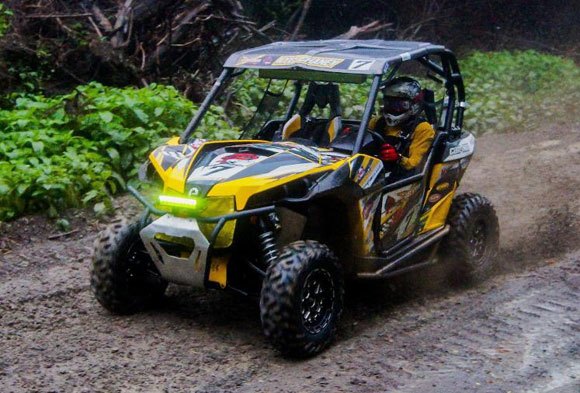 Kyle Chaney took the checkers at the UTV Rally Raid Northern Series this weekend.
Team ITP racers won seven classes and earned a total of 21 podiums at round seven of the 2013 Mtn. Dew ATV Motocross National in Pennsylvania. At round six of the UTV Rally Raid Northern Series, Kyle Chaney (JB Racing / ITP) drove his ITP Terracross-equipped side-by-side vehicle to victory in Oliver Springs, Tenn.
"Our ITP ATV racers once again put in an outstanding effort, winning seven classes and recording numerous podium finishes. After seven rounds in the books, our riders are in the running for several class championships and that fact alone validates the performance and design of our tires," said Pat McGuire, Public Relations / Race Support. "Team ITP racer Kyle Chaney put in an outstanding performance in wet, muddy conditions to win another off-road event with Terracross tires."
ATV MX
Team ITP ATV motocross racers won seven classes and earned 21 total podiums at round seven in Export, Pa. ITP Pro Josh Creamer (BCS Performance) earned a top-five finish in the Pro class at the Steel Creek ATV MX National to maintain his hold on third place in the class points standings. Creamer tallied a 6-4 moto score to earn his sixth top-five finish of the season, despite the unfortunate luck of a rock hitting his key and turning off his ATV during moto one. Fellow ITP Pros Jeffrey Rastrelli and Sean Taylor put in season-best performances at round seven. Rastrelli matched his best finish with seventh overall, while Taylor finished 11th.
Josh Creamer raced to 6-4 moto finishes.
"I've been running into some bad luck lately and I am really looking to come off of this and be able to pull my program together to get back up to the podium," says Creamer.
Pro-Am class racer William Lloyd took second, but also earned a 1-1 moto sweep in the Junior 25+ class to maintain his points lead after seven rounds. Dylan Tremellen notched his first win of the year in the Four-stroke A class to move into second in the class points race. He also earned second in the Production A ranks in Pennsylvania.
William Lloyd finished second in the Pro-Am class and swept the motos in the Junior 25+ class.
ITP-supported racer Mark Barnhardt won the Open A class at round seven and finished second in the 30+ division to maintain his class points lead. Class victories also went to ITP-backed youth racers Noah Mickelson (90 Open and Super-Mini 13-15), Maddison Guyer (Girls) and Brogan Guyer (90 Auto 12-15). All three riders are in the running for class championships heading into round eight.
ITP amateur class racers also brought home a few podium finishes. Women's class racer Megan Manshack took second in Pennsylvania. Alex Gillette, who is the points leader in the 450 C class, was third in the Production C class. Also leading two classes in points heading into round eight is ITP-supported racer Dalton Hicks, who was seventh in the Production A class and took second in the 450 A class.
Maddison Guyer finished third in the Schoolboy Jr. 13-15 class.
Youth class racers Brogan Guyer (3rd, 90 CVT 8-15), Jordan Digby (3rd, 125 12-15), Westley Wolfe (2nd, Super-Mini 12-15) Sam Steckly (2nd, 90 Open 12-15) also recorded podium finishes in other classes using ITP tires. Schoolboy class competitors Haedyn Mickelson and Blake Sarver each earned two podiums at round seven, as did Maddison Guyer with her third-place run in the Schoolboy Jr. 13-15).
Round eight of the AMA MX series is July 13-14 at Unadilla Raceway, in New Berlin, N.Y.
UTVRR Northern Series
At Windrock OHV Park in Oliver Springs, Tenn., JB Off-Road / ITP-backed SxS pilot Kyle Chaney won the QR1 class at round six of the UTV Rally Raid Northern Series using ITP Terracross R/T XD tires. Chaney, who won by more than 11 minutes over the rest of the field, led from start to finish and was the only racer to complete 14 laps in the overly wet conditions.
"It downpoured all day and all night, but my ITP Terracross tires were beyond awesome in the muddy, slick conditions," says Chaney.
The 20-round UTV Rally Raid series, promoted by Quantum Racing, consists of both a Northern and Southern series held at two designated off-road riding parks. Stony Lonesome hosts the 10-round Southern series while Windrock OHV Park hosts the 10-round Northern series. The next race is slated for July 20 at Stony Lonesome in Cullman, Ala.
Published July 11th, 2013 10:49 AM
Top Brands
Popular Articles