1 View
2013 AIMExpo: Gibbs Quadski
January 15th, 2016 2:39 PM
Share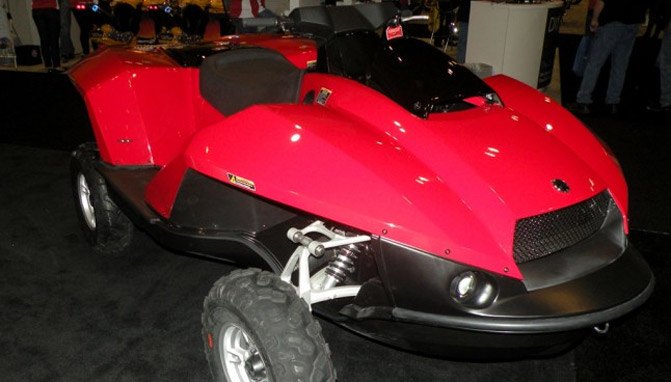 We've been reading about the Gibbs Quadski for a couple of years now and even featured the machine a year ago after getting our hands on the specs and some photos. We finally had a chance to see it in person at the American International Motorcycle Expo in Orlando, Fla.
Straight away the sheer size of the Quadski is shocking – it's more than five feet wide and 10 feet long and looks every bit of it.
We asked how Gibbs toned down the 1300cc BMW engine for land use (it maxes out at 45 mph) and were told it was done electronically. Surely the more mechanically inclined could find a way to unleash more of the 140 horsepower the Quadski pumps out on the water .
We're not entirely sure who the buyer is for the Quadski (it is expected to retail for about $40,000). It's bound to disappoint avid ATV or personal watercraft enthusiasts. To paraphrase one Gibbs representative at the AIMExpo, it's not a great ATV and it's not a great personal watercraft, but you can bet it's a whole lot better in the water than any ATV and infinitely better on land than any PWC.
Gibbs seems to think this is a machine for the yachting community or anybody with easy access to both trails and water that wants a unique machine that will undoubtedly turn heads wherever it goes.
Published October 16th, 2013 11:36 PM