1 View
Kohler Engines Powering Polaris Diesel UTVs
August 28th, 2014 4:07 PM
Share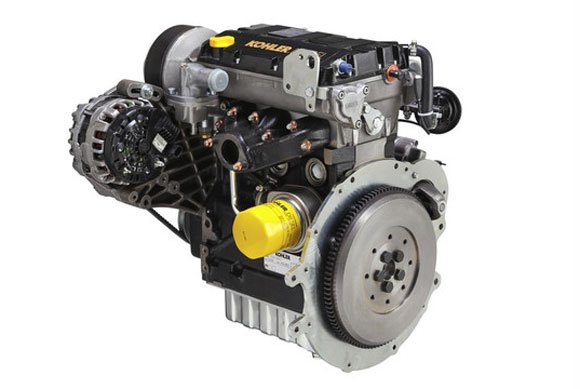 Both the 2015 Polaris Ranger Diesel and Ranger Crew Diesel Side-by-Sides are being powered by Kohler Engines' 1028cc KDW1103.
"We're excited to partner with Polaris on the rollout of their new diesel utility vehicles," says Jeff Wilke, product manager for Kohler Engines. "Our KDW1003 is ideally suited for this type of application due to its overhead cam that was designed with automotive characteristics, as well as an advanced fuel-injection system that delivers smooth, quiet power and enhanced fuel efficiency of a diesel engine. Plus, we're able to provide a high output 110 amp alternator to drive more accessories, which will be a key feature for users."
The liquid-cooled KDW1003 engine meets all EPA Tier 4 final, CARB, and EURO emissions standards due to its indirect fuel-injection system and high-efficiency combustion. According to Kohler, the engine's belt-driven, overhead camshaft enables it to run at higher speeds, up to 4200 rpm if needed, and low-turbulence, pre-combustion chambers provide quiet operation. As well, Kohler says its low cylinder volume and superior balance produce smooth operation. The KDW1003 offers 110 amps of alternator output to power a wide variety of accessories on the Polaris Rangers, including lights, heaters, audio systems and more.
Kohler says the KDW1003's overhead cam, a low-profile head design with integrated injectors, makes it a compact package, which lends itself to off-road vehicles. As well, Kohler boasts the engine's cast-iron crankcase is extremely durable and ideal for rugged conditions.
"Our designers were attracted to a number of options offered on the Kohler Diesel," says Steve Schiebel, product manager for Polaris Ranger. "The low-profile overhead cam design offered a lot of design freedom and flexibility. In addition, we didn't have to sacrifice power and performance for fuel efficiency and lower emissions. The Kohler engine provided the best overall solution for integration and Tier 4 requirements for the new Model Year 2015 Ranger Diesel models."
Published August 28th, 2014 4:07 PM