1 View
Tread Lightly! Celebrates "RIDE ON Utah" Campaign Milestone
October 1st, 2014 1:52 PM
Share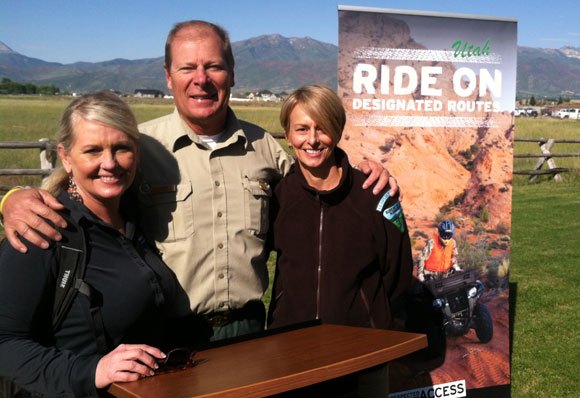 Tread Lightly! celebrated the second anniversary of the "RIDE ON Utah" campaign on National Public Lands Day this past Saturday, Sept. 27. Working closely with campaign partners, Tread Lightly! has worked to keep nearly 4,000 miles of motorized trails (across 1.8 million acres) in Utah open to the public.
The RIDE ON Utah campaign was officially launched in 2012 – in partnership with the U.S. Forest Service, Bureau of Land Management, Utah's Division of State Parks and Recreation, Division of Wildlife Resources, Utah's School and Institutional Trust Lands Administration, and Tread Lightly! – to communicate consistent messaging across boundaries promoting ethical and legal use of motorized vehicles on public lands.
Utah's Lt. Governor Spencer J. Cox recently joined representatives from these organizations for an ATV ride in the Uinta-Wasatch-Cache National Forest to discuss the RIDE ON Utah program, and he challenged Utah's 250,000-plus OHV owners to join him in riding safely and responsibly on designated routes.
As a leading national non-profit committed to protecting recreation access and opportunities through ethics education and stewardship programs, Tread Lightly! has fashioned RIDE ON Utah to become a model collaboration between federal and state agencies that is already being replicated in other states.
"Tread Lightly! applauds the agencies responsible for managing Utah's public lands for their commitment to providing recreation opportunities in balance with resource conservation," says Lori McCullough, executive director for Tread Lightly!. "RIDE ON Utah focuses on raising the public's awareness of acceptable behaviors through education and outreach, which in turn protects access and opportunities to enjoy Utah's beautiful natural resources. Ultimately, access to great, safe riding areas is what our members really want."
Published October 1st, 2014 1:52 PM
Top Brands
Popular Articles