1 View
UTV Inc. Wins Baja 1000 in RZR XP 4 1000
June 18th, 2015 3:43 PM
Share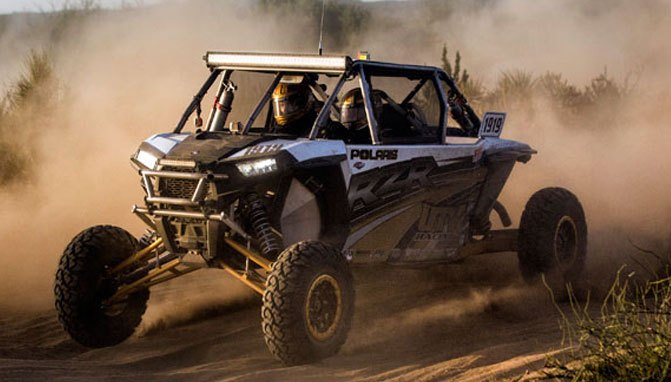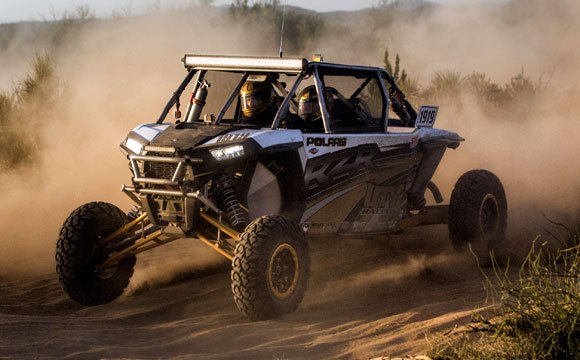 (Photo courtesy Vincent Knakal // UTVUnderground.com)
This year's point-to-point Baja 1000 was 1,275 miles of brutal terrain testing both machine and driver. Polaris RZR went into the race as the defending champion, and the Scrambler XP 1000 made a maiden voyage with Team UXC racing at the helm.
Nineteen side-by-sides, including 13 RZRs, started the race and eight side-by-sides, six being RZRs, managed to finish. First-time Baja 1000 driver of record, Johnny Angal of UTV Inc., and his drivers Brian Bush, Branden Sims and Justin Quinn, in their No. 1919 RZR XP 4 1000 won the grueling race. Jagged X in the No. 1932 with drivers Matt Parks, Brandon Schueler and Craig Scanlon took second.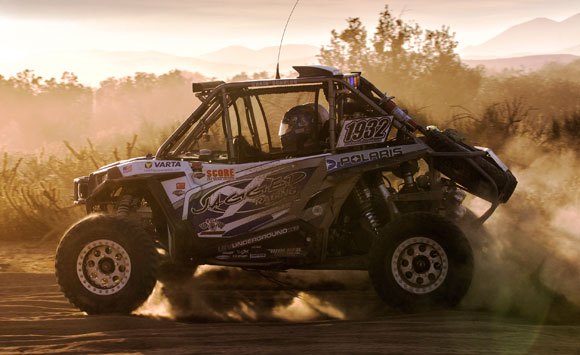 (Photo courtesy Vincent Knakal // UTVUnderground.com)
UTV Inc. and Jagged X kept things interesting throughout the race, battling the whole way down the peninsula. There were lead changes, break downs and even a tangle between the two, but, in the end, they finished the 33.5-hour race just three minutes apart. Even more impressive, UTV Inc. and Jagged X finished 47 and 48 overall with about 239 starters and 140 finishers. Also finishing in the Top 5 for UTVs were the No. 1921 RZR of Jamie Kirkpatrick/Tire Balls in fourth and the No. 1923 of Ben Bischoff who was driving a brand-new Holz Racing Products built Polaris RZR in his first UTV race ever, finishing fifth. Polaris Factory Racer Cognito Racing finished seventh in the No. 1908, and the No. 1927 RZR of Frank Bushman was eighth.
On the ATV side, Team UXC Racing came into the Baja 1000 leading the Sportsman Quad Class as the lone 4×4 going up against sport quads all season. The Baja 1000 saw 15 ATVs in the Sportsman Quad Class take the line, four being Scrambler XP ATVs including Team UXC Racing's No. 140A. Team UXC Racing's Don Higbee, Michael Swift, Chris Robinson, Jason Wade and Michael Burrows finished fourth out of six finishers, which was enough to secure the first national series ATV title for the new Scrambler XP 1000 and show the viability of the Scrambler as a desert race vehicle.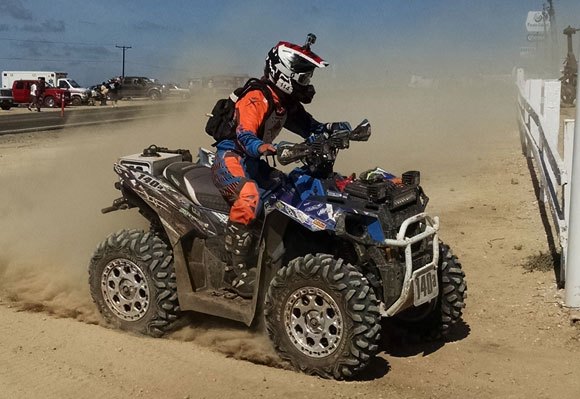 "Competing in the Baja 1000 takes an incredible amount of planning and dedication, and Polaris would like to congratulate all racers running Polaris vehicles on their successes," says Donna Beadle, race team manager for Polaris. "Polaris is extremely honored to have a RZR win the UTV class for the second year in a row, and thanks Team UXC Racing for showing the desert racing community that the Scrambler is the real deal in the desert."
Published November 20th, 2014 11:08 AM