1 View
Western Power Sports To Distribute GBC ATV and UTV Tires
August 5th, 2015 3:55 PM
Share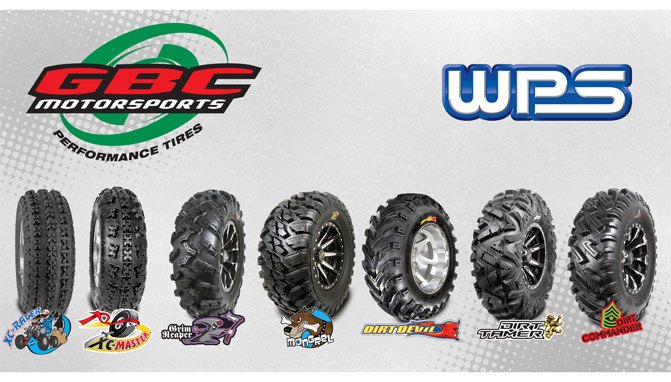 Seven models of GBC tires to be carried by WPS
If you shop at a Western Power Sports affiliated dealer, you'll soon be seeing GBC Motorsports tires available on the shelves.
GBC Motorsports has announced that Western Power Sports, Inc., a leading distributor of aftermarket powersports products, will carry seven models of GBC Motorsports ATV and UTV tires.
"We are extremely happy to partner with Western Power Sports, and give people more options when shopping for tires for their ATV or UTV," says GBC Motorsports Director Randy Tsai. "With their 5 national warehouses, their extensive dealer network, and their online retailers, GBC Motorsports tires will be accessible to more people than ever before."
Western Power Sports is now stocking GBC's Kanati Mongrel, Dirt Commander, Grim Reaper, Dirt Tamer, Dirt Devil, XC-Master, and XC-Racer ATV and UTV tires.
"These unique tread patterns and the wide range of sizes that GBC offers translates to a long list of vehicle applications including UTVs and SXSs, utility ATVs and sport ATVs," GBC says in a release. "From high-level race rigs all the way to work vehicles, GBC Motorsports enjoys a long history of providing high quality, reliable tires that perform on challenging terrain, in the toughest of conditions."
Published August 5th, 2015 12:00 PM